A few dedicated shoppers are presently braving the less than warm weather to camp outside the Digicel store on Church Street this evening [Nov 26] to take advantage of tomorrow's Black Friday Wednesday Preview Sale.
As of 8pm there were around ten people waiting, and the shoppers came prepared with chairs, with one lady wearing her pajamas.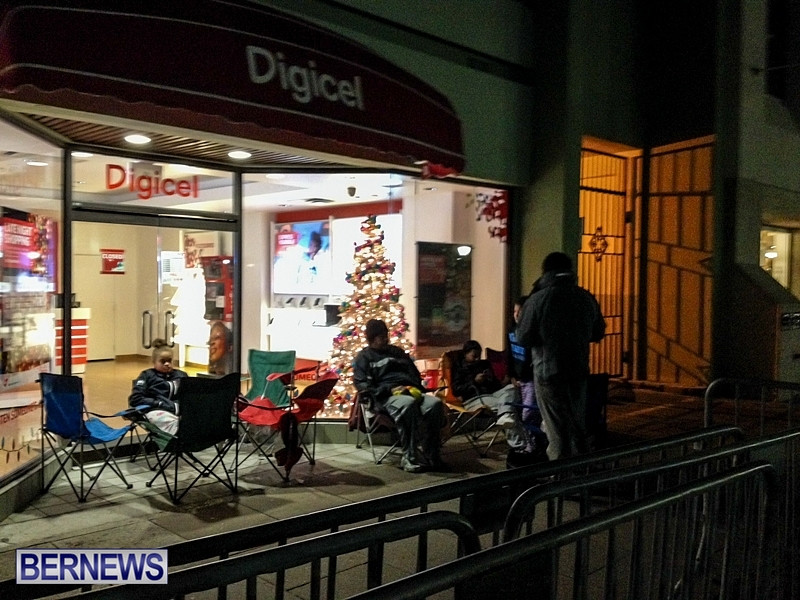 Beginning at 6am tomorrow [Nov 27] the Phone 5C, normally priced at $589, drops to $329, with the first seven customers getting a special rate of $99. The iPhone 5S, which normally retails for $889, is on sale for $629, with the first four customers getting a price of $149.
This is the second day in a row Digicel has held a Black Friday preview sale, with the retailer also opening at 6am this morning with special sale prices.
Last year saw hundreds of shoppers out in the wee hours of the morning to take advantage of Black Friday sale prices, and this year can be expected to be the same, with many of the island's major retailers gearing up to offer slashed prices and early morning opening hours this coming Friday.
Although some individual Bermuda stores staged Black Friday sales in the past, 2011 marked the first time there was a major push by Hamilton retailers to draw shoppers out for pre-dawn sales, and the promotions have continued since then.
Black Friday is the day following Thanksgiving Day in the United States and traditionally the beginning of the Christmas shopping season.
Read More About