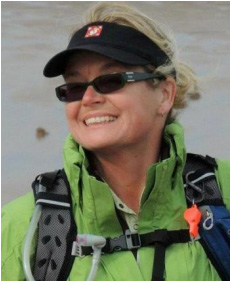 The Board of Directors of Raleigh International Bermuda announced that effective January 1st, 2014, Tina Nash [pictured] will succeed Kristin White as Executive Director for the Charity.
Tina comes to Raleigh Bermuda with a wealth of experience in implementing and developing programmes and opportunities for Young People.
She has worked in both the Government and Private School systems, as well as with non-profit organisations such as Round Square International, The Duke of Edinburgh's International Award and Bermuda Sloop Foundation.
Passionate about the outdoors, Ms Nash has been backpacking since she was 14 years old. Beginning her career as a Phys. Ed. Teacher, she has developed Outdoor Education Programmes at the schools that she has worked in and has lead expeditions/service projects to the Bahamas, Guyana, India, Jamaica, Peru, Thailand, the Appalachians [U.S.A.] and the Rockies [Canada ].
Ms Nash said, "I am very excited about joining Raleigh Bermuda. I would like to thank the Board for giving me the opportunity to continue to work with our incredible Young People and our community.
"By challenging our youth to participate and engage in meaningful, supportive and life-changing activities, we empower them to continue their personal path to become confident, capable, contributing and compassionate members of our community. Raleigh is a globally recognised youth and sustainable development programme and I am delighted to be a part of it."
Kristin White said, "Tina has an extensive background in many key areas, so I am thrilled we were able to attract someone so skilled and passionate to carry forward what Michael Spurling started in 2004, and what has been my life's work for the past 7 years."
"Those years have been a marvel for me. The strength and courage I have seen from our participants has been my teacher and my fire. I am ever-thankful for the experiences afforded me on this journey and I will be watching and supporting along with all of Bermuda to see what exciting things come next for Raleigh Bermuda."
Tasha Jones, Board Chair, added, "Raleigh thanks Kristin White for her seven years of dedication to the Youth of Bermuda and to the development of Raleigh Bermuda's programme.
:Her stellar service, tireless energy, amazing creativity and sheer awesomeness have brought Raleigh Bermuda to where we are today. We wish Kristin the best with all that she does and will strive to continue her legacy of nurturing and supporting the Young People of Bermuda."
Raleigh International Bermuda is a youth development organisation that delivers a transformational life programme to Young People between the ages of 17 and 25. The programme specifically targets youth who are 'at a crossroads', including those who are at risk of not reaching their full potential.
Learn more about Raleigh Bermuda by visiting them online.
Read More About
Category: All