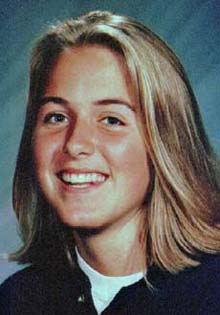 Home Affairs Minister Michael Fahy's decision to deny an overseas film crew temporary work permits is now being carried by some overseas media outlets including those in Canada, Jamaica and even as far away as New Zealand.
The news was distributed by the Associated Press, who began their report by saying, "Bermuda has denied temporary work permits to a film crew working on a documentary about the unsolved slaying of a teenage Canadian tourist in 1996."
The filmmakers were planning to travel to Bermuda to film a documentary about the 1996 murder of Rebecca Middleton.
The 17 year old Canadian was raped and killed while vacationing on the island, and the handling of the case has been widely criticized both locally and overseas.
Citing "potential reputational risks to Bermuda," Home Affairs Minister Michael Fahy denied work permits to the overseas film crew.
In explaining the decision, Minister Fahy said: "After carefully and extensively assessing the matter, we recognised that there would be some potential reputational risks to Bermuda associated with the ultimate airing of this documentary.
"Based on the provisions under the law and at my discretion, a decision was made to decline their application for temporary work permits," added Minister Fahy.
Shadow Minister Walter Roban condemned the decision as an "affront to freedom of expression," and called on the Minister to reverse his decision and grant temporary work permits to the film crew.
Mr. Roban said, "Like most Bermudians, the thought of a potentially reputation damaging documentary being produced is not a comfortable one. Despite this, we are very concerned at the manner in which these documentary producers have been refused entry into Bermuda while trying to tell this important and tragic story.
"The Minister has cited the potential damage to Bermuda's reputation but his attempt to suppress the story undoubtedly further tarnish Bermuda's reputation as a modern, sophisticated jurisdiction that believes in openness, honesty and transparency.
"In their possible haste to avoid negative publicity about this bungled case, the OBA government have potentially created a larger PR problem for Bermuda," added Mr. Roban.
Screenshot from a Canadian news website: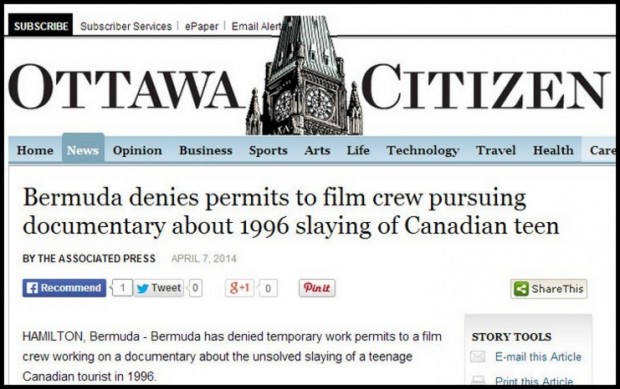 Former Independent candidate Jonathan Starling said, "The decision to deny this film crew permission to film was the absolutely wrong decision. This decision does more to damage our reputation than allowing the film crew in would have done.
"Had they been allowed in we could have given our side, explain the reforms we've made and let the world know we're a safe destination that has nothing to hide.
"Instead we've sent out a message of intolerance and heavy-handedness which doesn't tell people we've overcome this incident.
"I hope the Minister reverses course, and that this incident can be used to further reform our system – and that it leads to a new look at some of the other cases which have been mishandled or left unsolved, but don't garner the same degree of media attention," added Mr. Starling.
According to CKWS Newswatch, after hearing of the work permit refusal, Ms. Middleton's father David said, "I'm not terribly surprised by that I'm just again, disappointed."
"They applied they got the application to go down and do the filming there and then the night before they're supposed to leave they get this notice that they're not supposed to come.
Mr. Middleton added, "If the government really wants to do something, they want to be part of correcting something that went wrong then they should be on board with having it done in Bermuda."
The murder of Ms. Middleton has already been the subject of a documentary, with A&E producing the "Bermuda Death on the Rock" for their "City Confidential" series.
The description of the A&E documentary says, "Story of the murder that ruined Bermuda's reputation as the 'safest place in the world."
"In 1996, 17-year-old Canadian tourist Rebecca Middleton was killed — and her presumed murderer walked free. This shocking look at the dark side of Bermuda examines the island's attempt to recover, despite a tourist boycott by many Canadians."
The film crew reportedly plan to continue with their plans to produce the documentary despite the refusal, and plan to conduct interviews outside of Bermuda.
Read More About