Avid parade and race watchers are out already this afternoon [May 25], with some dedicated Bermuda Day fans setting up their 'camps' earlier today along Cedar Avenue.  A few people are looking 'settled in', sitting down in chairs ready to await the beginning of tomorrow's festivities.
The Sinclair Packwood Memorial Cycle Race starts in Somerset at 8.50am, the Half Marathon starts in Somerset with over 1,000 runners due to set off at 9.00am, and the Heritage Junior Classic Race starts on Front Street at 9.45am.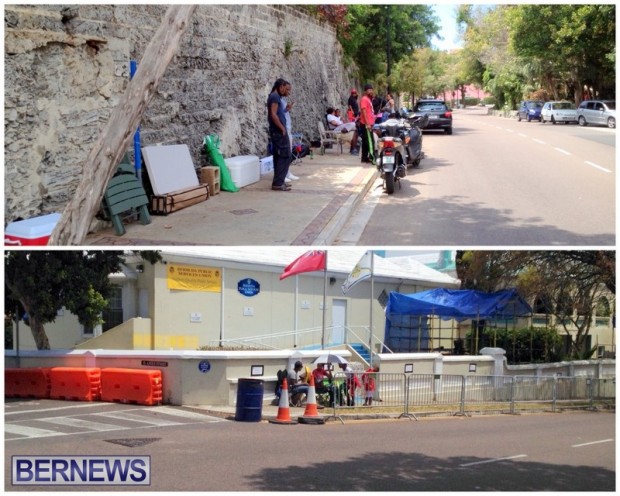 Tomorrow's parade begin at 1.30pm and will include the Bermuda Classic Bike Club, Bermuda Longriders Motor Cycle Club, Classic Car – Roger Francis, Latest Peugeot Convertible, Bermuda Regiment, Grand Marshals, Miss Bermuda 2013 Katherine Arnfield, Little Miss Paradise Sedona-Sky Duffy, Elite Starz features the Top Model Constant Che-Chulae Dowling, Somerset Brigade Band, The Bermuda Train – St. James, Church Performing Arts Group, Bermuda Rifle & Drill Team, Bermudians for the Garry Dill's Heart Fund, Gladwyn Smith Float, Boundary Breakers, Bermuda Finest Ltd. Float, Fusion Fitness, Transforming Arts Association Ministry charity, Simmons' Family and Friends Float, The Ex-Artillery Majorettes, Hennessey's Official Day In The Parade/Alexandria Dowling, The Raynors sing Carpenters' Music, and the Bermuda Police Service Float.
The parade will also include the Berkeley Institute Marching Band, Challenge Dance Crew, Department of Corrections Float, Rated 'E', Troika Float, Krazed Ego, Vasco Da Gama Club Float, Calypso Queen Eilene and Dancers, Bermuda Squad, The Chewstick Foundation, Vice Versa Dance Group and Float, Warwick United Majorettes & Drum Corps, The Motivated Old School Dancers, Bermuda Shriners' Club Float, KAST Majorettes and Dancers, H & H Gombeys, "We the people!" The Pembroke Parish Float, No Limit Star Crew, Sui Generis Dance Team, Department of Community and Cultural Affairs Float, St. George's Original Dancerettes, Sandy's Secondary Middle School Float, Show Time Drumline, Xquisite Styles Float, Pembroke Hamilton Club Majorettes and Drum Corp, Open Your Heart Foundation Float, A-Team/Bermuda Best Dance Hall Group, PCC Majorettes and Drummers, Caravan of Love, Peace and Healing by Global Art, TV and Communications Plus Float, Diverse Conception, CedarBridge Academy Float, De Onion Patch Crew Rhythm, The Bermuda Gombeys: Warner Gombeys, Gombey Warriors, Warwick Gombeys, The Bermuda Carnival Revelers, Passion Bermuda Jason Sukdeo, and Places New Generation Gombeys.
Read More About