With the Cup Match Classic now completed, the next big event for the holiday season is the annual Non-Mariners Race which will be held this Sunday [Aug 3] at the Sandys Boat Club at Mangrove Bay.
Hosted by the Society of Non Mariners, the always popular 'non-event' kicks off just before noon, and involves strange and unusual watercraft taking to the water, most sinking within minutes.
The Non-Mariners Race started decades ago when a group of drinking friends debated the flotation properties of baby carriages, and ended up trying to sail a baby carriage from Albuoy's Point to Whites Island. This unsuccessful boating attempt was the start of what is now an annual tradition.
Video of last year's Non-Mariners Race:
In providing a pre-holiday safety overview, Detective Superintendent of Police James Howard said, "Non Mariners Event Scheduled for this coming Sunday. This event attracts hundreds of vessels and thousands of spectators. I mentioned this only to remind the boating public that the Department of Marine and Ports has issued a marine notice to all vessels.
"The waters of Mangrove Bay from Kings Point to the Watford Bridge on Boaz Island will be restricted to a 5 knots no wake restriction between 12.00pm through 8.00pm. Personal water craft [Jet Skis] are prohibited from entering the Mangrove Bay area East of Kings Point and the Watford Bridge."
Map, provided by the police, showing the watercraft operating restriction zone: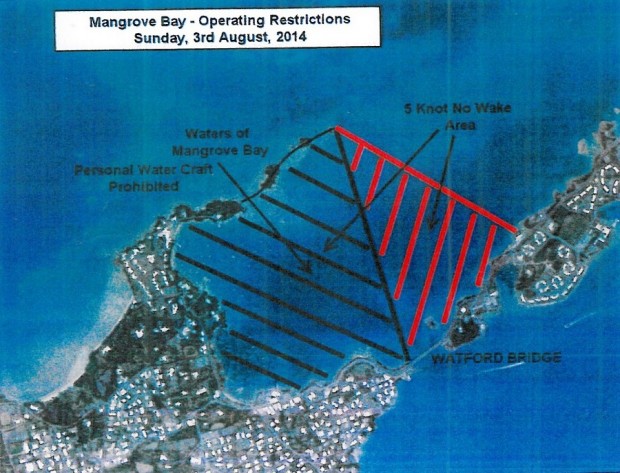 Mr. Howard added, "I would like to remind the boating public to ensure that their vessels are registered; that a current 2014 decal is prominently displayed on the starboard side of the vessel; that they ensure that all required safety equipment is on board; and that they are carrying enough fuel for the intended journey. It is also recommended that they file a float plan if they intend to go offshore.
"Additionally, speed is an issue not only in maritime collisions but in the general nuisance factor that is experienced by boaters at anchor near the shoreline. The boating public is reminded of the need to exercise care and caution around other vessels and to be on the lookout for swimmers.
"To this end, the 5 knot – no wake areas will be strictly enforced in order to calm the marine traffic. We also encourage that persons do not mix any use of alcohol with power-boat operating or sailing."

Read More About
Category: All, Entertainment