Last week Department of Health staff underwent public health emergency response training, particularly as it relates to infection prevention and control, and outbreak investigation.
The Pan American Health Organization [PAHO] technical advisors conducting the training sessions began training on Tuesday, October 14th, and concluded on Thursday, October 16th.
PAHO advisors from the Jamaica office who conducted the training included Dr. Taraleen Malcolm, advisor for Sustainable Development and Environmental Health, and Mr. Oswald Morgan, PAHO consultant.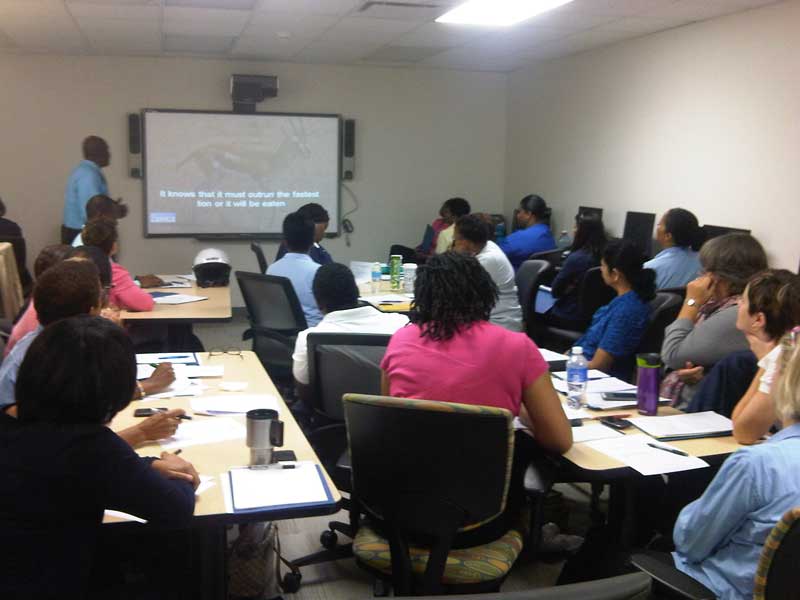 "These training sessions are part of an on-going series of exercises to increase the Department's public health capacity and preparedness to manage serious infections of public health significance," explained Chief Medical Officer, Dr. Cheryl Peek-Ball. "The goal of the sessions was to ensure that all stakeholders are aware of their professional and personal role in managing a public health emergency."
On Tuesday, October 14th Environmental Health staff met with Mr. Morgan to discuss areas which require strengthening, particularly in preparation for managing a local case of Ebola. Although to date, there have been no local occurrences of Ebola, it is essential to prepare for the possible introduction of the disease.
Later that day the PAHO representatives attended the Ebola Preparedness Sub-Committee at KEMH, and met with the Infection Control Practitioner and Disaster Response Manager. They were also provided with a tour of Bermuda's hospital facilities. That afternoon there was Intensive Outbreak Investigation training for those Department of Health staff members with prior experience in outbreak investigation.
Wednesday, October 15th saw all-day training for Department of Health staff with no prior outbreak investigation experience. On Wednesday afternoon there was a presentation at the hospital by Dr. Peek- Ball and Dr. Malcolm entitled, "Public Health Surveillance: Mission Critical". The primary objective of the presentation was to motivate and encourage healthcare professionals to be full participants in the important work of disease surveillance by reporting all diseases of public health significance according to local reporting protocols.
The Ministry planning and preparedness efforts will continue indefinitely.
Read More About
Category: All