A multiyear plan to enhance Visitor Information Centres [VIC] across the island will continue in January 2015 when the Bermuda Tourism Authority [BTA] takes over visitor information services at the Royal Naval Dockyard, the BTA said. The current VIC vendor agreement in Dockyard terminates December 31, 2014.
The  BTA said the "strategy shift of self-managing VICs will allow the BTA to use taxpayer funds more effectively, enhance customer service for the visitors, unify brand messaging across all visitor centres, upgrade VIC facilities and better represent industry stakeholders' interests.
The VIC product improvement plan began last summer with a renovation of the St. George VIC, and plans are taking shape for the two other VICs.
The St. George VIC after its upgrade: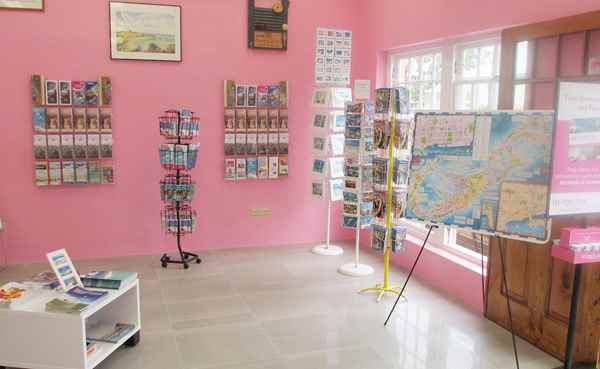 "Improving the tourism product in Bermuda, including visitor information centres, is an important part of the National Tourism Plan and we are anxious to get started with the next phase of this plan," said Pat Phillip-Fairn, BTA Chief Products and Experiences Officer. "Our research indicates VICs around the world play an important role in positive visitor experiences."
Mrs. Phillip-Fairn said: "The BTA inherited three VICs, with three different vendor agreements and three very different VIC products. Our product improvement plan will allow all three centres to be brand unified with a similar look and feel, more discerning training standards and shared administrative functions for cost efficiencies."
"Our plan is to invest in Bermuda's VIC network and make it the authoritative local source for all tourism-related information, incorporate best practices in customer service standards and introduce new technological advancements."
Tashae Thompson, part of the BTA Products & Experiences team, attended the Visitor Services Summit put on by Destination Marketing Association International in September 2014, where she learned industry best practices that the BTA said will be implemented throughout Bermuda's VIC network.
Miss Thompson said:" The two-day summit was extremely engaging and demonstrated the BTA's product improvement plan for Visitor Information Centres is on the right track for global competitiveness and servicing the needs of today's visitors."
"The Products & Experiences team is working with West End Development Corporation to finalize the VIC location in Dockyard. While vendor agreements with Hamilton and St. George VIC operators have been extended until December 31, 2015, once a successful model is in place for VIC services in Dockyard, they will also transition to BTA management," the BTA said.
The BTA added that job losses are not expected as they will seek to retain current VIC staff.
Read More About