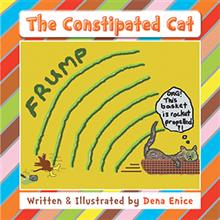 Using rhymes, verses and vibrant illustrations, author Dena Enice is teaching young readers about the importance of healthy eating for themselves and their pets, showing the consequences of an unhealthy diet with her book The Constipated Cat.
"How healthy are you?" the narrative asks its readers as it shows how the Sweet family settles a minor dispute, showing readers that taking in all things in moderation is the key to a healthy and happy lifestyle.
While the message is for children, it also involves house pets as well as parents and adults, conveying to audiences the important role every family member plays in promoting proper dietary habits in everyone.
"There are so many easy options out there for parents to give their children as substitutes for a good wholesome meal. This story shows readers the effects that eating/drinking unhealthy foods can have on the body," said Ms. Enice, whose previous children's book, Stinky Toes On My Nose, also encourages healthy habits amongst readers.
"By seeing what happens to The Constipated Cat, readers will be inspired to take care of themselves and treat their bodies well because it is the only one they have."
The Constipated Cat is available for purchase via Amazon and Barnes & Noble online stores.
Read More About
Category: All, Entertainment