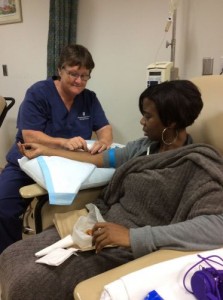 A Bermuda woman who has faced a unique battle with colon cancer has taken to sharing her story and experiences with the world at large, aiming to help those facing a similar diagnosis.
Giovanna Watson was diagnosed with colon cancer in February 2014; two surgeries, eight chemo treatments, 26 radiation treatments, over 500 pills, and multiple memories later, she has launched HelloCancer.org, a website offering a wealth of information to visitors.
"Instead of feeling ashamed, I decided to share my diagnosis and journey with family and friends through social media and live life the best I could in between surgeries and treatments," Ms Watson said.
The website says, "In February 2014 Giovanna Watson was the youngest person at that time to be diagnosed with colon cancer in Bermuda.
"Her love was track and field in High School but since her college years, she is known by her friends, family and community for her love of Salsa and Bachata dance and music.
"Her love of Salsa also influenced her and her team to create Bermuda Latin Vibes, a one stop resource for all things Latin in Bermuda and hopes that once she recovers she can energize the community once again through BLV.
"She believes that everything she has done or participated in through the years has given her unique and creative tools to be able to help others fighting cancer going forward."
For more information about HelloCancer.org, or to contact Ms. Watson, please visit the website..
Read More About