CedarBridge Academy said they wish to congratulate eighteen S2 students who sat the IGCSE Cambridge Examination in English Language in November 2015.
"In 2014, 18 students were enrolled in the S1 accelerated honors program where they were exposed to the Cambridge examination curriculum, which has recommended preparation period of two years," a spokesperson said.
"Students worked assiduously during school hours, dedicated time on Saturdays, and even attended classes during school breaks to ensure their success in one year."
Tim Rogers, a parent said, "What is proven by the recent exam successes of the class headed up by Mrs. Crawford Anderson is that hard work pays off," adding that the students spent many days after class and on weekends with their teacher honing their skills.
"One of the greatest gifts Mrs. Crawford Anderson has given these youngsters however is confidence in themselves; confidence that they can be and are students of excellence," he said.
Tonya Ottley Peets, Azre Smith, Priya Phillips, Chaella Bradshaw Douglas, Kayla Carpenter, Taye Fishington, Sekai Wainwright- Basden, Shane Rogers, Zyair Scott, Storm Gibbons, Krishay Tucker, Iyana Richards, Nelson Arruda, Haley Place, Sebastian Knox, Sahlay Davis, Nadir Young, K. Crawford-Anderson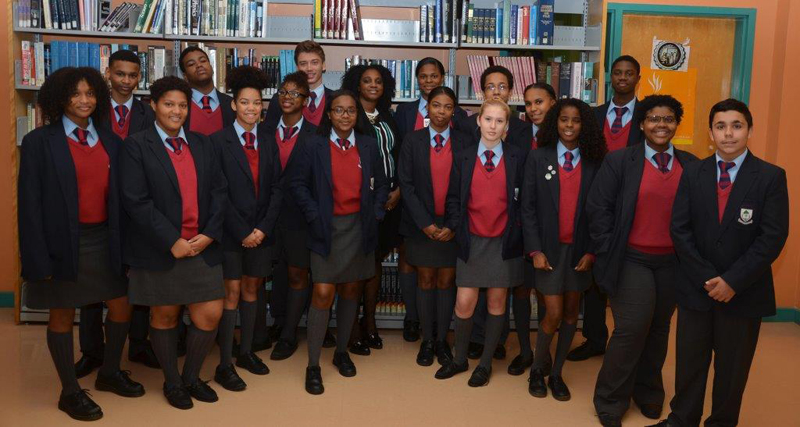 Language Arts teacher Mrs. Crawford-Anderson said, "I am immensely proud of  and delighted with my students' results which is a testament of their staunchness and the dedication of parents. I really look forward to raising the bar in the years to come."
"The students' confidence resulted in the best results ever for CedarBridge Academy: Three A Stars, Six As, six Bs and four Cs," the spokesperson added.
"This level of achievement has been attained as a result of an exceptional teacher-student-parent partnership.  Mrs. Crawford-Anderson believes in her students and holds them to high expectations and standards.  She works with the students to help them to master skills and concept at a level that will guarantee success."
Principal of CedarBridge Academy Mrs. Kalmar Richards said, "The students wanted to achieve at a high standard and they rose to the challenge of completing the two year course within one year.
"The students were receptive to the high demands and expectations and this also contributed to the excellent results.  Lastly, parent support of the students also played a key role.  When parents work with teachers and the school, success is inevitable."
"Public School System Rocks!" said Ms. Andrea Ottley-Peets.  "It is with great excitement I submit my congratulatory message to CedarBridge Academy especially Mrs. Crawford-Anderson and fine young men and women for their academic performance.
"The results show great cohesiveness between teacher and students a willingness to teach and the eagerness to learn and be successful. 
"Congratulations to Mrs. Crawford-Anderson, a teacher of excellence, for her commitment, understanding and care for our children, her students.  We gave her the ingredients and she gave us the final products. Results speak for themselves. 18/18 100%"
One week after the examination in November, Mrs. Crawford-Anderson, with the help of the community and school, took students on a pre-celebratory trip to England. During their stay they toured London, visited schools in Birmingham and had an exciting tour of Stratford Upon Avon, the birthplace of William Shakespeare.
Mrs. Richards added, "We want to thank Endurance for their awesome support of our students. Their generous donation enabled students to travel overseas and experience first hand the places they read about in literature.
"Endurace was awarded the school STAR Award in February 2016, during the S2 Honours Assembly, for supporting the efforts of our students. We are most grateful for their support."

Read More About