[Opinion column written by BPSU President Jason Hayward]
During last week's protest, I had an opportunity to engage in constructive dialogue with many of my fellow Bermudians. One morning, a small group of us were having a conversation regarding living a purposeful life when one brother, who was in his mid-twenties, stated: "Isn't life just about dodging death?"
The entire conversation stopped and the silence was deafening. The group went on to discuss what we each believed was our purpose while at the same time encouraging the young brother to find his purpose.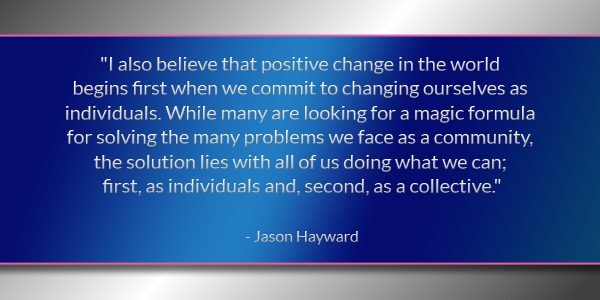 I found the brother's comment to be extremely alarming. Even more disturbing was my ignorance of how some young people feel in our country and I wondered how many other young Bermudians feel the exact same way. How many young men or women are walking through life believing that they have no purpose or have lost hope?
If you had asked me three years ago where I saw myself in a year, I would have told you that I would be the country's Economic Statistician. At that time, all indications were that I was firmly headed in that direction:
I had been placed on a three-year professional development plan and had successfully completed all the objectives that had been set for me,
I had taken every training session that had been made available to me,
I made international contributions as part of a CARICOM regional Technical Working Group.
The stars seemed to have all aligned for me. The job was advertised, I applied but I was neither offered the job nor an opportunity to under-fill the position.
At the time, the Director stated that sometimes the best person doesn't get the job and alluded that I had a greater purpose. I thought those words were offered merely to provide me with some form of comfort. I did not understand what she had meant at the time and it was, admittedly, a very hard pill to swallow.
However, I now realise that often times God sees something in us that perhaps we could not possibly see in ourselves. I now live according to God's will and, as a result, I believe He has called me to use my skills to represent, advocate for and assist both the working class as well those struggling in Bermuda. I have accepted that while my aim was to become Bermuda's Economic Statistician that was not God's plan for me.
I have now embraced my purpose; one of service to my community and the workers of this country. Growing up, I would have never imagined that I would hold such a position with so much responsibility, however, the experiences I have had throughout my life have helped shape me into the man I am today.
I also believe that positive change in the world begins first when we commit to changing ourselves as individuals. While many are looking for a magic formula for solving the many problems we face as a community, the solution lies with all of us doing what we can; first, as individuals and, second, as a collective.
I encourage persons to embrace a value-added lifestyle. Commit to engage in activities that add value to your life and the lives of others. Activities that don't add any value, choose not to engage in them.
I have embraced a value-added lifestyle and, as a result, I have become a better father to my kids and my physical, mental, financial and spiritual health have all improved. Improving as an individual has given me a greater capacity to add value to my community.
A value-added lifestyle forces us to make an inward reflection. It forces us to take a critical look at our actions and decisions, and determine if they are in our best interest or in the best interest of the community. Rather than trying to solve the difficult problems of how we can address issues as a collective, I encourage you to do all that you can as an individual.
Ask yourself: "Do you have the capacity to add greater value to your life and the community?" If the answer is "Yes", next ask: "What is limiting you?" If, however, the answer is "No", ask yourself the very same question: "What is limiting you?
Value-added activities that individuals can participate in include:
1. Continuous Education/Training/Retooling oneself:
 Personal Development
Professional Development
2. Social Activity/Community Involvement:
Participation in Community Organisations
Participation in Socially Conscious, Civic and Cultural Activities
3. Returning to Traditional Family Values and Principles:
Actively participating and contributing to the household
 Resolving family disputes
Working as a family to achieve more
It is never too late for persons to find their purpose. My life has been far from rosy but I have accepted the fact that God never promised us a life of convenience. I encourage you to embrace your purpose and push through whatever adversities you may face.
- Jason Hayward

20 Most Recent Opinion Columns

Opinion columns reflect the views of the writer, and not those of Bernews Ltd. To submit an Opinion Column/Letter to the Editor, please email info@bernews.com. Bernews welcomes submissions, and while there are no length restrictions, all columns must be signed by the writer's real name.
-
Read More About