The Bermuda National Trust [BNT], together with sponsor Marshall, Diel & Myers, celebrated Earth Day 2016 by "listening to the voices of our children" at the Earth Day Student Video Competition prize-giving for Primary, Middle, and Senior School students.
A spokesperson said, "Prizes were awarded to the 50 students who submitted 19 videos, with the overall winner and first prize in the Primary School category going to Saltus students Jessica Bucher, Celena Presti, and Courtney Rego for their video about invasive species called 'Taking Over Bermuda'.
"Jasmine Colmet, Alia Peets, and Skylar Trott of BHS won the first prize in the Middle School category for their animated video called 'Invasive Species,' and Rakaja Simmons and Jahstice Trott of CedarBridge Academy won first prize in the Senior School category for their video about the Bermuda National Trust's nature reserves called 'Beautiful Bermuda'."
Saltus students winning third prize in the Primary School Category for their video 'Solar Energy – The Jedi Knights'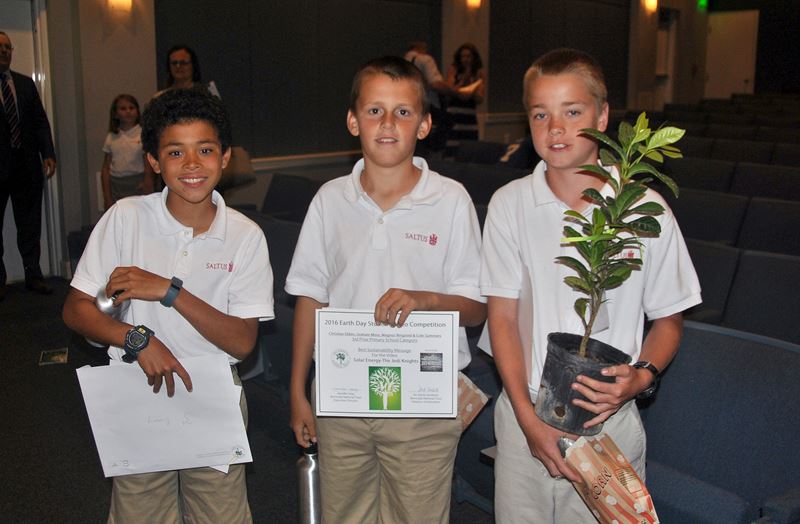 "The videos focused on a wide variety of topics relating to the environment such as green power, invasive species, the meaning of Earth Day, development versus environment and the value of the Bermuda National Trust nature reserves.
"Students expressed their stories in different and engaging ways. Saltus students Christian Ebbin, Graham Moss, Magnus Ringsted and Cole Summers used drone footage and interviews to explain photovoltaic cells and to highlighting the importance of switching to solar power in Bermuda.
"Rachel Hyland of Saltus showed the beauty of Bermuda's plants through many photos and gave ideas of how to protect endangered animals.
"In the video 'Earth Day News', Harley Kempe-Brown, Jaime Procter and Leahnae Morton-Richardson from BHS used acting as TV presenters to convey their message of current environmental issues, while the video 'The Meaning of Earth Day' by Aalyah Fadda and Layla Kurt showcased the pressure the human population places on the environment of our planet."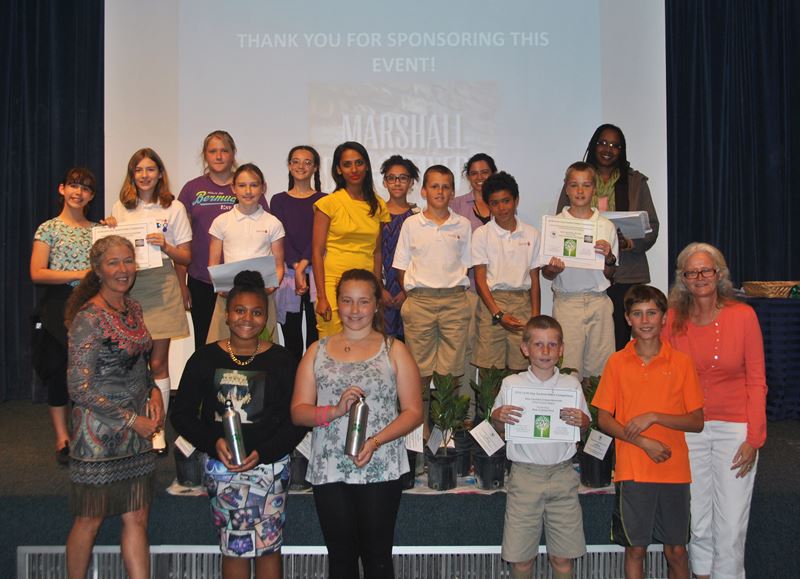 "We encourage Bermuda to view the fine works by our youth by visiting bnt.bm and YouTube. The films will also be aired on CITV.
"We hope these productions will spark lively discussion and change habits towards a greener and healthier Bermuda. Each student team will also be doing its part by planting a Bermuda Olivewood tree which was presented to them for entering into the competition."
Alma Dismont of Marshall, Diel & Myers Limited said, "Marshall Diel & Myers Limited was the proud sponsor of the Bermuda National Trust's competition for students to produce a video in relation to the environment. The videos created by the students this year showed a huge amount of dedication of time, creativity and commitment to promoting and protecting the environment.
"It is so very inspiring to see so many young people making such an invaluable contribution to the community. The children are after all the future of Bermuda."

Read More About
Category: All, Environment, News