News that Theo Wolffe won the 2016 Alpha Beautillion, KFC customers on the island donated $4,223 to the Bermuda Red Cross, 17 youth volunteers were honoured at the Centre on Philanthropy's Youth Volunteer Recognition Reception, and the Hamilton Princess and Beach Club was named one of the Best International Resorts by Celebrated Living Magazine were all some of the positive news stories from the past week.
Other good news stories included Bermudian Dennis Rahiim Watson being presented with the Caribbean Impact Award, AXIS donating $7,500 to the Bermuda Society for the Blind, the Bermuda Equestrian Federation holding its annual prize-giving dinner, and a cheque for $2,000 being presented to the unit of Sea Cadets by The Friends of St Peter's Church in recognition of their support.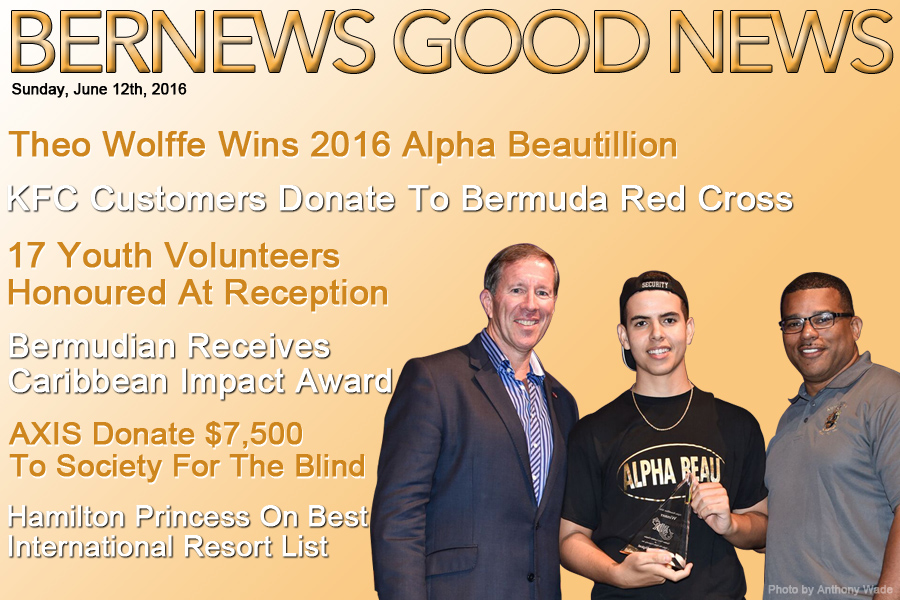 In addition, the Queen recognized a number of locals in her annual Birthday Honours List, including Martha Dismont, Carol Everson, Ronnie Chameau, Deborah Lyn-Ann Gillett, Gary Douglas Staines, Calvin Lee Smith, Sergeant Gregory MacArthur Grimes, Vivlyn Cooper, Eddie Fisher, Jay Kempe, Malcolm Kirkland, Troy Lewis and Alda Raposo.
We also posted various community photo galleries, including coverage of local firms helping at the National Museum, Atlantic Rugby Cup action, the U11 team winning the Celebrity Cricket Match, Bermuda's CFU Caribbean Cup match against the Dominican Republic, the Bermuda Motorcycle Racing Club's 'Wheelie Wars II' event, the Queen's Birthday Parade, as well as netball and hockey action.
In an effort to highlight some of positive news happening in our community, we supplement our standard morning and evening email newsletters with a special Sunday "Good News" email newsletter edition, which strictly focuses on the positive news from the past week.
You can sign up to have the free newsletter delivered via email here, and/or access the links below. In addition, for those who like positive news, please feel free to visit our sister site ForeverBermuda.com, which seeks to showcase the best of Bermuda as well as provide information and listings for visitor related services.
Links to some of the 'good news' from the past week are below:
Read More About