The Reading Clinic and Centre Against Abuse were selected by America's Cup Challenger SoftBank Team Japan as the local charities to receive the prize money from Foil Fest.
SoftBank Team Japan, Artemis Racing and Oracle Team USA donated a combined $12,500 with the Foil Fest winners choosing where to donate the funds.
The teams raced in three "drag races" just off of the cruise ship berths in Dockyard. This was a completely unique event for Bermuda that also saw the teams welcome the public into their bases for a behind-the-scenes look at America's Cup racing.
Dean Barker, Skipper and CEO, SoftBank Team Japan, says: "Foil Fest was a great event and we were delighted to open our bases and welcome the public in. But we were even more thrilled to win the regatta and split our winnings between these two worthy charities who do so much for the Island."
Two local charities received their donations at SoftBank Team Japan's base in Dockyard today. Attending the presentation were [left to right]: Kazuhiko "Fuku" Sofuku, General Manager SoftBank Team Japan, Glenn Faries, Executive Director, The Reading Clinic, Yuki Kasatani, Crew Member, SoftBank Team Japan, Laurie Shiell, Executive Director, Centre Against Abuse, and Dean Barker, Skipper and CEO, SoftBank Team Japan.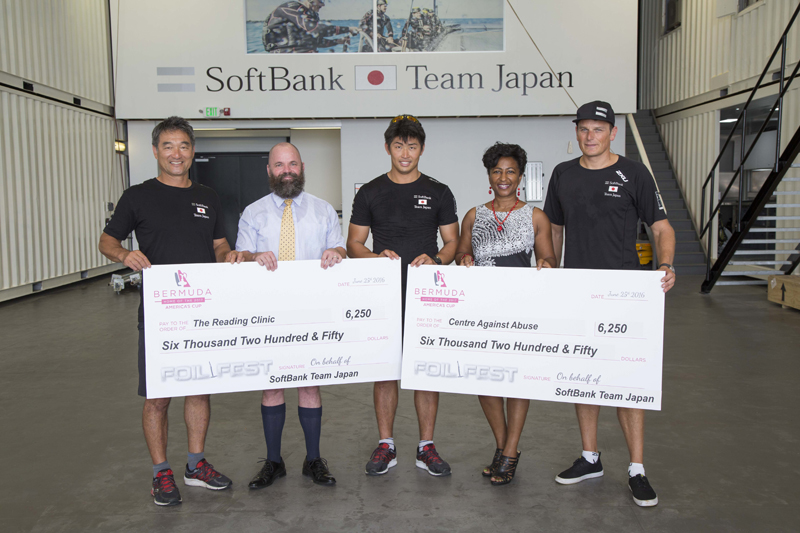 The Reading Clinic is a registered charity that promotes literacy and numeracy in Bermuda. It provides assessments, tutoring and related interventions for children with dyslexia and learning difficulties.
Glenn Faries, Executive Director, The Reading Clinic, says: "Many charities are facing challenges in this economic climate to be able to continue to provide quality programmes and services when there is less funding available and The Reading Clinic is no exception. We are thrilled to have been selected by SoftBank Team Japan as the beneficiary of the funds from the recent Foil Fest.
"It is wonderful that the America's Cup teams are involving themselves in Bermuda's community in this way. By giving back, they are truly demonstrating their commitment to Bermuda.
"We are deeply grateful for SoftBank Team Japan's assistance as we seek to enable all Bermudians to reach their true potential and become valued contributing members of a thriving community. Together, with the help of SoftBank Team Japan, we will help our children learn, grow and soar."
The Centre Against Abuse [CAA] is a non-profit organisation whose goal is to offer crisis services on domestic abuse and sexual assault and provide awareness on these topics to the Bermuda population. The organisation also aims to educate the community to provide building blocks for healthy relationships.
Laurie Shiell, Executive Director, CAA, says: "The Centre Against Abuse [CAA] are thankful and humbled at being chosen by Softbank Team Japan of the America's Cup. Their heart to support CAA assists us in providing crisis services to survivors of domestic abuse and sexual assault here in Bermuda, and also supports our community awareness programmes.
"With 1 in 3 women and countless men in Bermuda being affecting by domestic abuse during their lifetime, we are thankful that Softbank Team Japan understands the importance of the work that CAA does as the only organisation in Bermuda working to provide crisis services to adult male and female survivors."
If you missed the action at Foil Fest, ZFB TV7 will rebroadcast their 'Foil Fest Special' on television at 8.00pm this evening [July 7] and a live online stream of the ZFB programme will be simulcast on Bernews.

Read More About