As part of a private civil case, the Chief Justice Ian Kawaley has ruled in the Supreme Court that Government did not comply with Section 4 of the Bermuda National Parks Act 1986 regarding the maintenance yard planned for the centre of the Botanical Gardens, the action group Take Back Our Park [TBOP] said.
A TBOP spokesperson said: "Section 4 of the Bermuda National Parks Act 1986, the mandated legislation governing protected areas, mandates that the public must be notified of "the construction of any roads or buildings …with respect to any existing protected area", "and shall give opportunity for and shall take into account public comments before acting on any proposal".
"Even though this ruling is part of a private civil case, it is very significant for us because it confirms that the public were not made aware of the proposed maintenance yard nor of its magnitude compared to what was there previously nor was there any opportunity for the public to voice their objections.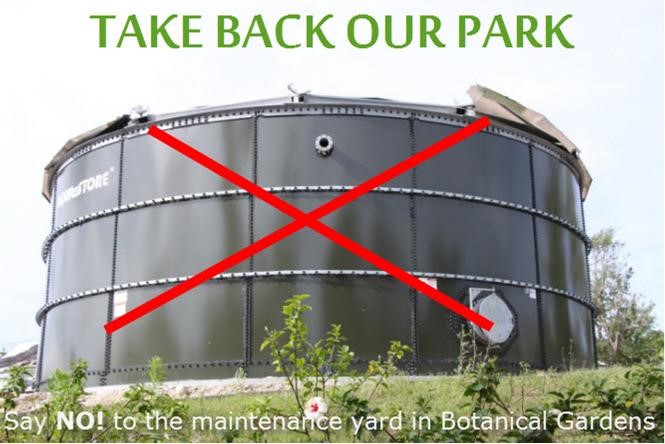 "In addition to this serious oversight, the Planning application for the proposed maintenance yard was advertised as only 169 South Road with no mention that the site was in the Botanical Gardens nor that the site was zoned as protected park land.
"Given that over 3,750 people signed our petition here, which was delivered personally to Minister Cannonier in January, it seems clear that had the public been made aware of this plan, it would not have been approved given the large amount of people who are against it."
The Group believes the current plans go against the very spirit of the Parks Act which says `such areas shall be managed and administered so as to protect, maintain and enhance [protected areas]` and `with a minimum of commercial and mechanized activity' given the industrial nature of a maintenance yard.
"Parks staff are long overdue to have a proper headquarters but not on a location that effectively bisects a national park," added the spokesperson.
As a result of this action, Government is now holding public consultations on the planned maintenance yard.
The spokesperson said: "Take Back Our Park [TBOP] has issued a 'Call to Action' and we are asking everyone to submit their objections and comments regarding the Botanical Gardens maintenance yard project to the attention of Marcus Wade at marwade@gov.bm."
Further details about the proposed industrial yard can be found at the Take Back Our Park Facebook page.
Read More About
Category: All, Environment, News