The Chubb Building on Woodbourne Avenue is the first on the island to recertify LEED Gold using the LEED Dynamic Plaque to manage its building performance.
LEED or Leadership in Energy & Environmental Design is a green building certification programme that recognises best-in-class building strategies and practices.
A spokesperson said, "The LEED Dynamic Plaque is on permanent display in Chubb's main lobby. It measures and displays the current building performance data across five categories: energy, water, waste, transportation and human experience.
"Scores are graded: 19-49 points = Certified, 50-59 points = Silver, 60-79 points = Gold and 80+ = Platinum. The Chubb Building recently recertified LEED Gold with a score of 70.
"The plaque enables Chubb's facility management team to view trends allowing them to make informed improvements to the building operations that can save money and resources and make building occupants more comfortable. A smartphone app is also available for employees interested in the current status of the building."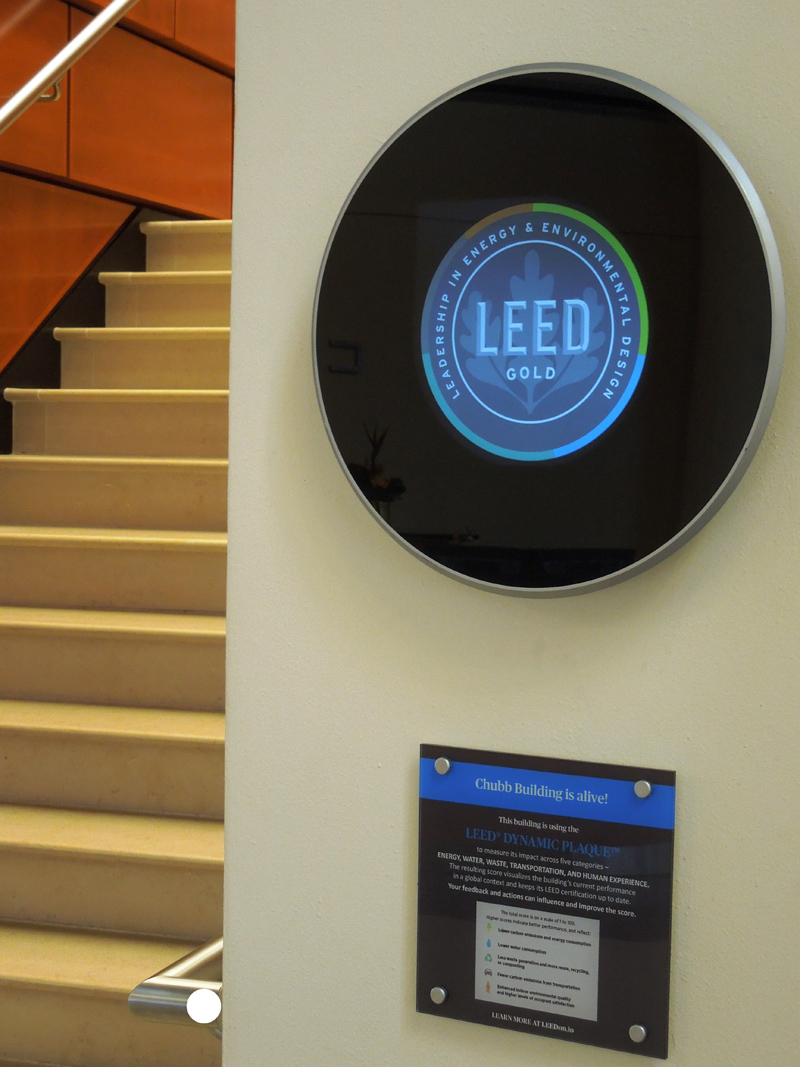 "The plaque allows us to keep employees and visitors engaged in our mission to reduce the environmental footprint of our facility. Chubb takes pride in being a corporate leader with its environmental programmes, and without collective effort, this undertaking would not be possible," said Colin Brown, VP Administration & Facilities.
"The Facilities department and the Green Team have worked diligently with employees to transform the premises enabling it to achieve and maintain LEED Gold. Many have opted to forgo their trash bins to reduce plastic waste liners, adopted reusable water bottles, support the company's TAG [Tin, Aluminium, and Glass] recycling policy and many more initiatives.
"Employees are supplied with reusable lunch containers to use within the Chubb Cafeteria. Successful implementation of reduction and recycling practices is measured by an annual waste stream audit.
"Energy reduction has been a priority under LEED. With careful management of the building's control systems, adjustment of air conditioning and installation of LED and motion sensor lighting, Chubb has achieved a 22% reduction in energy usage averaging 160,000KWhrs/year in overall usage since 2011.
"Achieving points under the LEED waste recovery component was challenging as Bermuda's ability to successfully convert trash to electricity in its waste-to-energy incinerator is not recognised by LEED. However, the building's capacity to efficiently collect sufficient rainwater for all its needs received top marks.
"The Chubb Building is equipped with a non-potable and potable water tanks for a combined volume of over 300,000 USG, catching rainwater from roofs and terraces. With low flow aerators on taps and toilets in all washrooms, water has not been purchased in nearly three years.
"An annual online survey captures feedback on employee transportation habits and building environment satisfaction, covering the transportation and human experience score.
"The Chubb Building [then the ACE Building] was first awarded LEED Gold in 2011 along with the Greenrock Green Workplace Award. Further recognition came in 2015 from the Bermuda National Trust with its Environmental Award for the successful implementation of green initiatives and practices at the Chubb Building, followed by an Honourable Mention in the 2015 Greenrock Green Workplace Awards.
"Chubb has implemented green building practise in a number of locations and its North American office building in Philadelphia earned LEED Silver certification in 2009, becoming the city's first LEED-certified existing building and recertified LEED Gold in 2014.
"Chubb recognises the responsibility to provide solutions that help clients manage environmental risks, to reduce our own environmental impact, and to make meaningful contributions to environmental causes. More information about our environmental programmes and initiatives can be found in our Environmental report."
Read More About