The fleet enjoyed beautiful conditions for the first day and night of the Antigua Bermuda Race, with a fleet of 21 boats taking part in the inaugural 935 nautical mile race, which started from Antigua yesterday [May 12].
A light easterly breeze of about 8 knots and a gentle sea state provided glorious reaching conditions. By morning on the second day, all of the fleet had passed Barbuda – the next land they will see will be Bermuda, over 800 miles north. The wind experienced was more than forecast and this may allow the faster yachts to hook into good pressure further north.
Allegra at the start of the Antigua Bermuda Race © Ed Gifford Photography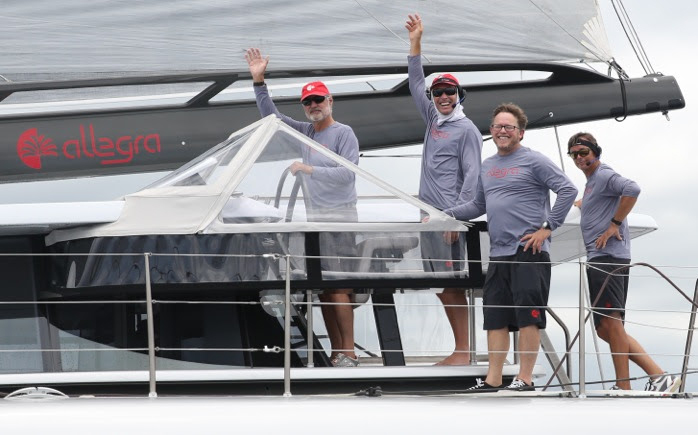 "The view from the nav. office right here, right now is pretty nice! The Caribbean sun is closing fast on the horizon to my left and setting over the very low shores of the island of Barbuda. There is a slight swell, but it's comfortable. Scotty is doing some last checks around the deck before darkness sets in. Behind me, Rick is preparing a steak dinner. Everything is golden on board Allegra! We are making about 8.5 knots across this painting and we're grateful for every one of them," says world speed sailing record holder, Paul Larsen in his blog from on board.
Allegra, the Nigel Irens designed 78ft catamaran at the start of the Antigua Bermuda Race. Her crew for Antigua Bermuda Race includes world speed sailing record holders Paul Larsen and Helena Darvelid from Vestas Sailrocket © Ted Martin/Antigua Bermuda Race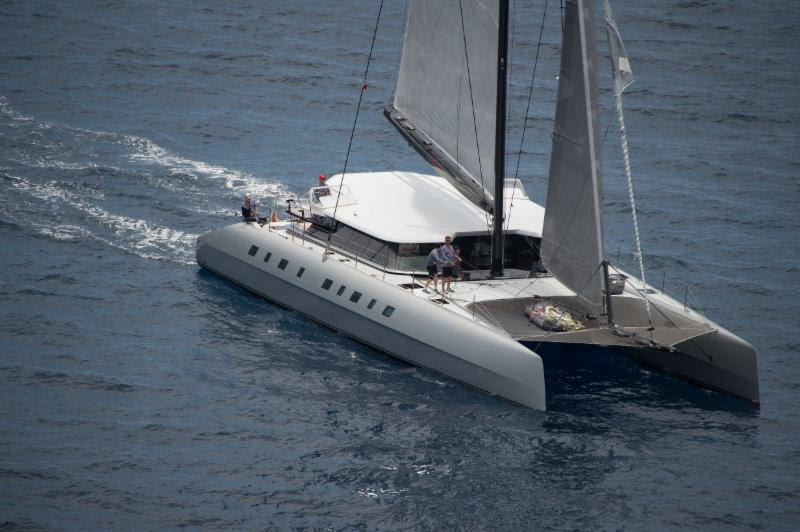 "The fact is that we've had more wind than we expected since the start, having thought it would be a very light weather affair. Seeing as some of the crew have appointments set in stone, that can't be missed – family wedding, weirdly not planned around a sailing race! – the decision was made to fill Allegra with fuel after the last weather forecast before the start. The weight equivalent of two Harley-Davidsons was parked/loaded into the tanks," says Larsen.
Freya and Stay Calm rounded the windward side of Barbuda following the start from Antigua © Ted Martin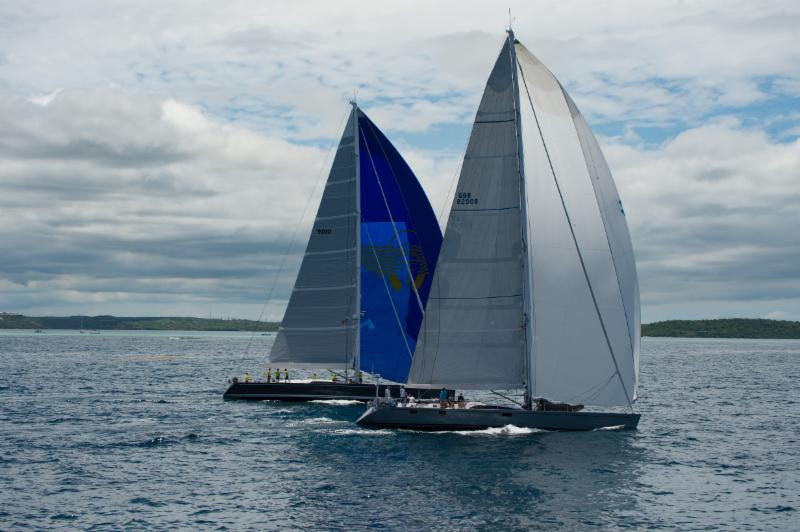 "The wind we have now is not as forecast and we only have to do these speeds for a couple of days to be out of trouble time-wise. Then the pressure is off… and the longer showers and even a little air conditioning action is all back on. Typically people like to see hardened sailors suffering and battling away for every rugged mile. Thankfully, not all sailing is like that, and certainly not what this boat is about. "
A close battle on the water for the two Pogo 12.50s. Talanta at the start of the Antigua Bermuda Race © Ted Martin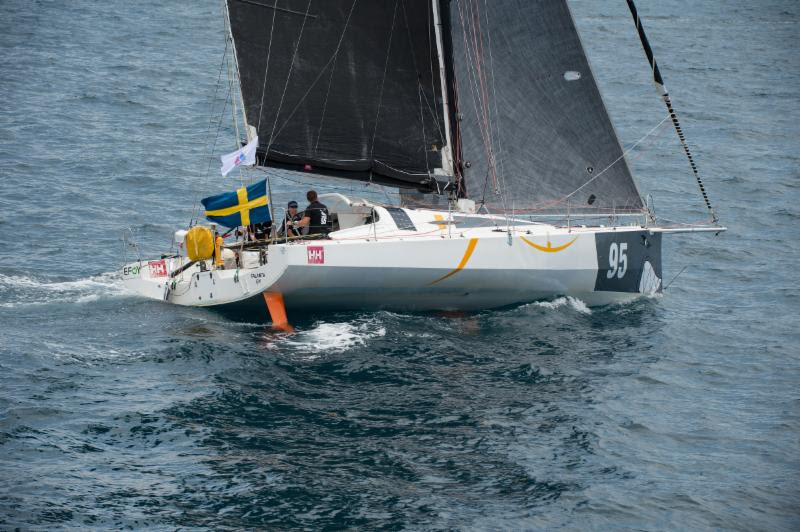 "Last night, three competing yachts decided to round the windward side of Barbuda: Swan 82, Stay Calm, Carl Soares' Paradise 60, Morning Star from Bermuda and Tim Wilson's 1973 Australian ketch, El Oro. The British Swan 82, Stay Calm looks to have found a significant advantage by taking the route, passing Stephen Murray Jr.'s Volvo 70, Warrior, shortly before dawn this morning.
"This is the first offshore race for the US Merchant Marine Academy's Volvo 70, donated by the Murray Family to promote Warrior Sailing, a program to assist wounded veterans in their recovery through the sport of sailing.
Canadian Ocean Racing – Team Hermes from the Royal Canadian YC © Ted Martin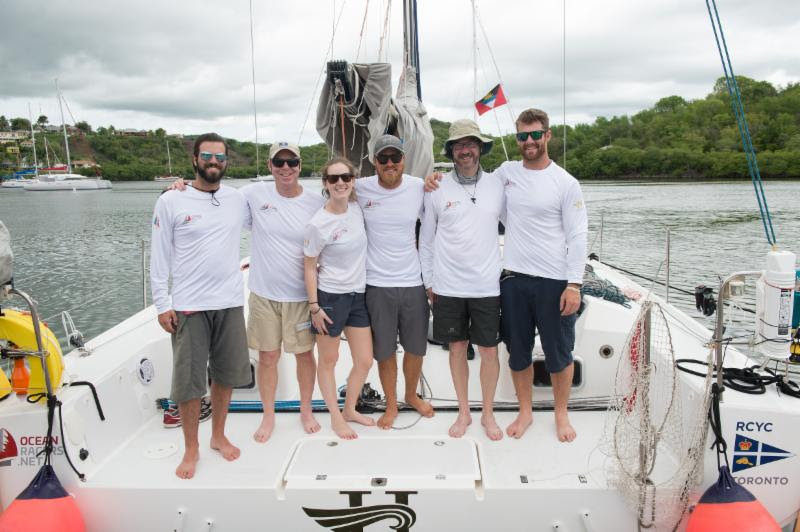 The two smallest boats in the Antigua Bermuda Race are enjoying a close battle on the water. Swedish yacht, Talanta, skippered by Mikael Ryking, has managed to just stay ahead of the Canadian Pogo 12.50, Hermes. However, after time correction Hermes is winning the duel.
"Our first sunset on the Antigua Bermuda Race. It was slow going at the start, but now, when we do manage to get into double-digit wind speed, we are able to gain ground on the fleet quite quickly. Rounding Barbuda at nightfall and slowly, but steadily ticking off boats. Playing with the staysail to see if we can squeeze out any extra boat speed," reports Meg Reilly from on board Canadian Ocean Racing's Pogo 12.50, Hermes.
Jeremi Jablonski's Hanse 43, Avanti from CT, USA © Ted Martin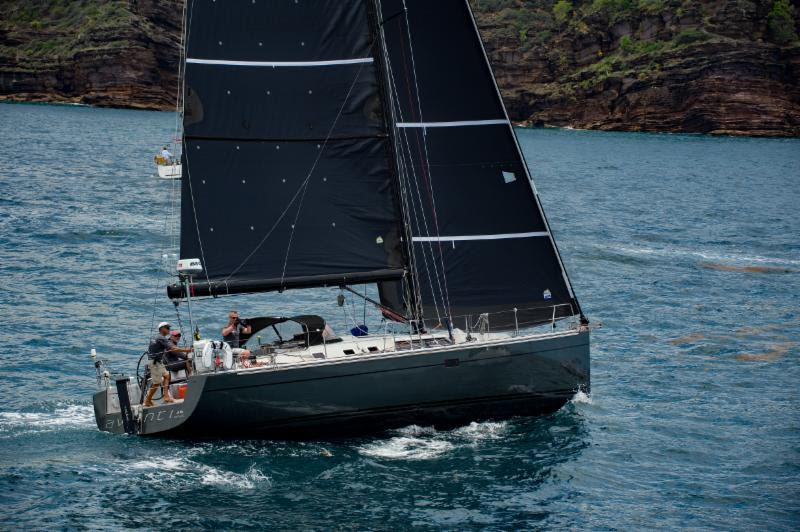 One of the other smaller yachts in the race is Jeremi Jablonski's Hanse 43, Avanti, representing Cedar Point YC, Connecticut USA. Avanti, racing with three crew on board and is currently second after IRC time correction: "Seven knots of wind and sailing the rhumb line. We are enjoying every minute of it!" reported Avanti's, Jeremi Jablonski who has sailed her to the Caribbean for the last five seasons from her home port.
Three yachts have declared using their engine for propulsion and have retired from IRC, but are still racing under the CSA Rating Rule with a penalty to come: Les Crane's Farr PH 56, Monterey, Schooner Eleonora and John Marshall's Oyster 65, Rock Oyster.
A fleet of 21 boats from nine different nations, ranging from 40-162ft, start off Antigua:

Read More About