The Bermuda Trade Union Congress is inviting everyone to attend the opening ceremony of their Special Convention at 10.00am this coming Thursday, with the event set to feature students debating the topic of youth unemployment.
"The Bermuda Trade Union Congress invites all affiliate members and members of the public to attend the opening ceremony of its 2018 Special Convention which is to be held at the Liberty Theatre on Thursday March 29th, 2018 starting at 10am," said BTUC President Jason Hayward.
"The opening will feature Bermuda's Dynamic Debaters who will debate the topic 'Should the Government take responsibility for Bermuda's high rate of youth unemployment.' Dynamic Debaters, under the directorship of Bro. Gladstone Thompson, comprises of students representing both public and private schools.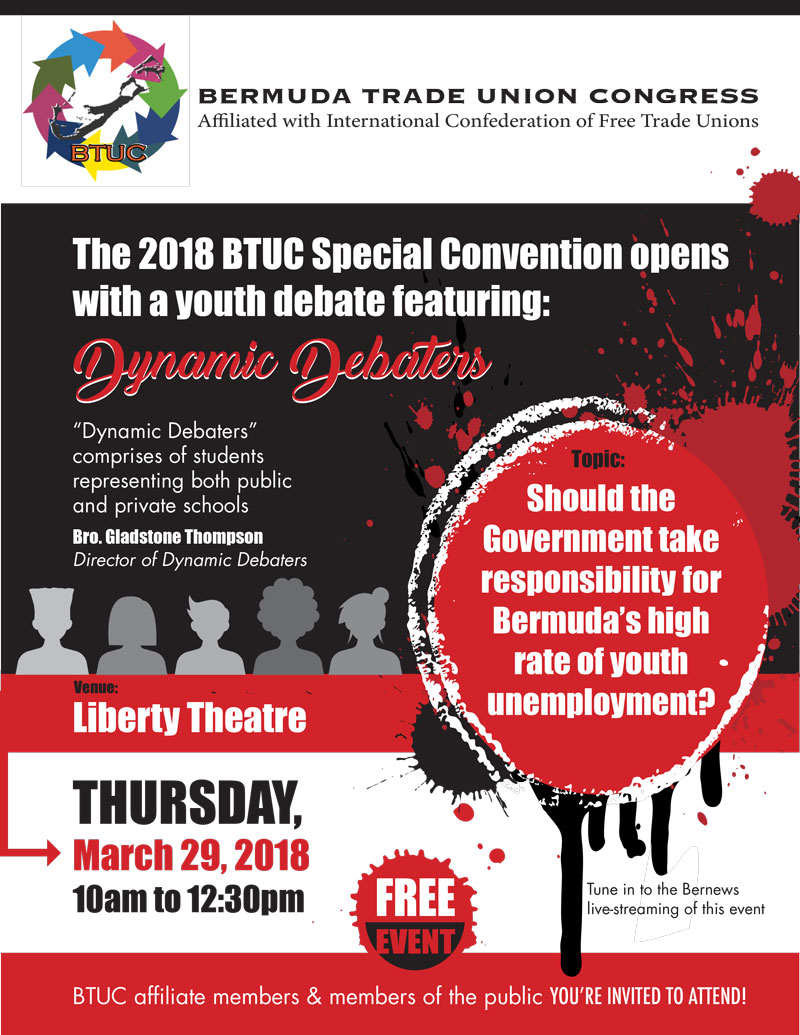 "This is a timely topic given Bermuda's alarming high rate of youth unemployment. In 2016, Bermuda's unemployment rate stood at 7% in 2016.
"The majority of those unemployed were between the ages of 25-34 followed by individuals 16-24 years of age with unemployment rates reported at 26.6% and 22.6% respectively.
"In the 2017 Workers Agenda, the BTUC highlighted its deep concern about the high level of Bermudian youth unemployment.
"We believe it is critical that the Government develop and implement a comprehensive youth employment strategy which focuses on employment while simultaneously fostering a smoother transition into the labour market through the following strategies:
"Bridge Programmes: Often referred to as a bridge or on-ramp programmes; designed to help people at the entry point through remedial education and training which helps students to meet pre-requisite requirements for college and technical education programmes.
"Education to Job Strategies: Programmes designed to help move students along an educational programme that focuses on the students completing educational requirements and obtaining employment.
"Mentoring: Young unemployed or under employed will be tied to work permit holders for mentoring in the fields in which they were granted a work permit.
"We are excited to hear from our youth on this topic and welcome the entire community to attend!"
Read More About