Bermemes and SheHUB.tv have joined the Media Council of Bermuda, the Media Council announced today.
"Veteran journalist Carla Zuill is the founder of SheHUB.TV whose tagline is 'for the fearless female," the Media Council said. "It is the latest digital adventure for Ms Zuill who previously ran the news site Today in Bermuda.
"SheHUB.tv was founded in May 2018, and Ms Zuill describes it as 'a website dedicated to women of all ages and issues affecting their lives."
Carla Zuill and Dejon Simmons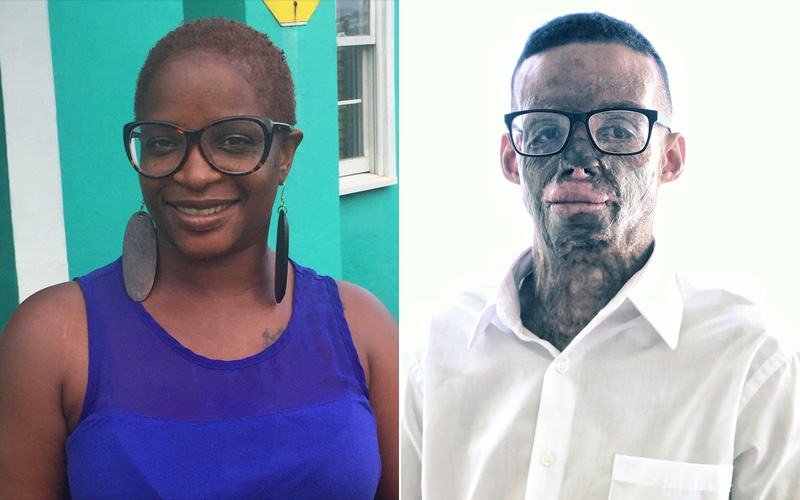 "Dejon Simmons founded Bermemes, which has a talented cast of writers and presenters. This summer it won the Bermudian Magazine's Best of Bermuda Award and had won numerous other Best of Bermuda awards. "
Don Burgess, the chief executive officer for the Media Council of Bermuda, said, "We are proud to have these two excellent digital outlets join us. The media landscape is quickly changing as more people continue to get their news from online sources.
"Bermemes has branched out from its humble beginnings and regular post interviews with politicians, artists, and cultural pacesetters in Bermuda."
Mr Burgess added, "SheHUB.tv is exploring a road less travelled by other media in Bermuda and focusing solely on women's issues, which I think is innovative."
Mr Simmons said, "I am more than humbled to have Bermemes a part of Bermuda's Media Council. I look forward to working with the experienced members of the Media Council and offering my expertise where possible."
Ms Zuill added, "I am pleased that SheHub.tv has been accepted into the Media Council and I am hoping that women in Bermuda and beyond will benefit from its content. I am looking forward to growing this brand in the years to come."
Read More About
Category: All, technology