[Updated] As a result of an "antisocial incident" that took place at Docksider Pub last weekend, the police are using the power under the Liquor License Act to close the establishment for 24 hours; from 10pm on Friday [Jan 25] to 10pm on Saturday [Jan 26].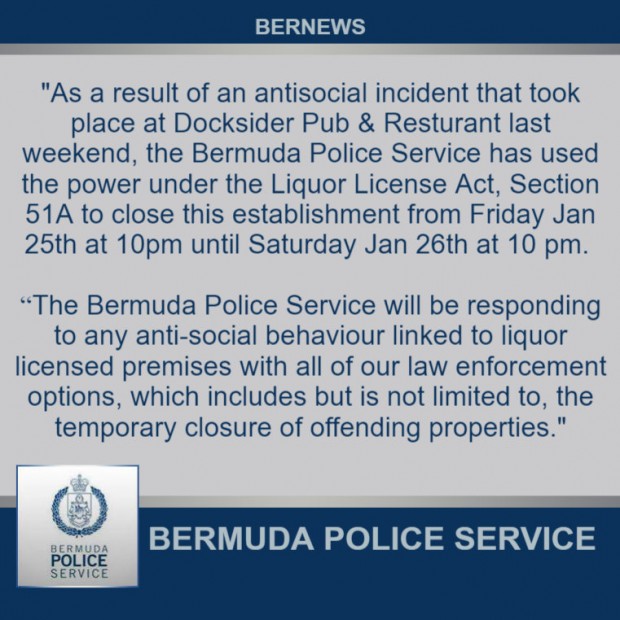 A police spokesperson said, "As a result of an antisocial incident that took place at Docksider Pub & Resturant last weekend, the Bermuda Police Service has used the power under the Liquor License Act, Section 51A to close this establishment from Friday January 25th at 10pm until Saturday January 26th at 10 pm.
"It is imperative that liquor licensed premises take 'social responsibility' for the safety of their patrons and the conduct of those person who threaten that safety, which has a profound effect on the community that they are a part of and Bermuda as a whole.
"The Bermuda Police Service will be responding to any anti-social behaviour linked to liquor licensed premises with all of our law enforcement options, which includes but is not limited to, the temporary closure of offending properties.
"Liquor licensed premises must ensure that the anti-social behavior of a few does not affect the responsible socializing of the many responsible patrons."
Update 2.58pm: The Docksider management said, "Management of Docksider can confirm that we have been issued with a 24 hour closure notice by the BPS."
"We are extremely disappointed in the action taken by the BPS given the fact that over 25 years of business we have worked with the BPS to ensure the safety of our patrons and have always fully co operated with the police rendering assistance to ensure that individuals causing problems are brought to justice.
"The incident referred to took place last Friday late in the evening after a private party. A few individuals that were known to each other had an altercation.
"Staff and security dealt with the situation appropriately and police were called and the issue resolved. There were no injuries or subsequent arrests due to this incident.
"Once again, we are very disappointed with the closure order and do not believe that it is warranted under these particular circumstances.
"We fully support the BPS and their officers in the difficult job they are tasked with in this day and age."
Read More About