Open Airways has launched a back to school campaign to educate parents, educators and others on helping Bermudian students who suffer from asthma via a free 45-minute online course.
A spokesperson said, "Open Airways, which is an organization dedicated to helping children deal with asthma, launched a campaign to help Bermudian students who suffer from asthma attacks. Parents, teachers, coaches, and camp instructors can take the free 45-minute online course about saving a person who is suffering from asthma.
Tips for parents:
Students with asthma should see their pediatrician every year and have a Personal Action Asthma Plan.
Make sure their name is on the school asthma registry.
Make sure your teacher knows your child has asthma and understands the severity.
Always have a reliever inhaler [Ventolin or Airomir] and a spacer clearly marked in the school bag or locker. [Parents of young children will give these to the teacher for safe keeping.]
Encourage children to eat a healthy diet and get plenty of fresh air and exercise.
Ensure your child uses their preventer inhaler [usually orange, brown or purple] every day to keep their asthma away.
Tips for teachers:
Know which students have asthma and understand the severity.
Make sure their name is on the school asthma registry.
Know how to recognize and respond to an acute asthma episode. [see D of H Asthma First Aid poster]
Ensure easy access to reliever inhalers [usually Ventolin or Airomir].
Reliever inhalers must be taken on school trips.
Ensure the classroom environment is favourable for students with asthma.

Open your windows every day!
Do not allow perfume to be used.
Do not use aerosols or sprays to clean or to freshen the air.
Do not use plug-in air fresheners.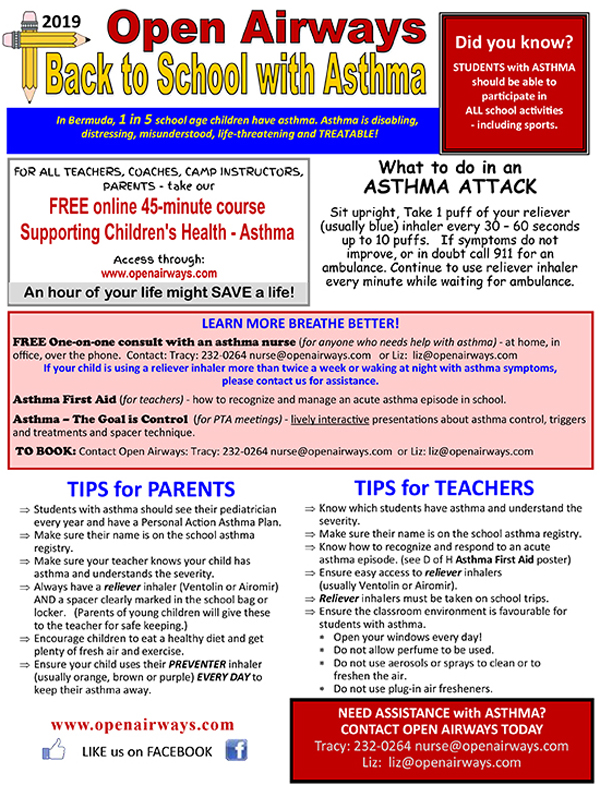 Read More About
Category: All