[Updated with video] The police are currently investigating a series of firearms incidents, including two that have occurred within the past 72 hours; one on Saturday and one on Wednesday, with the police releasing video footage of one suspect.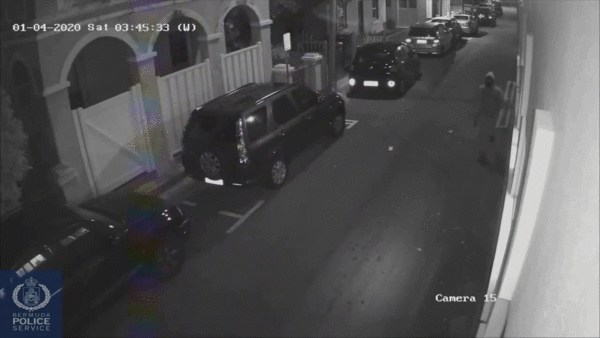 Detective Inspector Jason Smith said, "The B.P.S. is currently investigating a series of firearms incidents that have caused concern to investigators and the public ought to be concerned as well.
"Since September 14th 2019, the police have investigated three firearms incidents that occurred on Court Street, Pembroke, on September 14th 2019, October 22, 2019 and December 22, 2019. In these firearms a firearm was either discharged or brandished threatening persons that were in the area.
"In the December 22nd 2019 incident, a firearm was discharged at persons that were on Court Street, outside of the Spinning Wheel Night Club and a man was injured, who had to be flown overseas to receive medical treatment. This man remains in hospital overseas and his injuries are not deemed to be life threatening, however they are live altering.
"Investigators believe that these three firearms incidents are related. Investigators are aware that there is CCTV footage circulating showing the shooter in these three incidents and investigators are appealing to the public who can recognise the shooter in the footage they have reviewed to make contact with police.
"Police are currently investigating two firearms incidents that have occurred within the past 72 hours; one of the firearms incidents occurred about 3:45 a.m. on Saturday 4th January, 2020. This firearms incident occurred on Angle Street, Pembroke, near to the Ambiance Night Club where a man is seen pointing what appears to be a firearm in the direction of a group of men that were talking in a parking lot adjacent to the Ambiance Night Club. Fortunately, the firearm did not discharge.
"The second firearms incident occurred about 5:45 p.m. on Wednesday 8th January 2020, on Court Street near to the Bulldogs Bar where two men on a motorcycle approached the Bulldogs and the pillion passenger was seen to enter Bulldogs brandishing what appeared to be a firearm.
"The B.P.S. has video footage of the firearms incident that occurred near to the Ambiance Night Club on Angle Street that we are showing to the public and ask that if you can recognise the firearms suspect to make contact with investigating officers.
"The Bermuda Police Service is also aware that there appears to be feuding amongst groups of men that has resulted in these retaliatory and revengeful firearms incidents. The B.P.S. is appealing to these men for calm and encourage them to desist from this threatening and intimidating behaviour. Innocent lives are at risk and this type of behaviour threatens the civility of the general public.
"If any member of the public can recognise any of the firearms suspects, we are encouraging you to make contact with the investigating officers. Detective Inspector Kenten Trott or Detective Sergeant Jason Smith of the Serious Crimes Unit who can be reached at 717-2345 or 717-0864 or via email at jsmith2@bps.bm. Alternatively you can contact the independent and anonymous Crime Stoppers hotline on 800-8477.
"Recent examples of the benefits of the community partnering with your police service include, a suspect being brought before the courts in connection with an assault on an elderly gentleman who had to be flown overseas for treatment due to complications arising from his injuries and the return of a missing juvenile to her loved ones.
"Let's continue to work together, as we seek to make Bermuda safer."
Read More About