News that Mychel Jones was awarded the Duperreault Fellowship, BILTIR awarded a $30,000 scholarship to Taiyana Allen, Teekay Corporation donated $10,000 to local charities, and RUBiS donated a Renault van to P.A.L.S were all some of the positive news stories from the past week.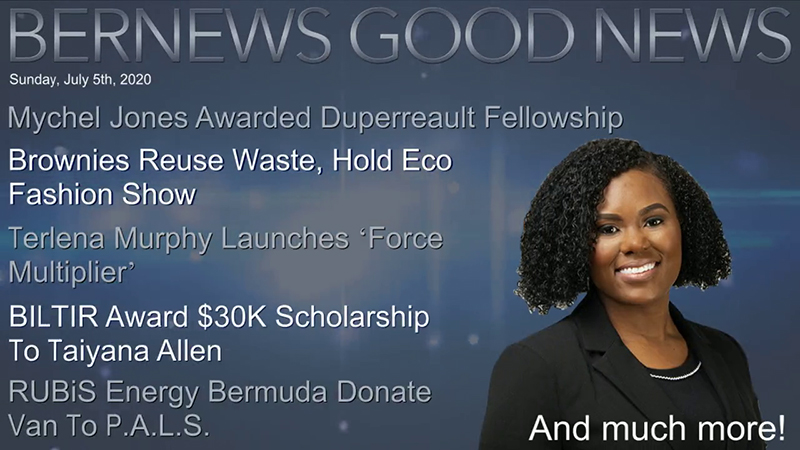 In additional good news, Nahki Wells scored for Bristol City, Bermuda horses were featured in UK magazine Horse & Hound, and Digicel Bermuda announced that Berkeley Institute student Precious Hayward has been awarded $3,500 and a travel expense bursary
Other good news stories included Terlena Murphy launching 'Force Multiplier', the Kraft Cares campaign raising $5,914 for the Bermuda Heart Foundation, Brownies reusing waste to hold an eco fashion show, and Clearwater Middle School holding its leaving ceremony.
In further good news, CedarBridge Academy held its graduation and awards ceremonies, Chubb Charitable Foundation created a program for students, and KPMG supported the Women's Resource Centre.
We also posted various community photo galleries, including coverage of the Theatre Boycott Appreciation Celebration, Mount Saint Agnes graduates receiving house visits and the BFA 2019-20 trophy presentations.
In an effort to highlight some of positive news happening in our community, we supplement our standard morning and evening email newsletters with a special Sunday "Good News" email newsletter edition, and also produce a highlight video and article which strictly focuses on the positive news about Bermuda and Bermudians from the past week. You can sign up to have the free newsletter delivered via email here, and/or access the links below.
In addition, for those who like positive news, please feel free to visit our sister site ForeverBermuda.com, which seeks to showcase uplifting Bermuda news and visitor related services, or BermudaCovers.com, which offers an array of free Facebook and social media cover images, graphic designs and videos to assist you in showing off your Bermudian pride on social media!
Links to some of the 'good news' from the past week are below:

Read More About