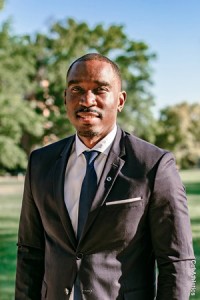 The University Of California Berkeley announced that Bermudian Dr. Ty-Ron Douglas has been named Associate Athletic Director for Diversity, Equity, Inclusion, and Belonging.
"The department announced Wednesday the hiring of Dr. Ty-Ron Douglas as its first-ever Associate Athletic Director for Diversity, Equity, Inclusion and Belonging. Douglas comes to Berkeley from the University of Missouri, where he was an Associate Professor in the Department of Educational Leadership and Policy Analysis and an affiliate faculty member in the school's Black Studies Program," the University's website said.
"While Douglas is an educator, he is also an activist, public speaker and author. He is the founder and executive director of The SALT Center, which seeks to bridge community, corporations and university affiliations. Douglas is also the founder and leader of the Annual Back To School Explosion, which brings together a local community basketball program with university, K-12 schools and community partners for impoverished areas of Columbia, Mo.
"Additionally, Douglas co-developed the Tiger Leadership Institute, a mentorship program for Missouri student-athletes that focuses on identity development, diversity and inclusion.
"Douglas grew up in Bermuda before coming to the United States to earn his bachelor's degree in English with a minor in sociology from Oakwood University in Alabama, where he graduated Magna Cum Laude. He went on to earn a master's degree from the University of Alabama in Huntsville and his Ph.D. from the University of North Carolina-Greensboro. Douglas has written or edited five books and over 25 journal articles."
"Douglas' hiring is the culmination of a thorough and meticulous national search. He will start at Cal on Jan. 1."
"We are thrilled and fortunate to welcome Dr. Douglas to the Cal Family," Cal Director of Athletics Jim Knowlton said.
"He brings passion, intelligence, insight and experience to what will be a vital and transformational role in our department. Dr. Douglas' ability to connect with people and his inspiring vision will have a profound and lasting effect on the culture within Cal Athletics and the greater campus community."
"The Berkeley platform is positioned to lead the nation and the world on this topic and this issue," Dr Douglas said. "To have the opportunity to do this work and to specifically do it at Berkeley is a once-in-a-lifetime opportunity.
"The history of activism and commitment to social justice at Cal, specifically as it relates to the work advocating for Black and Brown people in particular, and also having critical conversations on these issues nationally and internationally – I will be joining a legacy of work that has already been recognized."
"Dr. Douglas is the perfect fit for this athletic department and this institution," Cal women's basketball coach Charmin Smith said. "During his interview, he mentioned that organizations who are committed to DEIB work are 'organizations who do the right thing, for the right reasons, at the right time.' Cal Athletics needs to be at the forefront of doing the right things, for the right reasons, at the right time, and Dr. Douglas will help us get there. His ability to engage with those who have different perspectives, and his knowledge of what it means to truly have an inclusive culture, is evident. I can't wait for Dr. Douglas to get started."
"Among the many duties in his role at Cal, Douglas will utilize his experience and knowledge to apply advanced diversity, equity, inclusion and belonging concepts to promote diversity training, while also developing programs to increase hiring and retention and improving staff morale – all with a focus on underrepresented and historically marginalized populations. He is also expected to serve as a liaison to other constituents across campus.
"I believe we are going to do some special things at Cal, and I'm excited to be a part of it," Dr Douglas said. "I want to listen. I want to get a sense of who we are before trying to articulate who we are going to be.
"In the long term, I believe we are going to be the go-to location as it relates to the wellness and prosperity of our student-athletes – in particular, our Black and Brown student-athletes. I believe we are going to be the national and international leader in that regard."
Speaking on his appointment, Dr. Douglas told Bernews, "As a graduate of Bermuda's public schools [Paget Primary, Warwick Academy, Bermuda College] and a product of the community-based organizations of Bermuda [e.g. Dandy Town, Warwick Workmen's Club, Midland Heights SDA Church, Bermuda Pacers Track Club, Bermuda Regiment Band, Wesley Methodist Orchestra, Outward Bound  etc] this matters and it is far bigger than me; in short, I see it as a reminder that there is nothing Bermudians can't do on a global stage!
"I'm a Bermudian who grew up aiming to play Cup Match and run 24th of May like many other boys and girls. My hope is that this appointment inspires generations, reinvigorates dreams, and creates new opportunities for other Bermudians [at Cal and beyond]. We are a special people and the world needs us and our gifts and talents as exporters [not just importers] and global leaders!
"To every Bermudian who has ever questioned whether they have something to offer the island or the world, this is for you!
"I am because we are. And you don't have to be the fastest or supposed 'smartest' to make an impact. I got a 6/7 on my "transfer exam" back in the day and one of my high school guidance counselors described me as an average student of average academic ability, on a letter of recommendation for a scholarship! She may not have believed in me or been able to see my potential but so many others did and I am grateful!
"Thank you to every educator, organization, and individual who contributed to my journey. I have been blessed to receive scholarships over the years from Bermuda's government and the philanthropic community, including the Fessenden-Trott award Postgraduate Scholarship and the Dudley E. Spurling Postgraduate Scholarship.
"And special thanks to my family, it should not be lost that this is a full circle moment for my dad, Stan Douglas, who has been a sport administrator in Bermuda for decades. It's humbling and an honor that this position will allow me continue his legacy."

Read More About