Deloitte UK and the Institute of International Finance [IIF] released their report on survey findings taken from 80 global sustainability professionals and senior executives on the role of Chief Sustainability Officers [CSOs], addressing the environmental, social and governance [ESG] imperative.
"The report explores how financial services firms are mobilizing to address the ESG imperative and how these firms see the role of a CSO in fulfilling these aspirations," a spokesperson said.
"It addresses why certain firms decide to appoint a CSO, what is expected from a CSO, and how the role contributes to a broader governance structure. The role of a CSO, or "sense-maker in chief", in helping organizations navigate the external environment, reconfiguring business strategy and connecting the dots within their organization, is expected to gain prominence over the next two years.
Elizabeth Cava and John Johnston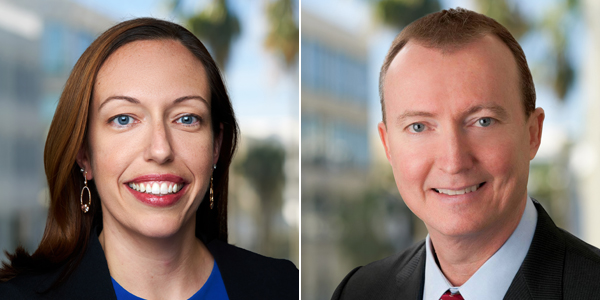 "As companies widen their view of risks and opportunities within their business, driving a process around disclosure strategy will be important. This coincides with external stakeholders [i.e. asset allocators, regulators, lenders and others] increasing their reliance on companies' ESG disclosures to achieve their own objectives.
"While the current corporate reporting ecosystem is comprised of many voluntary ESG standards and reporting frameworks, this landscape is rapidly evolving, with five of the leadng sustainability and integrated reporting organizations issuing a joint statement in the fall of 2020 to work towards a comprehensive corporate reporting standard.
Elizabeth Cava, Audit and Assurance Partner at Deloitte Bermuda stated, "As companies move ESG programs from singular committees to integrated ERM programs in their operations, transparency will be important and can drive value to assist companies navigate changing stakeholder expectations.
"Developing a robust governance structure, integrating internal audit and the board of directors, and obtaining external assurance can help companies make informed disclosure strategies responsive to these expectations. The rapid pace of change suggests companies should start the designs of these systems now."
John Johnston, CEO, Deloitte Bermuda and Caribbean Region commented, "Here in Bermuda it is clear to see how financial services firms are uniquely exposed to the physical, transition and liability risks from climate change; what is less apparent is the critical role such firms can play in transitioning the global economy to a low carbon reality through systems of sustainable finance. The reporting framework for ESG is evolving quickly and Bermuda financial services firms, insurers and reinsurers in particular, have an opportunity to be leaders on this front".
"To read the full report, click here."
Read More About