[Written by Dale Butler]
The music and hospitality foundation has been firmly laid at The Buna Gallery and Coffee House, 30 Main Road, Sandys Parish.
The word has spread. So, selling tickets in accordance with strict Covid regulations has not been difficult. Although the original schedule was changed, the seamless transition to The Kings Band was a most welcome choice that provided each musician with an opportunity to solo and shine.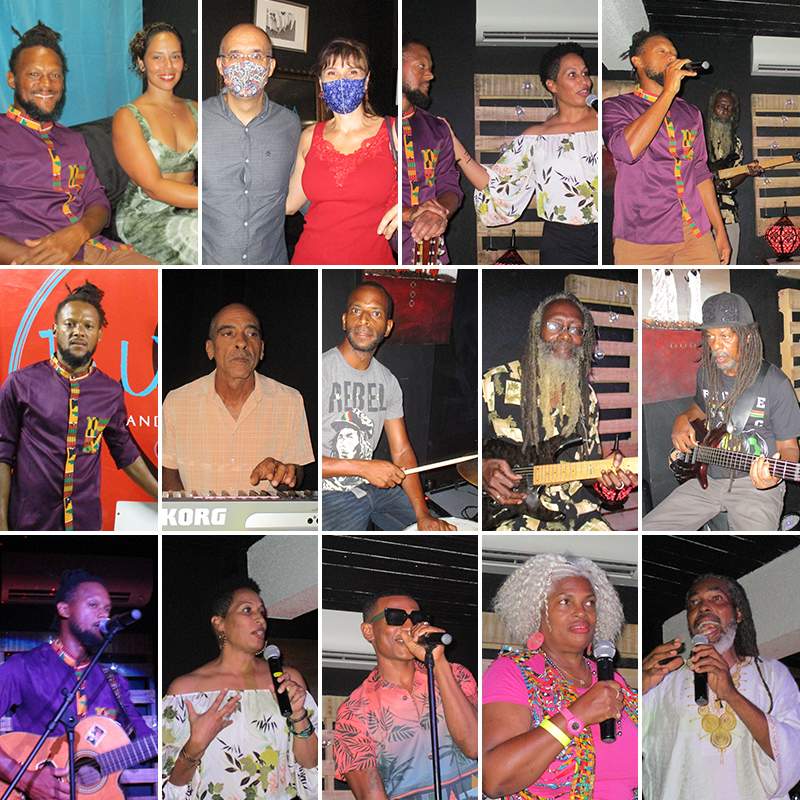 Keyboardist, Kevin Williams, known simply as "Keyz", used his thirty years of experience with bands like, "Sons of Thunder, Innocence and Idren" to authenticate the reggae vibes of the band. He was joined by:
Stefan Furbert on drums: the "Reggae Gombey" with boundless energy and precision.
Wency Woolridge on guitar: was rightly pushed out front, from his usual shadow in the corner. A very quiet and shy musician who once again showed us that he is extremely gifted.
"Bassy", Keith Flood, on bass: continued the tradition of bass players who are always super cool because they know they pull the band together well— until the end when he came took centre stage and played on his back.
Commendations to owner and MC, Dr. Zhyon Selassie, for adding experienced sound technicians from Spanish Town—Albert and Shelly. The room had been reconfigured with the stage moved to the southern side, plus they added to the experience by not blasting the band to Dockyard. This intensified our enjoyment.
You can win an audience with your opening song, lose them in the middle, but still regain them in the end. This band, however, had such a seamless transition from one song to the other that the standard never once waned. They opened with a Bob Marley classic "We're Jammin'", and they proved it with their own version with a pounding bass, with the drummer setting the pace, the piano player letting it flow smoothly while showcasing Wency on lead guitar. This was also followed with Marley's classics "Exodus" and "War". The crowd was captivated.
CEO of the Bermuda Tourism Authority, Mr. Charles Jeffers II, and staff, were happy and just as active as the rest of us moving to the beat. I could sense that he was thinking how he could introduce The Buna Reggae Gombey and Jazz Festival to White Hill. But I suspect that Dr. Selassie already has that in her vision.
The band itself would have been enough, but Buna wanted to fill our cup to the brim.
Desta Zion is a young Bermudian singer and guitarist—just back from the UK. It would take a page or two for me to list his musical pedigree so I will just say the Clarke/Caisey family. Confident, easy to understand, smooth on classical guitar, he performed his own songs which were greatly appreciated. Songs like "Musical Healer", "Island Paradise", and "You Are a Woman and Stronger" have great potential for a full band or orchestra, and I am sure they caught the eye of Bermuda and international music star Heather Nova, who I had the pleasure of meeting and sitting with for the first time.
Going solo is not easy, but he nailed it with his persona and great lyrics: "Stronger" which is already a favourite, and the magic on his guitar. He won the audience with each song, especially when he gave us key lines to sing along with him. He has a very bright future.
Out of nowhere came an extraordinary singer named Miss Hannah, a Bermudian who had acquired deep reggae roots from performing abroad over the past eight years. She had impressive stage presence. Her excellent selection of songs gave us a golden opportunity to experience her style on guitar and her sweet and sultry voice which was perfect for her love songs and medley.
An unknown spiritual which she sang acapella was the climax for me. There was absolute silence as she sang "Lord, Don't Take Away My Stumbling Blocks." If she wrote it, she is a genius and I salute her.
Sorry, the night was not over. Jessie Seymour, now widely known as a singer, moved on quickly after he thanked everyone for their support with respect to a serious road accident he had suffered on June 13th. He then wrapped us around his finger within minutes. His own song, "Why Are All of These Things Happening to Me, I Just Want to Be Free", was well received, along with five others, including the 1982 Marvin Gaye hit "Sexual Healing." That night he was another example of a performer who proved very capable of holding the stage by himself.
Additional highlights included:
Dr. Selassie teaching us a few Ethiopian words which the crowd loved. "Ouch!" if it is "good." We laughed and got 100% on our test, then we were given a few more difficult words. Dr. Selassie then introduced her two sons who worked there for the summer and were about to return to university.
Selena "Vava" Fields presented Dr. Selassie with a bouquet of flowers. Two years ago, when things were closed, "Vava" set out to re-energize the Bermuda Entertainers Union where she is now the president. She organizes her own shows, has a Saturday radio show and attends 90% of local shows. She is on a mission. She was accompanied by her executive PRO, Aisha Trott and Deputy Chair, Cher-Ann Brangman who is an excellent teacher, saxophonist and Somerset Brigade Band leader.
Time does not permit me to go into great detail about The Original Live Wires. But with songs like "Night Nurse", the audience enthusiastically joined in "Reggae Highway", and as the grandson of the great Gombey leader, Pickles Spence, Live Wires used every ounce of energy to sing and dance to the electrifying Gombey drum beat of Stefan which turned the crowd into a frenzy which I am sure could be heard in Gombey heaven where our elders rejoiced seeing such world record drumming that he continues to effortlessly display.
This was indeed another outstanding 4-star night of entertainment at Buna that culminated with the Gombey chant "Ayo, Ayo" still ringing in my ears.
- Dale Butler is a former principal and Government Minister for Culture. He currently writes reviews for Bernews and previously wrote the popular "Eating with Ed" for the Bermuda Sun in the 1980s. As a former director with the Little Venice Group for 20 years he has a broad knowledge of food and service.

Read More About
Category: All, Entertainment, Music