[Written by Dale Butler]
It was a perfect bright sunshine day on Friday, February 25, 2022 when the Minister of Youth, Culture and Sports, Dr. Ernest Peets, Jr., the Mayor of Hamilton Charles R. Gosling, and the U.S. Consul General, Ms. Karen Grissette joined about 50 citizens at the scenic Barr's Bay Park, Front Street, Hamilton to hear the epic story of the Enterprise, a United States merchant vessel—active along the Atlantic Coast during the slave trade in the early 19th century.
With Bermudian sculptor and wood carver Chesley Trott's historic 'Enterprise' sculpture [February 2010] used as a backdrop, the decision taken by Dr. Kim Dismont-Robinson, Director of the Department of Community and Cultural Affairs, and her team to highlight Bermuda poets and international star Joy Barnum was applaudable. But the Enterprise's journey to Bermuda was not a tea for two with scones and jam, but a real life story that took place on our shore 187 years ago.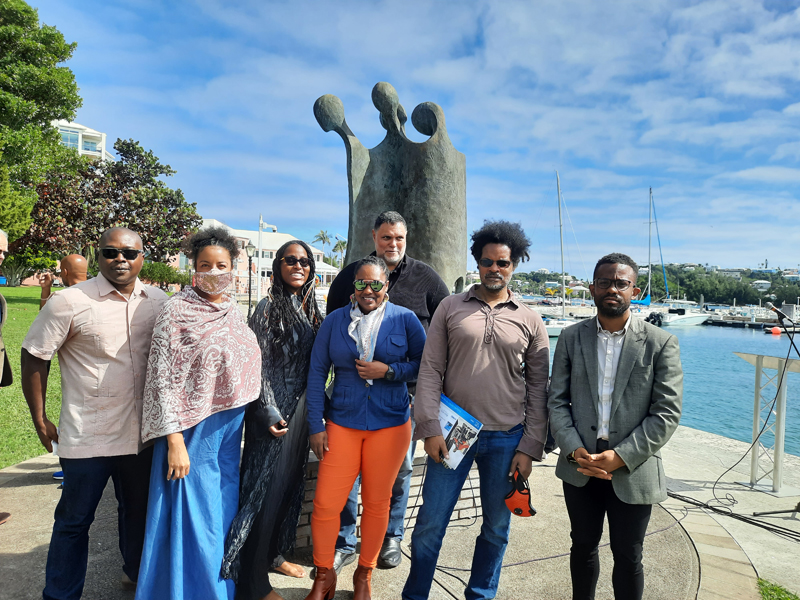 The performers led the way and were open and honest, bringing a soberness to the event. The recording of the event needs to be disseminated to our schools and shown regularly on CITV. In fact, I recommended to the Minister that they produce a book to build on the foundation laid by the late Nellie E. Musson [August 3, 1926-June 7, 1989], a descendant of the enslaved people on the Enterprise. Mrs. Musson was way ahead of her time. She produced Children of the Enterprise in 1984 and many other books of value and note that are, unfortunately, out of print.
I was excited to attend with my autographed copy of the book. My first cultural mentor was my aunt Una, who had an extensive library of Black books that covered Africa, West Indies and Bermuda, which we had to read evenings and then listen to Black music. I am, therefore, grateful to Nellie Musson, who became my second mentor. She was responsible for me sending Dr. E.F. Gordon: Hero of Bermuda's Working Class to the University of Toronto Press. It was the first biography of his life. When I received author Musson's book, I used it in the classroom and it was always secured in my briefcase.
I arrived at Barr's Bay Park to see the statue by Chesley Trott, which was surrounded by modern equipment that would not have been at the landing site then. In years to come I am sure that the presenters will dress in period costume to add reality to this commemoration. I've no doubt that the presentations from the poets would have been a delight to the late Cecile N. Musson-Smith and Ron Lightbourne, and today's Dr. Shangri-La Durham-Thompson and Joy Wilson-Tucker, et al. They did not mince their words and feelings, and were very passionate.
Author Vejay Steede, who named the collaboration of Bermudian historians 'Heartbeat' when I asked him to chair the group of historians years ago when I was the Community and Cultural Affairs Minister, did a sterling job as Master of Ceremonies and also introduced his poem 'We Arrived.' He was followed by an Oscar winning cast of poets:
Alan C. Smith: Prepared. Inspired by Cyril Packwood's Chained on the Rock, P. 97.
Milton McKenzie: Word Play
Krystal McKenzie: 72 or 78. A Shakespearean Sonnet.
Andrea Ottley: The Right Hon. William, Earl of Dartmouth
Tiffany Paynter: Rooster.
It would take pages to highlight the impact of each poet. I hope they realize how they, the Poet Caravan, have laid the foundation to be a troupe of performers who could repeat that afternoon of powerful poetry and song.
Not to be outdone was Joy Barnum, who underlined the seriousness of that era within two songs: Glory and Spirit. Artistic meteor Rajai Denbrook is one of our best baritones, and he ensured this designation with "Deep River" and "Hallelujah the Storm Is Passing Over." With images of that era planted in our minds by the singers and poets we were transported back to that period. It was heart-rending to sit there with the history of the event being conveyed by provocative statements and songs.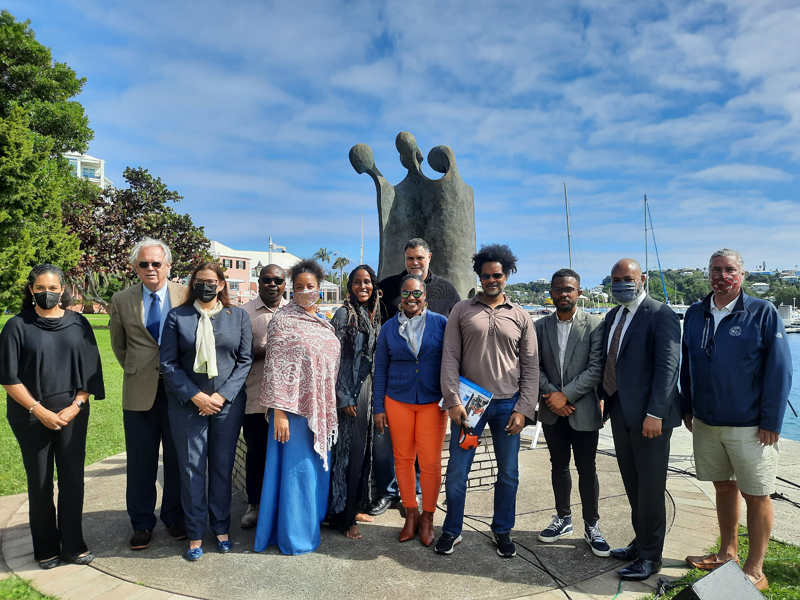 On February 11, 1835 the ship was forced to take refuge in Bermuda because of a bad storm. It was carrying 78 enslaved people, referred to as cattle, in addition to other cargo. Detailed accounts are on the internet and when you read about their fate, the various twist and turns, it is obvious that there is greater potential for a play, songs, or a movie. Present was Mr. George Trott, one of the descendants of Mahaley Mackenzie [Warfield], who landed with the captives.
With a vote of thanks given by Robin Hamill, CEO of Bermuda Sloop Foundation, and a moment of silence, it was left to The Spirit of Bermuda to fire the cannon and send us on a journey to discover even more.
- Dale Butler, in addition to music, food and book reviews, is an historian and Executive Director of Atlantic Publishing House
Read More About
Category: All, Entertainment, History, News