[Written by Stephen Wright]
It has been more than two years since Yushae DeSilva-Andrade represented Bermuda on the international stage in boccia.
The athlete admits she is slightly nervous about returning to competitive action after a frustratingly long layoff because of the Covid-19 pandemic.
However, she is relieved to resume the bowls-related sport, which she describes as "a big part of who I am" as she prepares for the World Boccia Cup in Póvoa de Varzim, northern Portugal, from July 3 to 11.
File photo of Yushae DeSilva-Andrade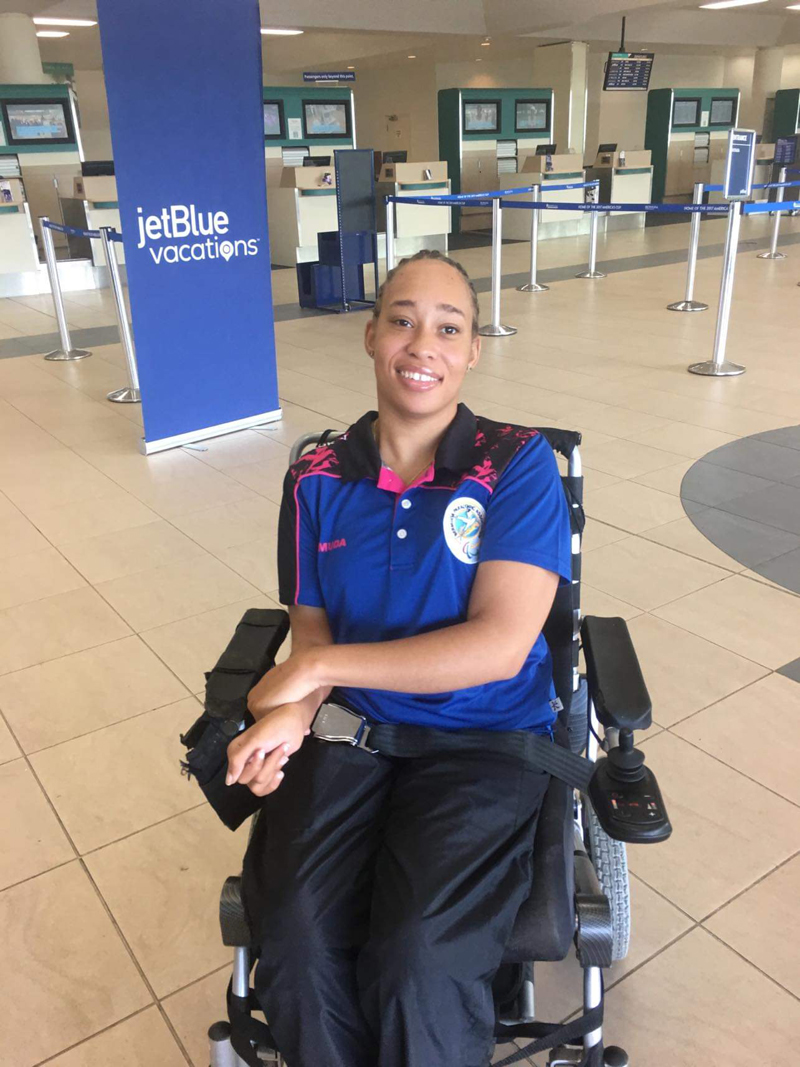 "I'm a little bit nervous because it's been such a long break because of Covid," DeSilva-Andrade told Bernews.
"The tournament has ranking points, so it should help me get to Santiago [in Chile] where the Parapan Am Games are next year.
"I want to do the best I can. As this is the first competition since Covid, I realise there could be a few mistakes from me."
The 28-year-old has been reclassified from the BC1 to the BC2 division and must now climb back up the world rankings.
"BISfed [International Boccia] has realised I have no trunk control, which puts me in a lower division," said DeSilva-Andrade, ranked 36th in the world in her division.
"It's a bit of an inconvenience, but it doesn't bother me too much. BISfed has also split the divisions, so females play females and males play males."
Unable to continue training at Bermuda High School for Girls because of the Covid-19 restrictions, DeSilva-Andrade has spent the past two years honing her skills at home.
She has also trained under coach Troy Farnsworth twice a week at the Botanical Gardens to prepare for her upcoming competition.
"I've been using my foyer at home to train as it's a decent size, about half a [boccia] court," said DeSilva-Andrade, who first started playing boccia as a 14-year-old.
"I've been working on my power shots. There's a lot of repetition involved in the training."
DeSilva-Andrade's career highlights include representing Bermuda at the Paralympics in Rio de Janeiro in 2016 and winning bronze at the BISfed Regional Open Championship in Montreal a year later. It was the first medal won by a Bermudian at an international boccia tournament.
"I didn't think all this was going to happen to me," said DeSilva-Andrade, who will return to Rio de Janeiro for the World Boccia Championships in December.
"When I first started, I was playing for fun. I love it now. It's a big part of who I am daily.
"One of my other goals is to reach the Paralympics in Paris in 2024. Hopefully, I can keep playing for as long as possible."

Read More About