The Corporation of Hamilton is seeking permission to install a 40 foot long 'Bermuda' sign on Front Street.
A section of the planning application said, "The proposal seeks planning permission for the installation of the Bermuda Marquee Sign on the existing cycle area that is level and concrete surfaced at No 1 Car Park immediately adjacent to the Bermuda Visitor Services Centre at 10 Front Street.

"The surrounding area is the ferry terminal to the west and the Historic Protection Area of comprising of retail shops on the ground floor of Front Street. The proposed marquee sign has a footprint of approximately 40'-0" x 2'-6" and is 5'-10" in overall height with Bermuda themed aluminum panels making up each letter.
"The proposed location offers the general public opportunities to photograph themselves at the marquee sign with views of Hamilton Harbour and White's Island in the background which will enhance the amenity potential and public use of Hamilton's waterfront as per the City of Hamilton's Plan 2015 SSA."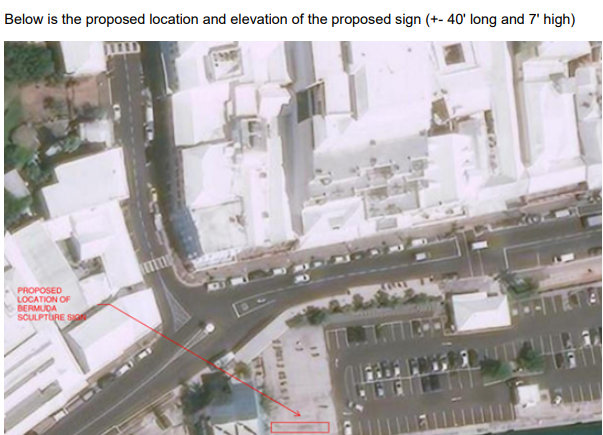 Read More About