[Written by Stephen Wright]
Creativity, flair and hard work have long been the defining characteristics of Reggie Lambe's football career.
The Bermuda forward is exhibiting those same traits in his new off-field venture after launching his Nineteen-Twentyfour clothing brand.
Lambe — who recently made his 44th international appearance to become the island's most capped football player – has always had a taste for fashion and dreamt of designing clothes as a youngster.
However, it was not until lockdown during the Covid-19 pandemic that he let his creative juices run wild while teaching himself graphic design on his home computer.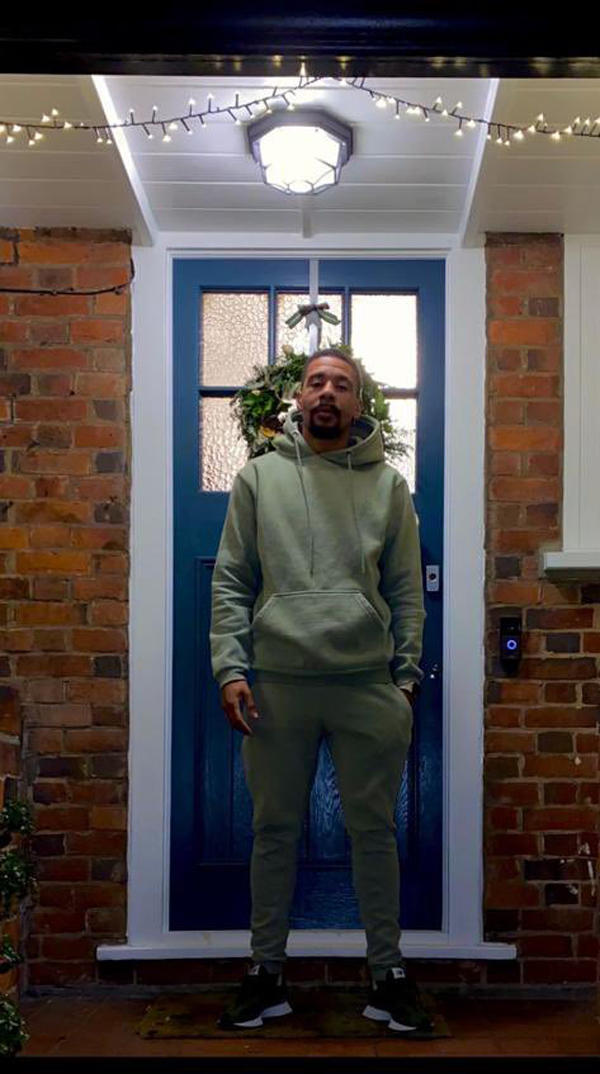 "I started making designs during the lockdown and was getting better and better at it," said Lambe, who lives in Ipswich.
"I wanted to put the designs into practice and see them on clothing rather than on a computer screen.
"It was a difficult process. You search for different materials and fabrics and learn about different printing styles. You learn what works. I picked one style and went with it."
Lambe, 31, said the clothes he creates, such as hoodies, joggers and T-Shirts, express his personality and reflect his interests and inspirations.
"I've always been into clothes," he said. "When I was younger, people were into spraypainted clothes. I remember having ideas for designs and getting people to put them on clothes for me.
"Being able to do that myself is something else ticked off my bucket list.
"You want to express your personality and the things you are into through your clothing. "People can become a part of your world by wearing your clothes. Hopefully, it's something the community can feel part of."
Unsurprisingly, the name and logo of Nineteen-Twentyfour are very much a reflection of his world, both professionally and personally.
"My daughter Aliana's middle name is Rose hence the logo," said Lambe, whose brand is available at Wild Styles 273hq on Park Road in Hamilton. "I wear the No 19 football shirt, and my daughter's mom's birthday is the 24th.
"It's also the date I was born when you write in backwards. I wanted the name and logo to have meaning for Aliana. Hopefully, one day she can take it over."
Although Lambe has no intention of hanging up his boots yet, he admits the sometimes fragile and uncertain nature of earning a living from football motivated his search for other revenue streams.
He said lessons learned from the game have helped guide his clothing business.
"Football for me is nearing an end, and I need to start thinking about my family's future," said the former Ipswich Town and Toronto FC player.
"I'm hoping to create a legacy and leave something meaningful behind that people can remember me for [outside of football].
"Now I'm playing semi-professionally, it's been easier to devote more time to it [the brand].
"There's a lot more to do than you think. I'm packing orders, creating tags, and getting packaging. It keeps me busy. You have to devote your time to getting everything right."
Determined to expand and market his brand as a football clothing manufacturer by creating kits and training gear, Lambe took his first step by designing the strip of Premier Division side Boulevard Blazers last season.
"I want to express myself in the football world," said Lambe, who plays for non-league side Stowmarket Town. "However, it's difficult to break into and gain that trust.
"It was great designing Boulevard's kit. I know what feels comfortable when you're playing and training. I've played the game at a pretty high level. That's the angle I'm taking."
To visit the Nineteen-Twentyfour clothing website click here.
Read More About
Category: All, Business, Entertainment, News, Sports, Style & Beauty