Twenty-five young women recently marked their participation in the She Leads: A Real-World Readiness Programme.
A spokesperson said, "On Friday, July 8th, 25 young women celebrated their participation in the She Leads: A Real-World Readiness Programme with invited guests at a special reception hosted by programme sponsor, HSBC.
"Students from BHS, The Berkeley Institute, Bermuda Institute, CedarBridge Academy, and one home school, shared their insights after spending a week learning how to create meaningful, happy and successful careers and lives.
"Now in its third year, She Leads was created by Christie Hunter Arscott, award-winning advisor, speaker and author of the book Begin Boldly: How Women Can Reimagine Risk, Embrace Uncertainty and Launch a Brilliant Career. The programme was created as an extension to the 'I Lead' Leadership Framework launched by BHS in 2019 to deliver the leadership framework beyond students at BHS.
"The week-long series of workshops and speakers was intentionally designed to cater to girls' learning styles and is focused on the objective of empowering, inspiring and connecting participants while teaching them the tools to navigate the challenges of the real world."
BHS Director of Branding, Marketing & Communications and She Leads Coordinator said, "We were delighted to welcome a wider cohort of students this year, and welcomed girls from MSA, Bermuda Institute and one home school along with students from BHS, The Berkeley Institute and CedarBridge Academy.
"The skills that we are teaching this week are not always taught in a regular school curriculum but are essential for all aspects of their lives – personal, educational and professional. Twenty women from our community took time during the week to share their experiences, expertise and advice with these young women – and it has been an invaluable experience for all involved."
The spokesperson said, "The programme content was designed around the framework of Leading Self, Leading Others and Leading by Example. The first workshop was delivered by She Leads creator, Christie Hunter Arscott, and she presented a sneak peek of her new book and shared tools on how to live boldly, re-frame risk and make courageous decisions to create a brilliant life.
"Other workshops with invited speakers included Building Your Resilience Toolbox for Leadership, with Lorrie Peniston of Synergy Ltd. who helped the girls discover their personal strengths and how to engage with positive emotions to improve well-being. Shelle Hendrickson, Head of Healthcare Bermuda, AXA XL and Professional Relationship Strategist, shared ways for the girls to make their own opportunities through the i3 Opportunity AccelerateHER framework, which focused on the acts of being intentional, impactful and influential.
"Clare O'Connor, Global Head of Editorial Content at Bumble, Zoomed in from London to share her advice on networking and how to make an impact from the very beginning of your career, The girls also took part in a fitness session with Eilidh Franklin from Beyond Fitness. As a new addition this year, students visited the Red Cross Thrift Store where the group discussed sustainable fashion and looked for pieces to "Dress for Success" for upcoming interviews and possible internships / jobs.
"Berkeley graduate Tierrai Tull also came in to talk to the girls about her experience at the United World College in Armenia and about her success in receiving almost $500,000 in scholarships. She gave the girls advice for applying for scholarships, networking and some tips on managing their time and maintaining a school / life balance.
"On Wednesday morning, 12 coaches from WeSpeak Bermuda volunteered their time to help the girls tackle some of their public speaking challenges and provide advice, feed-forward and the opportunity to practice their new-found skills. Power Girl, Patrina O'Connor Paynter, MC'd the morning and brought lots of fun energy to the room, helping everyone feel relaxed and empowered."
Sarah Dunstan, WeSpeak Teen Chair, said, "WeSpeak Teen was thrilled to be able to participate in the She Leads programme again this year. Watching the students transform in just a few hours, both in terms of confidence with their public-speaking, as well as positive support and camaraderie with one other, is testament to how powerful the programme is.
"It's clear that the next generation is filled with powerful, promising young women – and we are honored to have supported them in a small part of their journey."
The spokesperson said, "As well as providing the financial support to make the programme possible, every year, HSBC facilitates a workshop on Financial Literacy. Selita Daniels and Nicola Bromby, Premier Relationship Managers, walked the students through the basics of budgeting, saving, investing and planning for their futures."
Judy Doidge, HSBC Executive Sponsor of the She Leads Programme, said, "The aim of this programme is to inspire and equip Bermuda's young women with the skills, tools and mindsets needed for their education and their future employment. We believe that this opportunity offers both private and public school students a unique opportunity to network, collaborate and learn from one another. We are proud to be a part of this initiative."
The spokesperson said, "On the final day, students each presented a personal project where they shared what they had learned during the week. Some expressed themselves through art, animation, and PowerPoint presentations and one student even wrote and performed an original rap. In two groups, they also shared how they would bring some of the programme content back to their own schools and it was clear to see how energised and inspired they all were after their week together."
Linda Parker, Head of BHS, said, "We are very proud of the programme we have been able to create with the support of HSBC. I have seen first-hand how transformational this week is for students. After a few days, you can see their confidence growing and by the end of the week, they are buzzing with their newfound sense of self, and they take that confidence with them into their last year of high school.
"This public / private partnership allows these young women, who may not have had many opportunities to work together, to meet and form a connection. They discover very quickly that they have more in common than they may have realised: the same worries, fears and anxieties about their futures. By spending the week together, they have created a bond and I have no doubt that down the road they will cross paths in their careers. I do hope that they will remember the week they spent together at She Leads fondly."
Reflecting on their week, three students shared the following feedback:
Catarina Garca, BHS, said, "I think my biggest takeaway from the She Leads programme is that I have to be courageous to be fearless and put myself out there. I want to say a huge thank you to HSBC and BHS for picking me to be a part of this programme. I think I'm going to have these skills for a lifetime and it was really useful and impactful."
Phoenix Palacio, home school student, said, "This week has been spectacular, it was just so amazing getting to see all these inspiring women being authentic. That is the main thing I am taking away from this – that authenticity really counts and it matters. Seeing all of these different women with different personalities, different stories and different things to offer, it just shows that there is no one box cut-out of what is confidence, what is a leader, it's just being authentic and women empowering women and leading the next generation.
"It was amazing to be able to spend time with all these girls. When we first came in, some of us were too shy to even say our names and towards the end of it there was so much confidence. It has really been inspiring and I will remember this always and take this knowledge with me."
Ahmya Peets, Bermuda Institute, said, "This week was a really engaging and lovely experience to be a part of. I feel that I have become more confident in myself. I have become more courageous and I have learned new tips and skills that I can apply to my life to be a better person and to be the best me I can be."
Applications for the 2023 She Leads Programme will open in March 2023.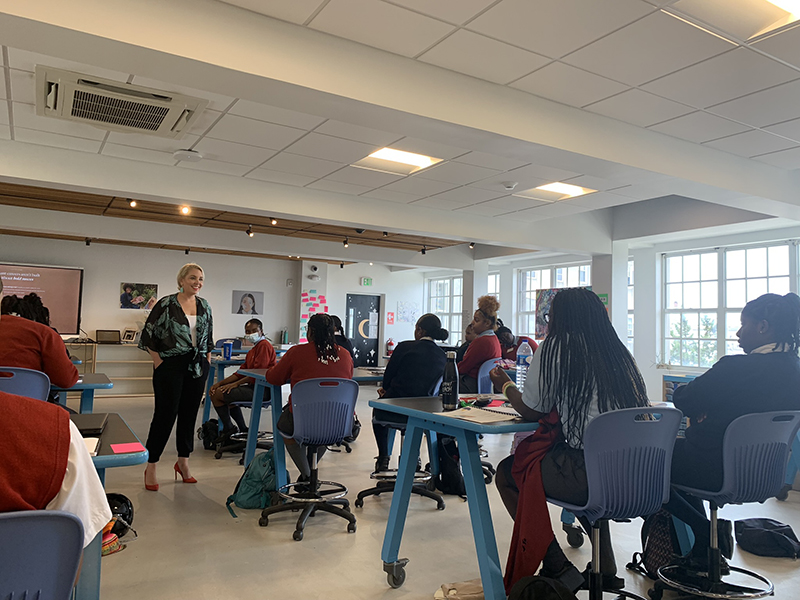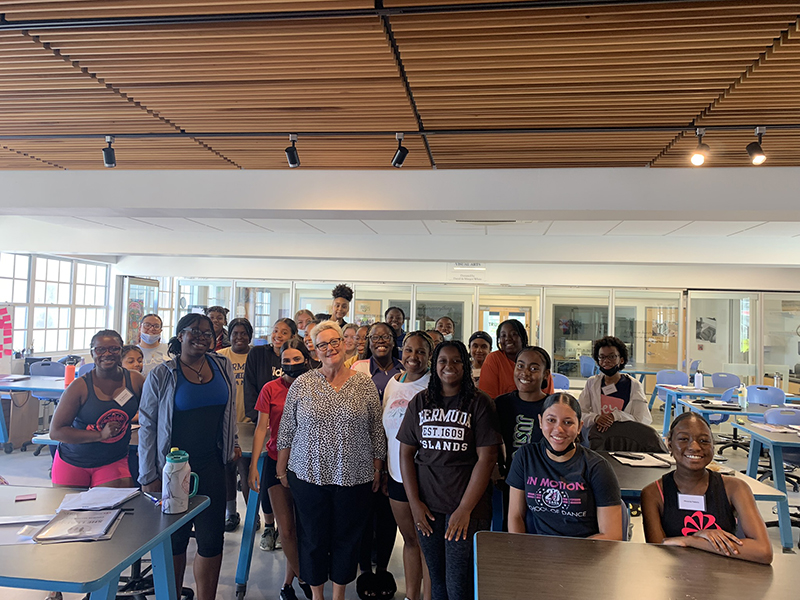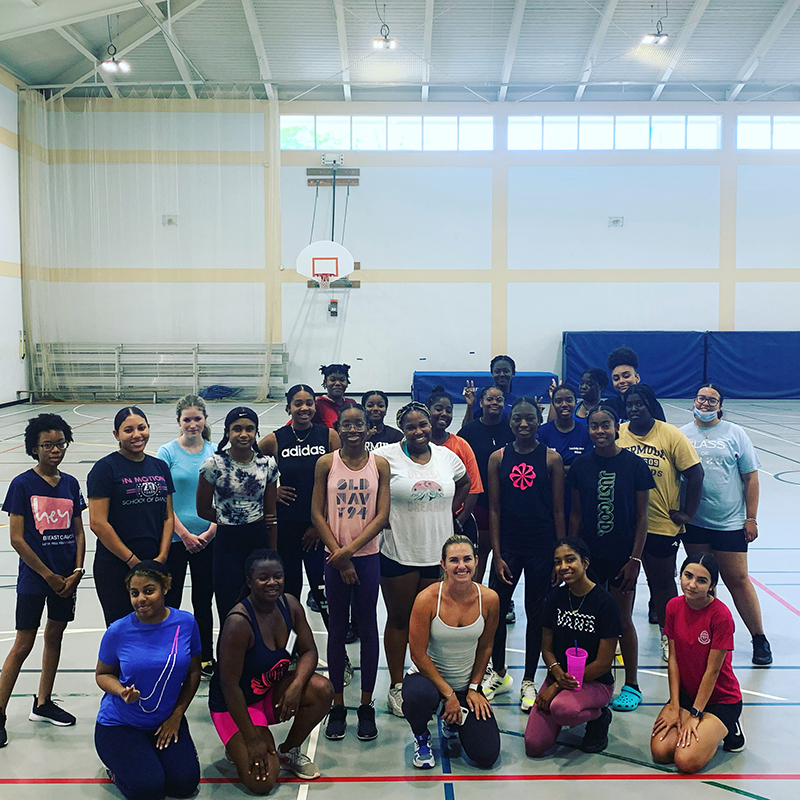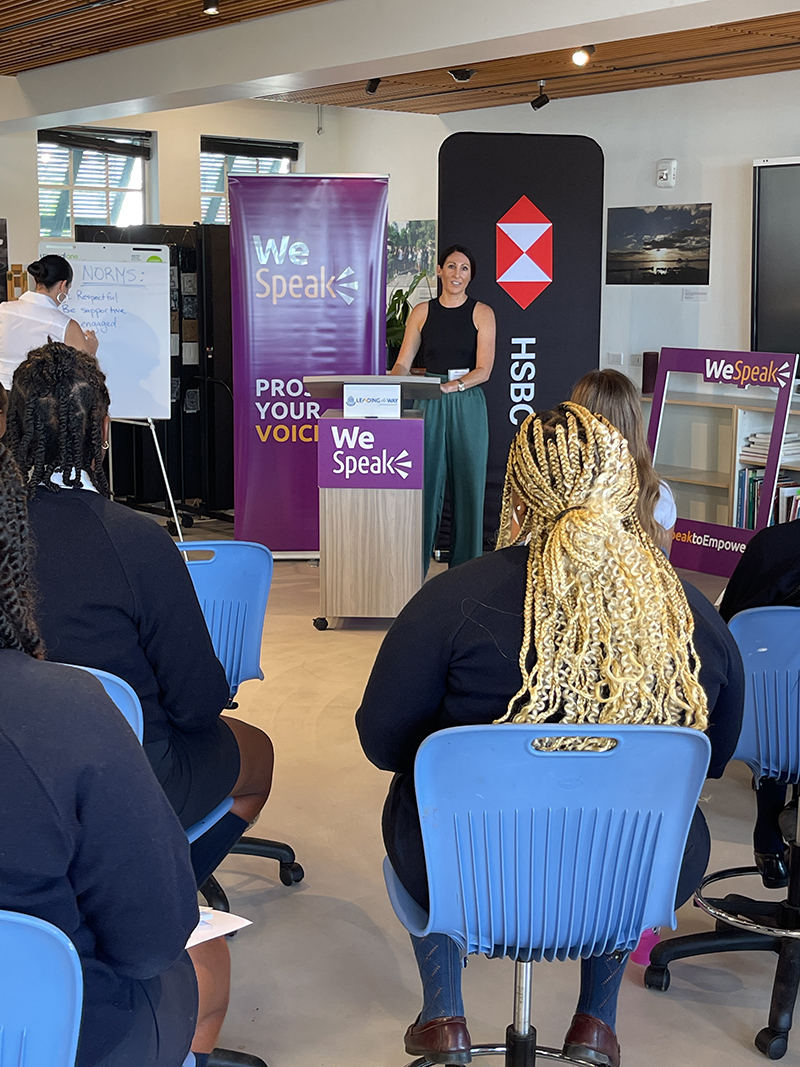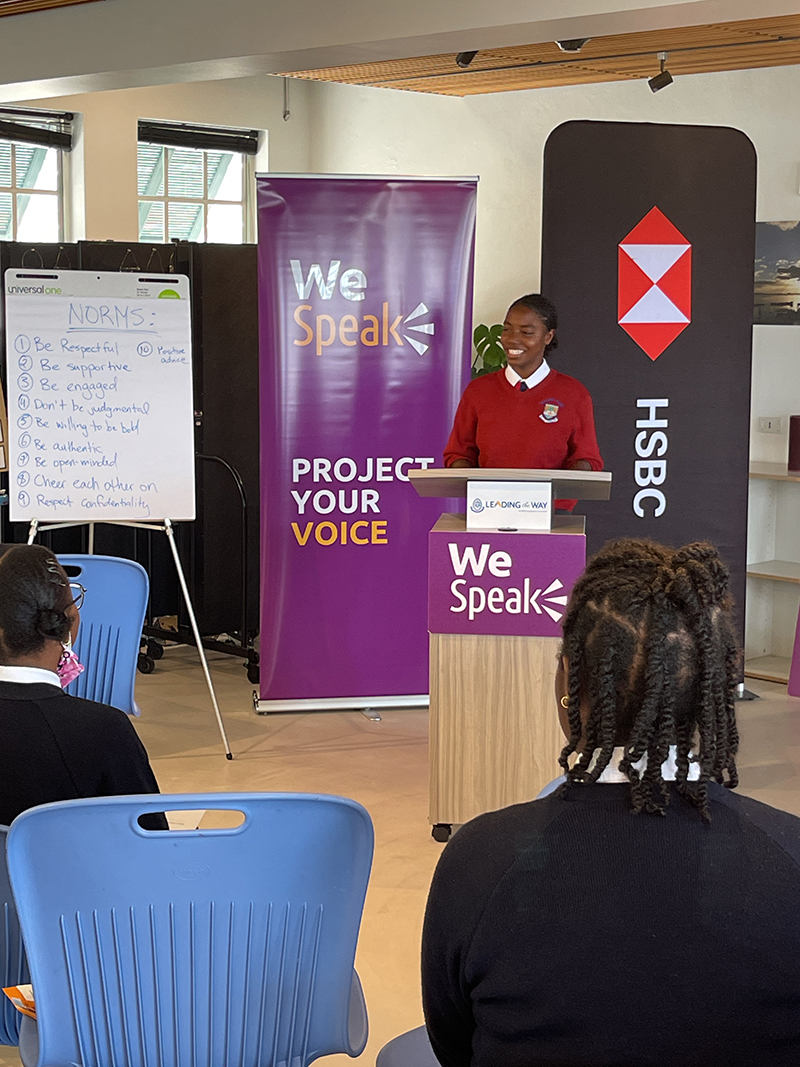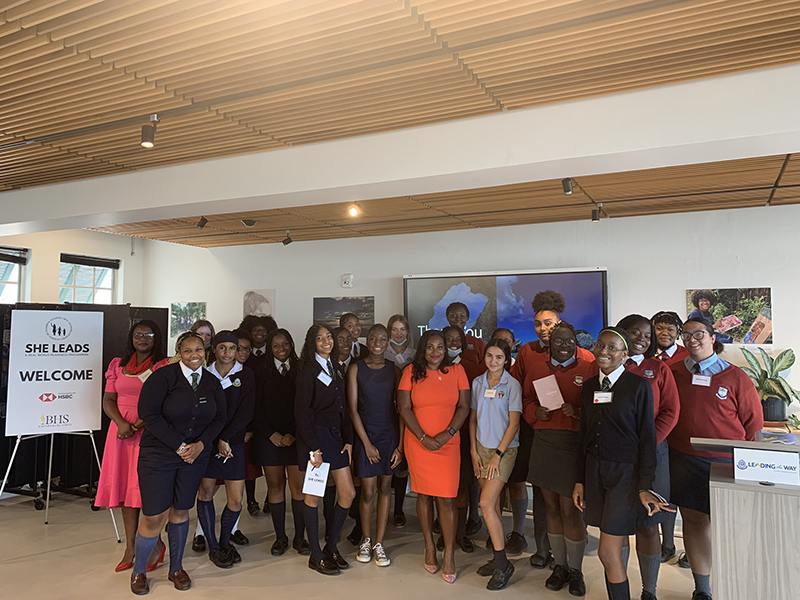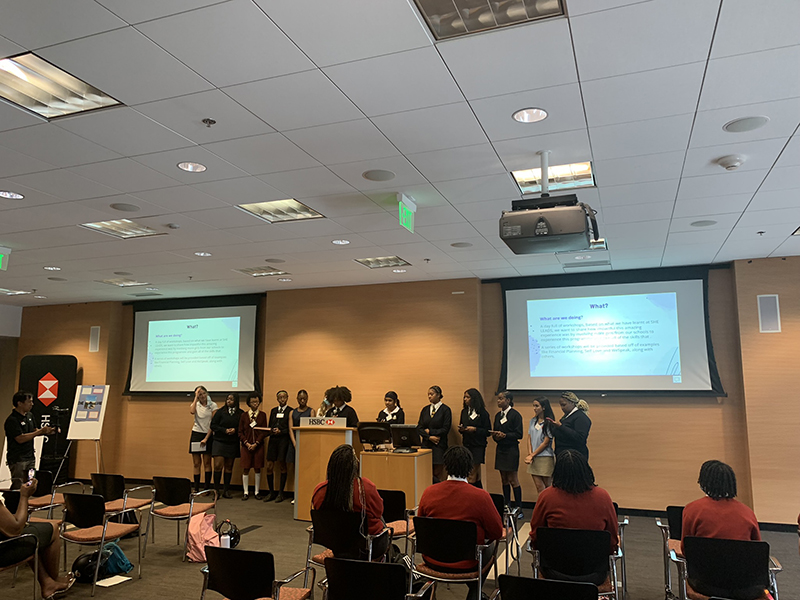 Read More About