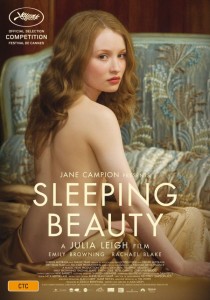 The 2012 Bermuda International Film Festival's late night series has been redesigned and expanded this year as the After Hours showcase — featuring provocative, controversial and uncompromising visions which all take innovative approaches to storytelling.
The three films being shown at this year's festival are "Alps," "Michael," and "Sleeping Beauty."
Greek director Yorgos Lanthimos' intriguing film "Alps" was inspired by the idea of people who allege something which is fabricated, for example via prank calls or by announcing their own deaths.
The film premiered on 3 September 2011 in competition at the 68th Venice International Film Festival. Lee Marshall of "Screen Daily" wrote: "Hollywood might have fashioned a weepie or a thriller out of the same material – and there are echoes here of some of Hitchcock's fascination with surrogates, from the Roger Thornhill/George Kaplan of 'North by Northwest' to the Madeleine/Carlotta of 'Vertigo'.
"But 'Alps' is so intriguing because of what it refuses to explain. … It's also a film which manages to juggle absurdist comedy with bleak tragedy, a yearning desire for human warmth with outbreaks of sudden violence, all the while maintaining an impressive control of tone."
Trailer For "Alps"
Nominated for a European Film Academy Award, "Michael" is a tense portrait of the title character played by Michael Fuith — a seemingly meek insurance agent, with a secret. He is holding 10-year old Wolfgang captive in a locked room in his basement.
The 2011 Austrian drama film is directed by Markus Schleinzer and is based loosely on the famous Natascha Kampusch case told from the offender's viewpoint.
It premiered In Competition at the 2011 Cannes Film Festival.
Indiewire's Eric Kohn described "Michael" as "a triumph of uneasy cinema: Not since Todd Solondz's Happiness has a movie portrayed pedophilia in such uncomfortable detail."
And "The View London's" critic Michael Turner said: "By refusing to demonise Michael (he's less of a monster, more a lonely, severely emotionally damaged nerd), the film feels hauntingly realistic and the effect is extremely powerful.
"In addition, first-time director Schleinzer delivers a couple of genuine shocks and pulls off an impressive third act that is both unexpected and heart-stoppingly suspenseful. Great final shot, too. 'Michael' is a haunting and powerfully disturbing drama with a superb script and a terrific central performance from Michael Fuith."
Trailer For "Michael"


"Sleeping Beauty" is a 2011 Australian erotic drama film written and directed by Julia Leigh. It marks her debut as a director.
The film stars Emily Browning as Lucy, a young university student who performs a special type of erotic service.
"Sleeping Beauty" premiered at the 2011 Cannes Film Festival as the first competition entry to be screened. In a review from the festival, Peter Bradshaw of "The Guardian" called the film "Technically elegant with vehemence and control … Emily Browning gives a fierce and powerful performance … There is force and originality in Leigh's work".
Other reviewers have also been intrigued: "Titillates, terrifies and haunts in equal measure", said Sukhdev Sandu in the UK's "The Telegraph". Fionnuala Halligan in "Screen International" wrote "Browning has gone the distance for her director and together, they have delivered something here that sometimes catches your breath."
And James Rocchi in Indiewire is also a fan, saying: "This is, in many ways, the kind of film you only get at a major festival, a hothouse flower, beautiful and delicate and yet surprisingly hardy and potentially toxic."
BIFF 2012 runs from March 16-22 featuring more than 80 films screening both in competition and also in such categories as Shorts and Masterworks. The online and physical box office — courtesy of Freisenbruch Meyer at 75 Front Street in Hamilton —  opened yesterday [Mar.7].
Trailer For "Sleeping Beauty"
Read More About
Category: All, Entertainment, Films/Movies, Videos