Finance Minister Bob Richards and Premier Craig Cannonier held a press conference yesterday [Feb 22] following the delivery of the 2013/14 Budget. They were joined by the Cabinet Ministers as well as OBA MPs.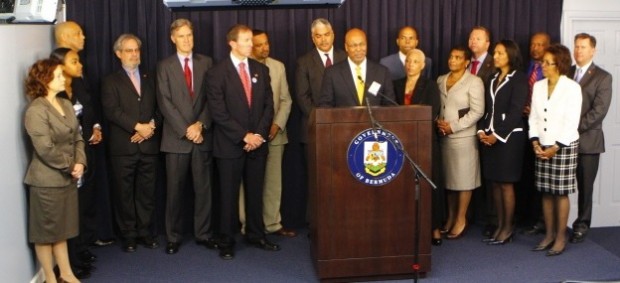 Highlights of the Budget include raising the debt ceiling from $1.45 billion to $2.5 billion, reducing the fees for non-Bermudians to purchase property, commencing negotiations with the unions about reducing staff compensation, a two year payroll tax break for new Bermudian hiring, a 3% increase in vehicle licence fees, additional funding to increase police manpower and raising the duty on cigarettes & liquor.
The Opposition PLP said the Budget gave non-Bermudians and employers tax relief, while everyday Bermudians and seniors will see their cost of living go up, while the Bermuda Chamber of Commerce said they were "encouraged by the refreshingly honest approach taken by the Finance Minister to the 2013 Budget."
Minister Richards and Premier Cannonier:
Q&A with the media:
View all our coverage of the 2013 Budget here.
Read More About