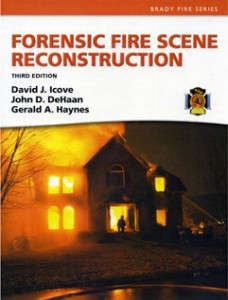 The Harris Matrix, a popular formula used by archaeologists around the world, has been adopted and modified by fire investigators in order to help their cause, leading it to be included in the latest edition of the textbook "Forensic Fire Scene Reconstruction," authored by David J. Icove, John D. DeHaan, and Gerald A. Haynes.
That is the first time that the Matrix has been included in such a textbook for fire forensics, but it has been used for some time, especially in Europe, for the forensic examination of mass burial and other sites related to recent warfare and ethnic violence.
Invented by Bermudian Dr. Edward Harris more than 40 years ago, the Harris Matrix is an archaeological tool used to determine the temporal succession of site units or contexts, helping archaeologists working on a given site to better understand its composition and chronology.
The Matrix textbook, Principles of Archaeological Stratigraphy, can now be downloaded for free at harrismatrix.com in English and four other languages.
The news follows the Harris Matrix's inclusion in an app compatible with the Apple iPad in 2010 that allows archaeologists to use the technology quickly and easily while on site.
The Harris Matrix is considered by many to be the "industry standard" for stratigraphic archaeology. Dr. Harris – the island's foremost archaeologist – invented it in 1973 and it has been adapted by numerous archaeologists worldwide since that time.
Together with two other colleagues, Dr. Icove and Dr. Harris will be presenting a paper on "The Use of the Harris Matrix in Fire Scene Documentation" at the September 2014 meeting of "The International Symposium on Fire Investigation Science and Technology [ISFI] 2014," set to be held at the University of Maryland.
The paper examines and proposes the adoption of the Harris Matrix, a worldwide, standardized archaeological approach used already in documenting the delayering and temporal succession of evidence found at ancient fire scenes.
Read More About
Category: Accidents and fires, All