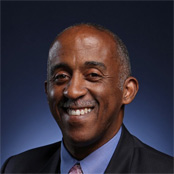 [Updated with PLP statement] Premier Michael Dunkley announced that Senator Nalton Brangman has resigned as the Junior Minister of Tourism and Transport and has given up serving on any committees that could conflict with his new employment at Morgans Point Limited effective immediately. Senator Brangman will remain in the senate.
Premier Dunkley said, "I have accepted Senator Brangman's resignation as Junior Minister of Tourism and Transport and I have invited Senator Lynne Woolridge to assume this role as well as her current Junior Minister responsibilities."
Earlier this week Morgans Point Ltd., which plans to develop a hotel property in the west end, said that Senator Brangman has been appointed as the Director of Infrastructure and Development.
The company cited Senator Brangman's training in construction technology and related experience, saying that "due to the accelerated pace that the Morgan's Point development is experiencing, the team is starting to expand to address the needs of the project."
Morgans Point Ltd. added that, "Upon receiving his appointment to Morgan's Point and in the spirit of transparency, he has declared his interest in the Morgan's Point project to the Premier, Cabinet and the OBA Government."
Following the announcement the Opposition said, "We are shocked that Premier Michael Dunkley has allowed Senator Brangman to retain his Junior Ministerial portfolio of Tourism & Transport; a role that has already, and will, in the future, put him in a position where direct conflicts between his private and public employment are sure to arise."
Update 10.21pm August 24: PLP Leader Marc Bean said, "The Progressive Labour Party is pleased to see that following our call for Junior Tourism Minister Nalton Brangman's removal from this position, he has complied and resigned.
"We believe it is unfortunate though that the conflict of interest in these appointments was not recognized earlier by Premier Michael Dunkley or Senator Brangman. Ideally, this resignation should have happened prior to the acceptance of the private sector post with Morgan's Point.
"We reiterate our questions that have gone unanswered by both Premier Dunkley and Senator Brangman -
How long has Senator Brangman been working for Morgan's Point Ltd.?
What "specific activities" has Senator Brangman's new role at Morgan's Point "already precluded him from"?"
Read More About