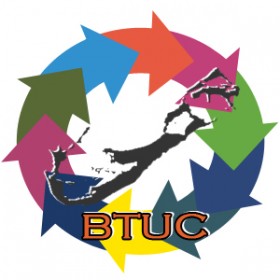 [Updated] Today the Chief Justice "ruled in favour of the Unions by refusing to grant a permanent injunction," the Bermuda Trade Union Congress [BTUC] said.
The BTUC consists of multiple unions including the Bermuda Federation of Musicians & Variety Artists, Bermuda Fire Services Association, Bermuda Industrial Union, Bermuda Public Services Union, Bermuda Union of Teachers, Electrical Supply Trade Union and the Bermuda Prison Officers Association.
A statement from the BTUC said, "The Chief Justice's ruling now prevents employers from unilaterally changing terms and conditions of employment for all workers.
"Today the Chief Justice ruled in favour of the Union's by refusing to grant a permanent injunction. It is now clear that the letter dated the 23rd January 2015 ignited the dispute between Government and the public sector workers of Bermuda.
"During the course of the trial the Chief Justice described the letter from the Minister of Finance as one of the most explosive pieces of correspondence in the history of industrial relations in Bermuda.
"In paragraph 82 of the judgment the Chief Justice described the letter dated 23rd January as a fundamental breach of the contracts of public workers. He also described the letter as provocative.
"Public sector workers of Bermuda are entitled to better treatment from their Government. During the trial the Government failed to produce any evidence of historic patterns of strike action by respondent unions to support their case. The Chief Justice praised the care the BTUC took during the course of negotiations over furlough days.
"The Chief Justice said that the injunctions sought by the Government would in a general sense serve as a threat hanging over the Respondents' head which would potentially impair their ability to fully enjoy their freedom of association rights while enabling the Government side to breach the spirit in which collective bargaining processes should be conducted.
"In paragraph 88 of the judgment the Chief Justice said the Minister cannot properly invite the Court to grant injunctive relief to prevent a risk of harm which will only occur if the Government side itself breaches the spirit [if not the letter] of the labour relations legislative scheme as read with section 12 of the Constitution. Workers have the right to belong to trade unions.
"Employers [including the Government] are by necessary implication required to respect the right of trade unions to represent their members and to deal with the unions in good faith in a non —provocative manner.
"The Court ruled it is impossible to imagine circumstances in which unlawful industrial action could properly be said to be imminent in the requisite legal sense when there is no current or pending dispute which it is clear the parties cannot resolve through negotiations or other forms of consensual dispute resolution.
"The Government succeeded in securing declarations in respect of minor breaches based upon the inappropriate behaviour of the Government. In light of the fact that the Government acted unlawfully we do not understand why declaratory relief was granted and the BTUC will consider next steps."
Update 2.33pm: The Government has also responded to the ruling saying, "The court declared that these public sector unions acted unlawfully during the events of 26 – 28 January 2015. Although the Government's application for a permanent injunction was not granted, the court was clear that Bermuda's labour legislation provides requirements that must be met by public sector unions before a strike will be legal."
Minister of Home Affairs Michael Fahy said, "The Government agrees that this represents an opportunity to create better relationships with the Unions and looks forward to engaging with them to build on previous collaborative efforts in order to deal effectively with our public debt crisis through prudent fiscal measures and sustainable public sector finances."
The Government's full response is below:
Today the Chief Justice issued his ruling in the case of Minister of Home Affairs v BIU, BPSU, BUT, Prison Officers Association and Fire Officers Association. Members of the public will recall that these proceedings were brought about by Government when the Bermuda Trade Union Congress called on public sector workers to leave their workplaces and attend Cabinet Office grounds for three days in January 2015. They did so in response to Government's request of the Unions to extend the agreement on Furloughs.

The Chief Justice today made the following declarations—

THAT the [BIU, the BPSU and the Fire Officers Association], as regards their divisions or units which are essential services, on or about January 28, 2015, acted unlawfully, contrary to section 9(1) of the Labour Relations Act 1975, in taking irregular industrial action short of a strike;

THAT the [BIU, the BPSU and the BUT] acted unlawfully, contrary to section 19 of the Labour Disputes Act 1992, in taking irregular action short of a strike.

In summary, the court declared that these public sector unions acted unlawfully during the events of 26 – 28 January 2015. Although the Government's application for a permanent injunction was not granted, the court was clear that Bermuda's labour legislation provides requirements that must be met by public sector unions before a strike will be legal.

The Chief Justice said that, "the war against a public debt crisis which could, if not addressed, ultimately transfer control of the country's finances to its lenders, remained to be fought." This case has long been made by the Minister of Finance.

The Chief Justice concluded that all parties should take this case as an opportunity to engage collaboratively going forward.

The Minister of Home Affairs Sen. the Hon. Michael Fahy JP, upon learning of the decision said, "The Government agrees that this represents an opportunity to create better relationships with the Unions and looks forward to engaging with them to build on previous collaborative efforts in order to deal effectively with our public debt crisis through prudent fiscal measures and sustainable public sector finances."
Read More About