[Updated with photos/videos] Bermuda met up with Namibia in their fourth game in the ICC World Cricket League Division Two Tournament now taking place in Dubai. The team previously beat Hong Kong, and lost to Papua New Guinea and Uganda. Today [Apr.12] they lost to Namibia, with a final score of Namibia 297/8 Bermuda 211. The loss takes Bermuda one step closer to the possibility to being relegated to Division 3.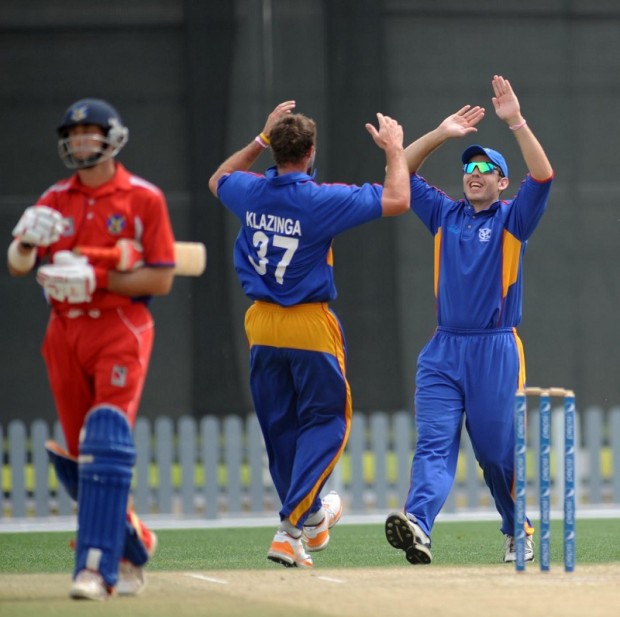 Namibia won the toss and elected to bat first. Namibia scored 297/8 in their allotted 50 overs with Ewald Steenkamp the top scorer with 87, while Craig Williams added 74. Four Bermuda bowlers took two wickets each with Rodney Trott's 9-0-37-2 being the best, however Kyle Hodsoll's 10-0-38-0 was the most economical.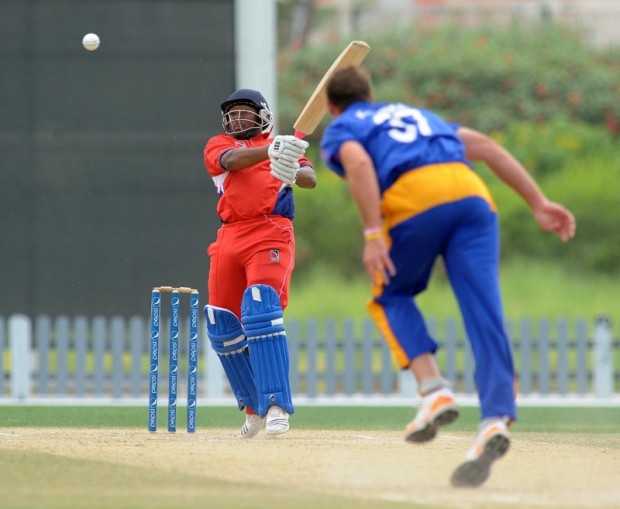 In reply Bermuda were bowled all out for 211, Dion Stovell was the top scorer with 73, he hit 10 fours and 3 sixes in his 67 ball innings, while Lionel Cann scored 53 from 56 balls, he hit 2 fours and 4 sixes in his inning, others in double figures included Rodney Trott scored 29, Irving Romaine added 21 and Chris Foggo scored 11.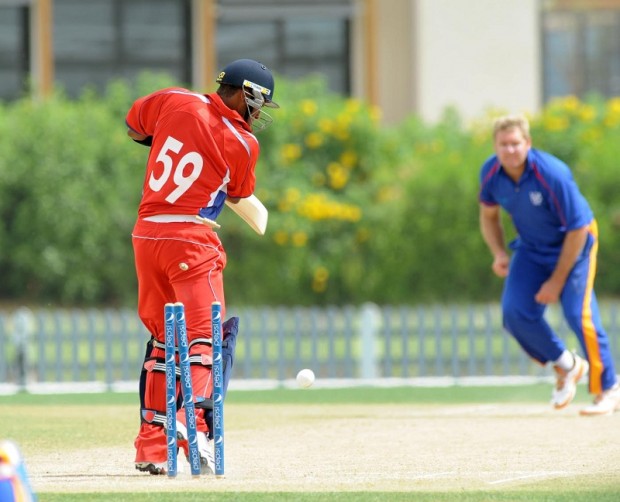 Namibia Innings
..87 (119) Ewald Steenkamp c Damali Bell b Rodney Trott
..00 (01) Andries Burger b Damali Bell
..59 (105) Sarel Burger b Rodney Trott
..74 (35) Craig Williams b Dion Stovell
..15 (19) Snyman b Stefan Kelly
..04 (02) Louis van der Westhuizen b Stefan Kelly
..14 (11) Louis Klazinga c Dion Stovell b Damali Bell
..01 (02) Kola Burger c Delyone Borden b Dion Stovell
..13 (05) Raymond van Schoor Not Out
..02 (03) Christoffel Viljoen Not Out
..28 Extras (3lb-19w-6nb)
297 Total for 8 Wickets after 50 Overs
Fall of wickets: 1-2 (AJ Burger), 2-157 (Steenkamp), 3-168 (SF Burger), 4-205 (Snyman), 5-209 (van der Westhuizen), 6-261 (Klazinga), 7-269 (KB Burger), 8-282 (Williams)
Bermuda's Bowlers
10.-1-52-2 Stefan Kelly
10.-1-83-2 Damali Bell
10.-0-38-0 Kyle Hodsoll
9.0-0-37-2 Rodney Trott
4.0-1-23-0 Delyone Borden
7.0-0-61-2 Dion Stovell
Bermuda's Inning
..73 (67) Dion Stovell c Craig Williams b Louis van der Westhuizen
..00 (02) David Hemp c Ewald Steenkamp b Louis Klazinga
..11 (07) Chris Foggo Run Out
..00 (02) Fiqre Crockwell b Kola Burger
..21 (33) Irving Romaine c & b Louis van der Westhuizen
..53 (56) Lionel Cann c Louis van der Westhuizen b Gerrie Synman
..00 (01) Delyone Borden c Andries Burger b Louis van der Westhuizen
..29 (56) Rodney Trott c Gerrie Synman b Christoffel Viljoen
..05 (13) Stefan Kelly b Kola Burger
..04 (14) Damali Bell Not Out
..04 (06) Kyle Hodsoll b Louis van der Westhuizen
..11 Extras (2lb-7w-2nb)
211 Total All Out after 42.3 Overs
Fall of Wickets: 1-6 (Hemp), 2-33 (Foggo), 3-46 (Crockwell), 4-108 (Romaine), 5-113 (Stovell), 6-113 (Borden), 7-194 (Cann), 8-203 (Trott), 9-204 (Kelly), 10-211 (Hodsoll)
Namibia Bowlers
3.0-0-27-1 Louis Klazinga
10.-0-48-2 Kola Burger
1.0-0-16-0 Bjorn Kotze
6.3-1-14-4 Louis van der Westhuizen
10.-0-46-1 Gerrie Synman
2.0-0-18-0 Raymond van Schoor
9.0-0-30-1 Christoffel Viljoen
1.0-0-10-0 Sarel Burger
Photos courtesy of the ICC, click to enlarge:
Update: Videos courtesy of the BCB:
Read More About