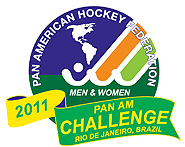 The Bermuda Hockey Federation has announced the Senior Women's Hockey Team for the Pan-Am Challenge Cup to be held in Brazil, July 30th to August 7th.
The Pan-Am Challenge Cup is a qualifying tournament for the 2012 Pan-Am Cup, the top two teams will move forward from the Challenge into the Cup and compete with world hockey powers such as Argentina, USA, Chile and Canada, who in turn will being competing to get into the next Field Hockey World Cup.
The travelling team is LaKae Dill (Captain), goalkeepers Latonia Fray and Candace DeSilva; defenders Marcia Ford, Heather Sinclair, Kirsten Faria, Kristen Rego and Brittany Farias; midfielders Liz (Elizabeth) Stewart, Iman Smith and Jennifer Chisnall; forwards Ryanne Bardgett, Erica Furtado, Raven Pearman, Alex Francis, Keishae Robinson and Yvonna Osborne.
They will be accompanied by Tracy Stewart (Manager), Lisete Moniz (Assistant Manager), Paul Deans (Coach) and Dafydd Hermann-Smith (Technical Director).
The team contains a blend of youth and experience. Liz Stewart will be playing in her sixth major international tournament followed closely by Marcia Ford, Kirsten Faria and Ryanne Bardgett, who will be competing in their fifth.
The team has an average age of 23 and contains 8 young players who will be eligible to represent Bermuda at next year's Pan-American Under 21 Championship, Latonia Fray, Heather Sinclair, Jennifer Chisnall, Iman Smith, Yvonna Osborne, Alex Francis and Bardgett.
Sixteen of the seventeen strong squad have previous international experience, twelve having already played for the Senior National Team, three for the Under 21 team and one for the Under 17 team. The only uncapped player is goalkeeper Candace DeSilva.
A spokesperson said, "In Bermuda, there is a lot of competition for children to do various sports. You will find that most of our youth play three or more sports, and therefore, we struggle to compete in numbers with football, cricket, and athletics, which are funded by the government."
"Our National Women's team only has a pool of roughly 35 women to choose from when selecting the squad. Mostly because we receive little or no money to help people stay involved in field hockey, when compared to sponsorship deals offered by other sports programmes."
"Against the odds, we continually try to help the players achieve their best on and off the field which is why we continue to participate in these tournaments, and offer our teams the opportunity to play against the best field hockey players in the sport and for those who could not afford to leave the island, a chance to experience the outside world."
"The costs for such a trip are quite large, and as a result we have initiated a vigorous fundraising process; organising a trash-a-thon in conjunction with KBB, running the May 24th marathon, holding a Golf day, bake sales and hosting events around the island. However, we fear that we may not be able to raise the funds needed, but if everyone on the island contributed one dollar to our cause, we would be able to travel, compete and represent Bermuda to the best of our ability."
You can see the squad in action on Sunday mornings, 10am-12am, at The National Stadium.
Read More About