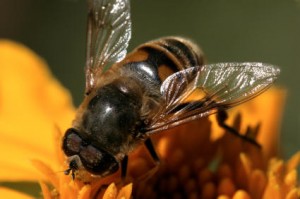 In May ago we covered a story about a Paget home being invaded by thousands of bees.
The tale of the heroic efforts of Mr Burgess was recounted in the article, which concluded with him taking care of the bee situation and fearlessly riding off into the Bermuda sunset with a box of bees on his trusty stallion motor bike.
What was not mentioned was that Mr. Burgess' oldest son – age 5 – was calmly sitting on the couch reading his homework books from school while bees buzzed busily around the room. Quite confident that the bees would do him no harm, he was the contented sidekick in the operation.
The story doesn't stop there. Upon returning home, Mr. Burgess' 4-year-old son came running out of the house asking where his bee suit was so that he could help daddy to place the bees safely into their new home. "Now we'll have more honey!" he shouted as he jumped about the yard.
The familiarity with Bermuda's insects and understanding the process of honey are experiences most Bermudian children generally do not get to have first hand. This summer however, this will change.
For one week only (July 18-22) Quincy Burgess will be hosting a beekeeping summer camp for children ages 9-14 from 9:00am-12:30pm at Mr. Furbert's Honey House in Bailey's Bay (Drop off is between 8:30am-8:45am).
The camp is the first of its kind in Bermuda and parents with younger children who have a keen interest in beekeeping are also encouraged to contact Mr. Burgess.
The summer camp activities will include actively learning about bees and their environment through hands on, observational experiences. The children will examine the different types of bees in a colony, learn how to care for bees and how to take care of them during drought.
They will also learn how to harvest honey and be given useful ideas for uses with Bermuda wax. Already there has been a good response from the public as well as a 'thumbs up' from Greenrock for being a sustainable project.
Watch below as Mr. Burgess shows how a queen bee is hatched:
Organizers said parents and children should feel at ease to know that just like the vieo shown above, bees can land on people for curiosity sake with no intent to sting.
Through this one-week summer camp children and teens will learn the value of teamwork through examining the hive structure while acquiring a Bermuda folk-life skill. By the end of the camp children will be well equipped to start and manage their own hive.
The cost of the camp is $175.00 for members of the Bermuda Beekeeping Association and $185.00 for non-members of the Bermuda Beekeeping Association. To request a registration form please e-mail Quincy Burgess at mangobonsai@yahoo.com or call 537-7244 for further information.
Read More About
Category: All, Environment