The 102-year-old brigantine 'Eye of the Wind' is currently based at Penno's in St. George's, with Captain Cornel Greth from Switzerland and his crew stopping over in Bermuda during their Atlantic-crossing from Saint-Martin to the Azores.The ancient square rigger has previously visited Bermuda as a participant of the Tall Ships Race 2000 and during a stopover early in 2012. Locals are invited to an "open-ship" from 3 – 5pm this Friday [Mar 8], with free admission.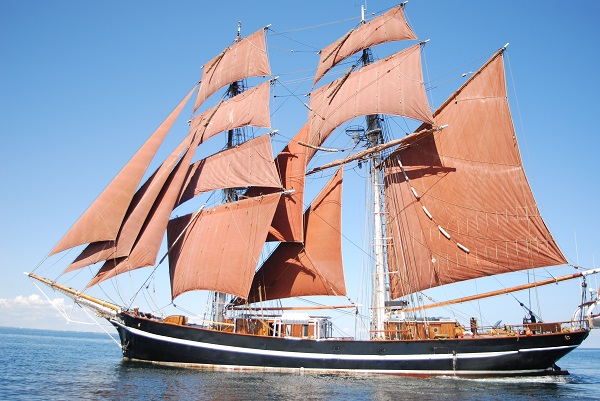 The imposing figure of the 'Eye of the Wind' has attracted the attention of the film industry in previous years, so she crossed several times the waters on film sets of major Hollywood productions. As was the case in her real life a long time ago, the 'Eye of the Wind' faced in front of the camera fierce storms, ran aground, burned out and sank.
The ship was featured in several movies such as the adventure film "Blue Lagoon" (1980), the pirate movie "Savage Island" (1983), "Tai-Pan" (1986) and "White Squall" (1996). Well-known Hollywood stars such as Brooke Shields and two Oscar® winners, Tommy Lee Jones and Jeff Bridges, took the helm of the ship in their hands.
After participating in the Tall Ships Race 2000, a Danish businessman bought the ship, mainly for private use. The new owner completely restored the proud brig and equipped her with the latest technology and electronics for modern navigation and comfort.
The planning and upgrading to preserve her character as a traditional Tall Ship was done in a very conscientious manner. The use of teak, precious woods, brass and other high quality materials on the inner deck give the ship her very own distinctive atmosphere. A sail control system was deliberately omitted. To this day, the sails with a total area of around 750 square meters are raised and lowered by human muscle power.
The historical vessel became accessible to the public only in 2009 when the Danish owner died. Soon after, the beloved sailing ship found a new home port at Forum Train & Sail Ltd., a subsidiary of the German Forum Media Group. Since then, it is used all year round for travels and cruises as well as for exclusive charters and high-quality management training. All information, reservations and bookings can be found on the web site www.eyeofthewind.net
Read More About
Category: All