A wind-battered common tern — one of Bermuda's most critically endangered sea birds — was spotted gliding over the Little Sound today [Mar. 29], the Bermuda Audubon Society reports.
And at least four four returning common terns were seen in the same area on Thursday.
The continued survival of Bermuda's summer nesting common tern population has been precarious ever since they were decimated by Hurricane Fabian in 2003.
Common tern seen over the Little Sound on Good Friday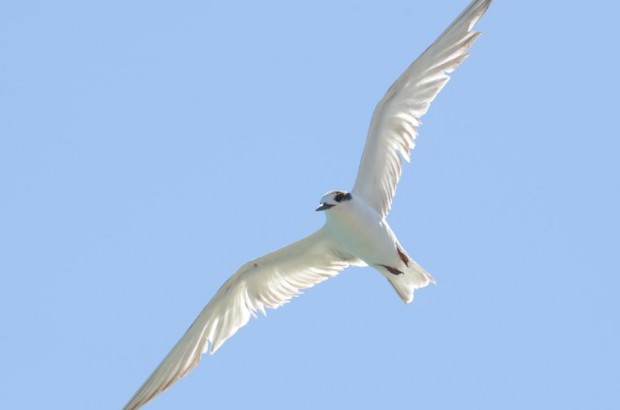 Widely distributed in Europe, Asia and North America, only small numbers of the common tern breed in Bermuda, the Lesser Antilles and on islands off Venezuela.
The common tern is now considered one of Bermuda's rarest breeding seabirds and requires rocky coastal sites away from cats, rats and human disturbances.
In 2012 only two common tern chicks were known to have hatched in Bermuda.
Recently the Bermuda Audubon Society was gifted Pearl Island by the Dudley Butterfield Estate; a small islet in the Great Sound, the rocky outcrop is used as a nesting site by the common tern.
– Photo courtesy of the Bermuda Audubon Society
Read More About
Category: All, Environment