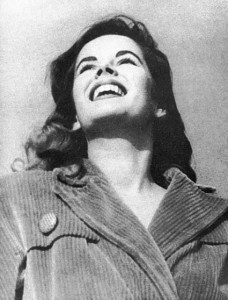 Truman Capote's 1958 typed manuscript of  "Breakfast At Tiffany's – built around the flamboyant heroine Holly Golightly, modelled in part on Bermuda-born Oona O'Neill [pictured] — sold for about $306,000 at auction to a Russian billionaire it was announced on Friday [Apr. 26].
The manuscript, expected to net at least $250,000, was offered for sale online by New Hampshire-based auction house RR Auction.
RR Auction says the winning bidder is Russian retail billionaire Igor Sosin, who plans to display it in Moscow and Monaco.
The manuscript is replete with the author's handwritten annotations, including changing the femme fatale's name from Connie Gustafson to the now-iconic Holly Golightly.
The cheerfully non-conformist Holly — a Word War Two-era New York café society girl – is witty, naive, vivacious and part Bermudian, at least in spirit. A composite of Bermuda's Oona O'Neill and her girls-about-town friends Gloria Vanderbilt and Carol Marcus, the part of Holly was played by Audrey Hepburn in the classic 1961 film adaptation.
Author Capote — in creating his "American geisha" Holly Golightly character — is said to have found inspiration in his close friendships with heiress and future designer Gloria Vanderbilt and the intelligent, poised and and stylish Oona O'Neill.
Truman Capote's hand-annotated "Breakfast At Tiffany's" manuscript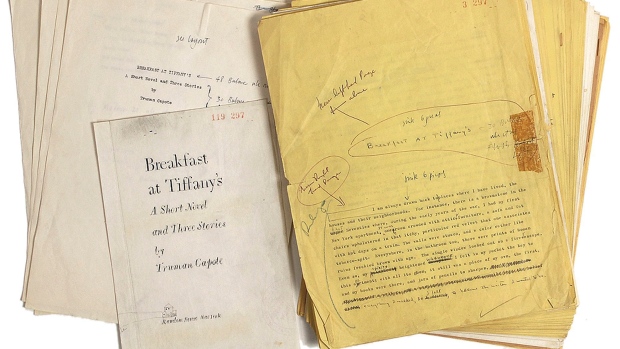 Carol Marcus — who went on to marry novelist William Saroyan twice and, later, the actor Walter Matthau — had fallen in with a teenage Truman Capote in the early 1940s and introduced the aspiring writer to a circle of friends which included Oona O'Neill ands Gloria Vanderbilt. The group prowled such celebrated nightclubs as El Morocco and the Stork Club.
The friendship of the three women and their association with Truman Capote is chronicled in Aram Saroyan's "Trio" and also in Carol Marcus Matthau's bestselling memoir, "Among the Porcupines."
Oona O'Neill was born in Bermuda in 1925. Her mother, Agnes Boulton, wrote short stories; her father Eugene O'Neill, a chronic alcoholic, was the only American playwright to receive the Nobel Prize in Literature.
Eugene O'Neill — whose plays include "Mourning Becomes Electra", "Long Day's Journey Into Night" and "Moon For the Misbegotten" — had settled his family in Bermuda in 1925 to try and find peace of mind and to overcome his drinking problem.
But Oona O'Neill was barely a toddler when her father ran off with another woman. She and her older brother, Shane, were raised by their mother at the family home "Spithead" on Harbour Road in Warwick until they later moved to the US.
Oona O'Neill as a toddler with  her mother, brother and half-sister on a Bermuda fishing expedition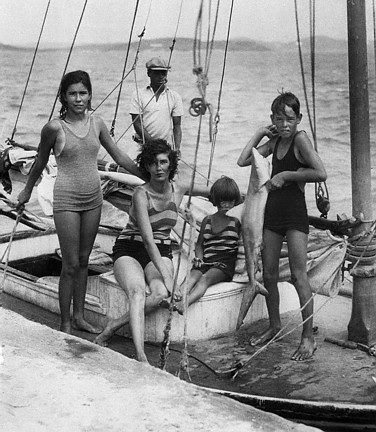 Her formal education ended at Brearley, an exclusive girls' school in New York City. Accepted by Vassar College, she chose instead to pursue an acting career, and following a fleeting appearance in summer stock, went to Hollywood and met her future husband, the British-born comic genius Charles Chaplin.
Breaking off a romance with up-and-coming writer J.D. Salinger – himself an occasional visitor to Bermuda and a commentator on its affairs — Oona O'Neill found in the 20th century's greatest comedian the stability and nurturing denied her by her father, the century's most accomplished tragedian.
Although he was 36 years her senior and thrice divorced, Charles Chaplin and Oona O'Neill married when she turned 18 in 1943. Immediately, her father disowned and disinherited her. The marriage, however, endured; she had eight children and remained with her husband — who was knighted by the Queen in 1975 — until his death in 1977.
She returned to Bermuda a number of times — most famously in 1972 when her husband was travelling to the US to accept an Academy Award for lifetime achievement — and her name later became associated with a precedent-setting Bermuda legal case.
Charles Chaplin and three of the eight children he had with Oona O'Neill pictured in Bermuda in 1972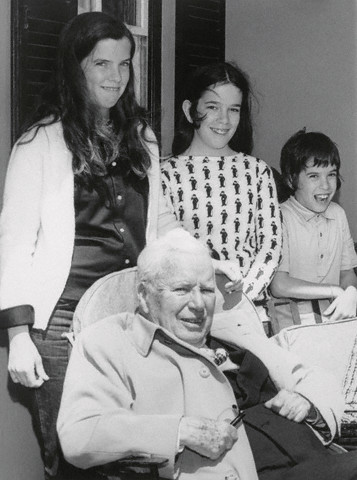 In 1988, Lady Chaplin subdivided property owned by her family off Harbour Road, Warwick, to create two residential lots. In exchange for planning permission to create the lots, she made a Section 34 Agreement intended to permanently protect the northern portion of the property, zoned Woodland Reserve, from all future development.
The subsequent purchasers of the lots made three applications to the Development Applications Board [DAB] to gain permission to put in a new access road through the Woodland Reserve in 1998. The Bermuda National Trust objected in each instance and each application was refused.
But in 2003 the Court of Appeal ruled that Section 34 Agreements — created under the 1974 Planning Act to provide a means by which land could be protected in perpetuity through a formal covenant between the property owner and the Environment Ministry — could be altered or completely overturned by the relevant Minister. This decision allowed for the 300-foot long access road from Harbour Road to the tribe road above to be constructed.
Lady Chaplin died in 1991 at the age of 66. She is buried alongside her husband at a cemetery in Vevey, Switzerland.
Her granddaughter and namesake — actress/model Oona Chaplin — currently co-stars alongside Bermuda-born Lena Headey on the HBO fantasy saga "Game Of Thrones."
Audrey Hepburn as Holly Golightly in the 1961 movie version of "Breakfast At Tiffany's"


Read More About
Category: All, Entertainment