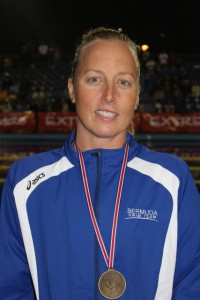 Bermuda swimmers have made a splash at the 2013 Central American and Caribbean Championships being held in Costa Rica, picking up four medals during the first day of competition yesterday [July 1].
Veteran swimmer Lisa Blackburn [pictured] led the way with a gold medal in the 100m breaststroke and a silver medal in the 200m individual medley, while Shannon Hassell claimed a silver medal in the 100m backstroke, and Stephanie Myles took Bermuda's medal tally to four when she claimed a bronze in the 800m freestyle.
The Championships includes swimmers from 19 countries and territories from the Caribbean, Central America and South America.
National Swimming Coach Ben Smith said, "After the first day's morning session we had seven finals for the first night of the meet. First up was Shannon Hassell in the 100 back. She had a very strong race hitting the turn in first place. She held that position until the last 15 meters when she ran into the lane line but she was still able to race in to the finish to capture the silver medal. After her PB in the morning Shannon lowered her time by 2 tenths of a second under Rebecca Sharpe's record of 1:10.85 with her new time of 1:10.73."
"Next up was Jesse Washington with the 100 back. Unfortunately he started with a slip off the wall that left him far behind so he shut the race down to prepare for the 50 free.
"Stephanie Myles was the next in the pool in her 800 free where she came extremely close to hitting her personal best time while she captured our second medal of the night with a bronze. Lisa Blackburn was back to her winning ways in the breaststroke events as she pulled away from the field and cruised to the first Gold for Bermuda in this year's CCCAN with her 100 breast win."
"Jesse Washington was prepared to hit the pool in the 50 free and had goals of reaching his Youth Olympic qualifying time but his start left him a body length behind the field. At the 30 meter mark he was in 8th place but he reeled the field in by the finish only to take 4th with the bronze 1 hundredths of a second out of his grasp. It is frustrating to know that he swam faster than his competitors but his start holds him back."
"We then had the 200 IM where Stephanie took 7th place in the same final with her team mate Lisa. Lisa fell behind in the fly and back but began to catch the field in the breaststroke. When she reached the free she was in third place but moved into second by the last 15 meters. She ran out of real estate and had to settle for the silver which was her second medal for the evening.
"The Bermuda team finished the night off with Andrew Beveridge in the 200 IM. He was an alternate after the heats but was moved into the finals after a scratch. He used the opportunity to the fullest and moved into the 7th position with a personal best time."
Mr. Smith concluded by saying: "After a great first day we are looking forward to the next four days of competition."
Read More About