Following his death earlier this month, legendary marine explorer Teddy Tucker has been honoured by world-renowned nature publication National Geographic in a piece that reflects on his extensive marine work in Bermuda and around the world, calling him the "voice of the Sargasso Sea."
Mr. Tucker, who worked closely with the National Geographic Society on several occasions over the years, was preparing for an expedition with a team from the organisation at the time of his death.
Written by David Doubilet, the article explores both Mr. Tucker's life and work in general and a July 2013 expedition in particular. During that expedition, Mr. Tucker lead Mr. Doubilet and his team from National Geographic to Challenger Banks aboard his own vessel Sea Foam, sharing stories of his marine work and countless underwater encounters during the trip.
Mr. Tucker signs copies of Treasure! A Diver's Life [photo courtesy of BUEI]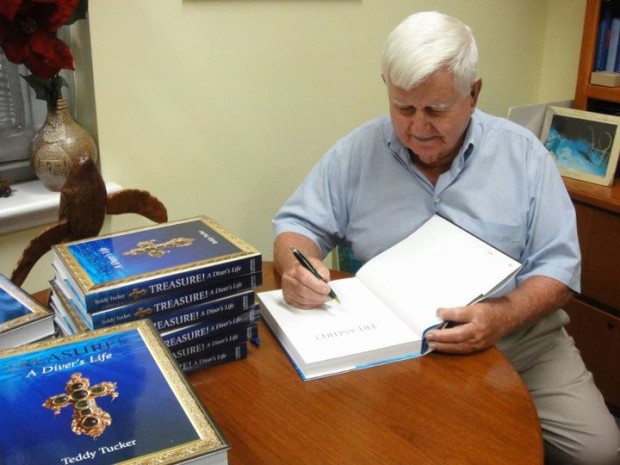 "Teddy began to share sea stories, his voice carrying above our generator," says Mr. Doubilet in the article. "He spoke of his job as a teenager pumping air for tourists in hardhats at the aquarium, his tour on a Royal Navy Gunboat during WWII, his discovery of the sixgill sharks prowling the deep bottom below where we were anchored."
"We could have listened all night but Teddy pointed down into the shaft of light and said, 'You have a customer, time to get to work.' A big marlin, neon in color, swung into view, made a circle and disappeared leaving behind dozens of bearded flying fish that were swimming in a blue halo of light surrounding the boat.
"I dove and photographed in the pool of light for hours. Cold and tired, I came out of the water at 4 am to share a cup of coffee and a sandwich with Teddy and our team. I catnapped, waiting for dawn and thinking about Edna [Mr. Tucker's wife]. She was ten or so when Teddy came to visit her brother.
Screenshot of the National Geographic article: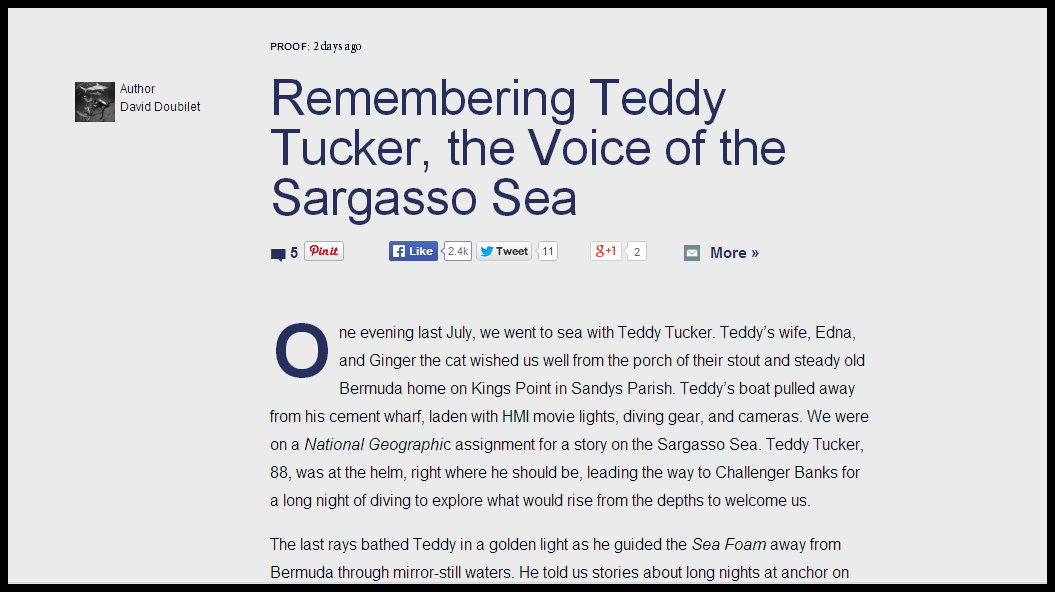 "There was a spark in each other's eye and the two would eventually create an extraordinary life together. With their daughter, Wendy, they explored, discovered, and documented the maritime and natural history that surrounds Bermuda."
Calling Mr. Tucker not only the "voice of the Sargasso Sea," but also a "living legend" and a "master storyteller," the National Geographic piece ends by saying that, "The story on the Sargasso Sea, still in progress, will be appearing in an upcoming issue of National Geographic," indicating that Mr. Tucker's work in exploring Bermuda's waters and sharing his knowledge with people around the world isn't quite finished yet.
National Geographic's article — which has attracted almost 2,500 Facebook "likes" — can be read here.
Read More About
Category: All, Environment, News