In honour of the 50th anniversary of the 1965 BELCO strike, the Chewstick Foundation Community Art Program installed the first of a series of murals that will decorate the Bermuda Industrial Union [BIU] headquarters last night [Feb 2], with the mural featuring the late Dr. E. F. Gordon.
The mural features a portrait of Dr. Gordon, as well as the slogan "United we stand, divided we fall."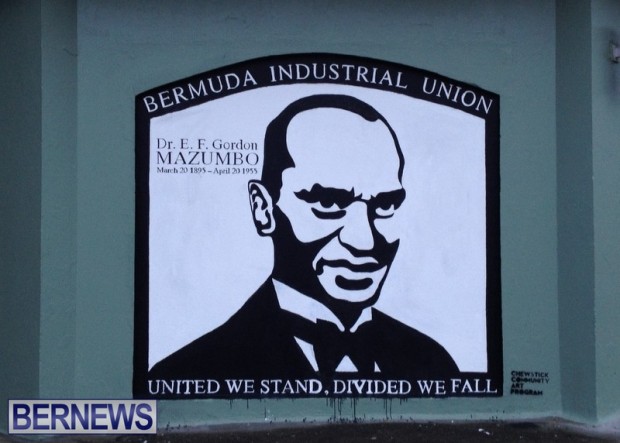 In describing the intent behind the mural, Chewstick elder Haile Maryam said, "We do community art programs over the island, and this mural was commissioned by the Bermuda Industrial Union to represent 50 years of struggle – more than 50 years of struggle, starting with Dr. Gordon.
Chewstick Elder Haile Maryam:
"This is a project that has been in the making for a year now – it was going to go somewhere else, but it would be appropriate on the BIU building, so that is a good look going forward for the community," added Mr. Maryem.
Read More About