[Updating: The PLP's Neville Tyrrell won the by-election with 477 votes, while the OBA's Robyn Swan received 103 votes and Independent David W Burch earned 12 votes.]

The by-election in Constituency 26 Warwick South Central is being held today [Dec 20], with voters heading to the polls at St Mary's Church Hall in Warwick
Three candidates have put themselves forward – the PLP's Neville Tyrrell, the OBA's Robyn Swan and Independent David W. Burch.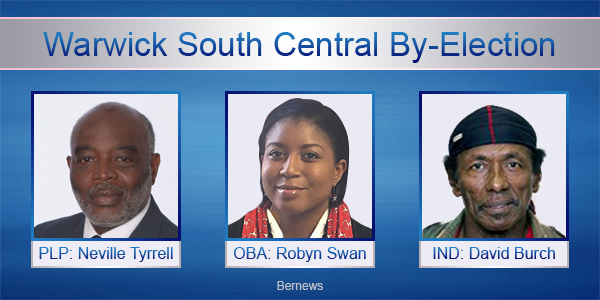 The by-election was called due to the retirement of Marc Bean, who stepped down as both Leader of the Opposition and as a Member of Parliament.
The last by-election in Constituency #26 was called in 2010 following the resignation of former Premier Dr Ewart Brown, and saw a three-way race with the PLP, UBP and BDA. Mr Bean won with 310 votes, United Bermuda Party candidate Devrae Noel-Simmons with 78 votes, while Sylvan Richards, then running under the Bermuda Democratic Alliance, got 70 votes.
The PLP has won the seat in the last three General Elections; in 2012 Marc Bean retained the C#26 seat with 65.08% of the vote vs Ras Mykkal [OBA], in 2007 Dr Ewart Brown [PLP] won 68.45% of the vote vs Roderick Simmons [UBP], while the 2003 General Election saw Dr Brown win with 65.99% of the vote vs Gwyneth Rawlins [UBP].
We will provide updates as able throughout the day, however we do not expect to have any formative updates until after the polls close at 8.00pm, with the results expected to come in late this evening; the results will be updated here, and once the winner is determined, we will also send an alert to phones via the Bernews app.
Your screen will automatically refresh with the latest updates:

Read More About