Imagine Bermuda, in collaboration with the African Diaspora Heritage Trail [ADHT], Bermuda National Trust and The Chewstick Foundation invite residents to join a 'Stroll Down Memory Lane' on Sunday, May 21st, starting at 3 pm from Christ Church – Devonshire.
This family-friendly "Walk & Talk", in observance of Heritage Month, will honour the contributions of two champions – Ruth Thomas and David Wingate – who have served as stewards of the best of our Island's heritage, for decades.
"This Stroll which only covers a distance of 2 kilometers, will include nutshell presentations focusing on various relevant highlights of Devonshire. This will begin with master-craftsman Larry Mills providing an overview of the significance of aspects of the construction the Old Christ Church and how it offers a demonstration of innovations pioneered by Bermuda builders," the organisers said.
"Another presentation will summarize the life and global contribution of Bermuda-born Mary Prince, who lived in slavery, in a house adjacent to the well-known Devonshire Marsh. Prince subsequently resided in other parts of the Island, and then in Antigua. After a series of circumstances, Mary Prince ended up in London where she was assisted in her authoring a near-best-seller that was key in the global movement to end the System of Slavery in British colonies on August 1st, 1834.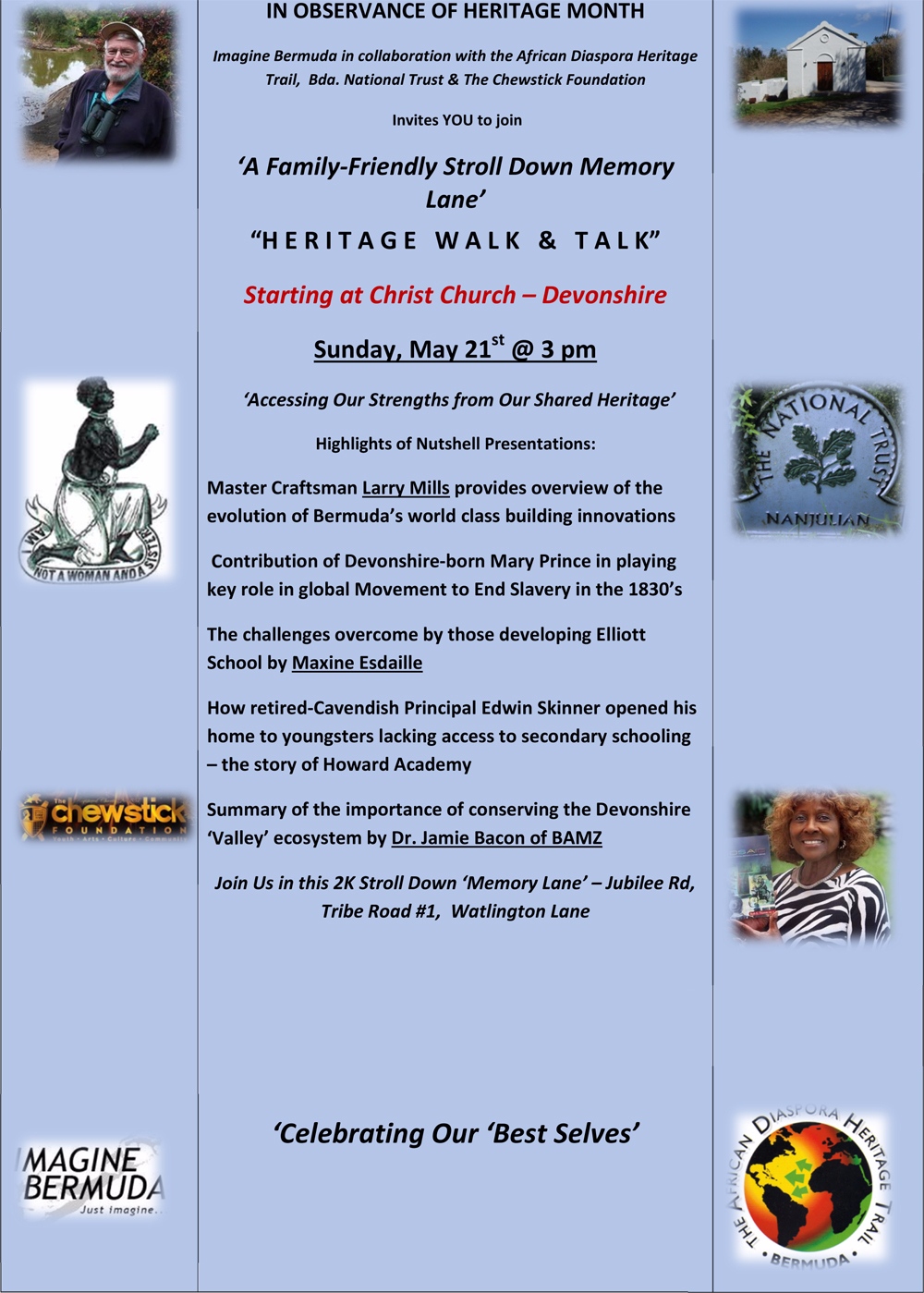 "Maxine Esdaille [ADHT] will provide a review of the story of how a group in the late 1800's overcame many challenges and eventually opened Elliott as one of our Island's early elementary schools.
"Dr. Jamie Bacon of Bermuda Museum & Zoo [BMAZ] will provide a summary of the significance of the ecology of the area and the importance of the efforts to preserve much of the pristine ecosystem is designated as Nature Reserves. We will also discuss the implications of agriculture which was a key aspect of our shared heritage.
"Another highlight will be the story of how Edwin Skinner opened his home – which we will visit – to students who had very limited access to secondary education when he retired as the Principal of Cavendish School in the late-1940's. His generosity meant that, in the few years he could give before his death, numerous young people were able to complete high school, including Roosevelt – Pauulu Kamarakafego – Browne, Sir John Swan and Ottiwell Simmons."
Read More About