The Bermuda Society of Arts [BSOA] is getting set to open a worldwide exhibition of botanical art tomorrow [May 18], with more than 700 artists from 25 different countries involved.
A spokesperson said, "The Bermuda Society of Arts is excited to be hosting a very special opening, at lunch today, in conjunction with a worldwide exhibition of botanical art.
"Over 700 artists from 25 different countries from around the world will be putting their botanical art works on display simultaneously tomorrow and Bermuda is proud to be a part of the movement to link people together through their love of plants and art.
"Botanical art is the perfect mix of Art and Science and can range from Text book precision, where the plants is captured from leaf tip to root stems all to prefect scale showing both seeds and flowers and even habitat, to botanical art where plants are painted with a more artistic composition in mind but still accurate in shape color and any changes in scale are noted.
"More often the general public is used to seeing floral painting which is more fluid and emotive rendering of plants but can now see the depth and details carefully rendered with this classic style of art."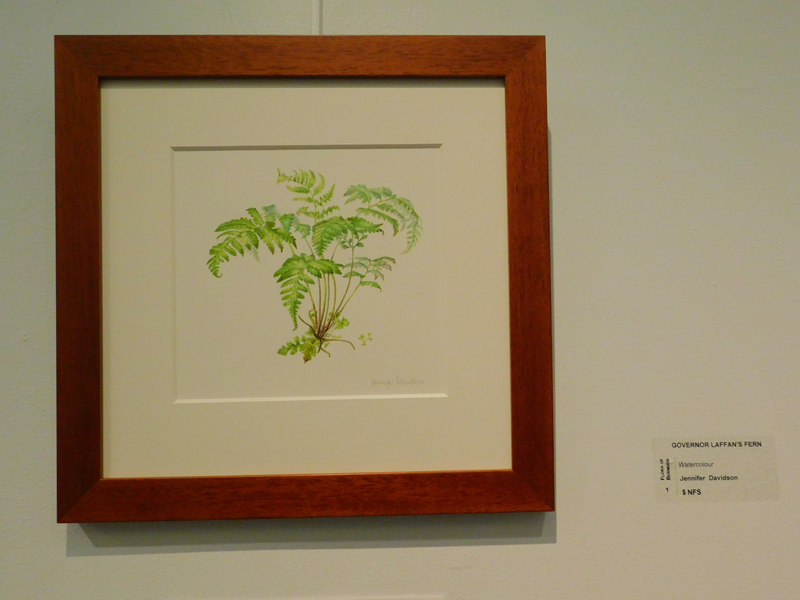 "Our small island's involvement in this global movement began over 8 years ago with several workshops taught by well known Canadian botanical artist Margaret Best. Since then the attendees of these workshops have come together to form their own mini society with the idea to show all together and share their love of native and endemic plants with the public.
"Criteria for entering the Botanical World wide art show was that the plants depicted had to be native or endemic to the country. Naturally this is quite the challenge to our local artists where options are limited. However each chose their subject careful study of their subjects revealed so much more than first expected and one feels this connection and story telling in the painting."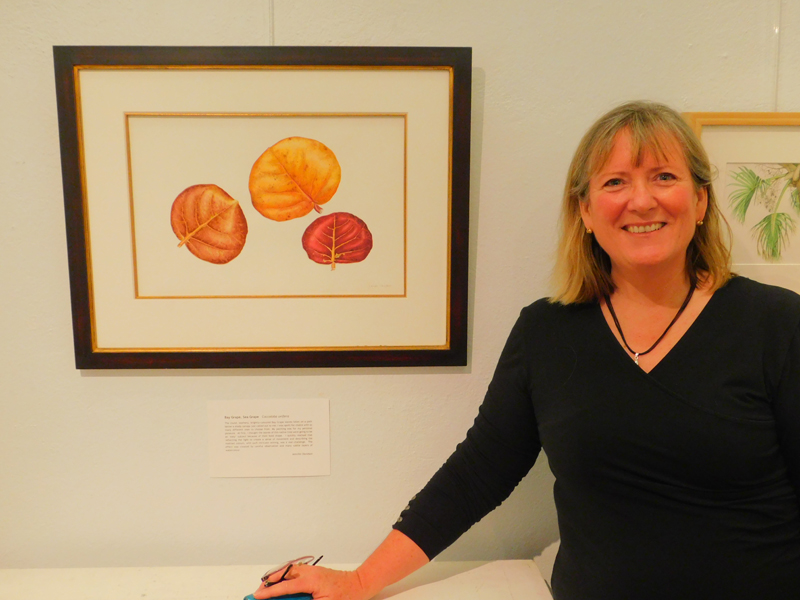 "Jennifer Davidson was inspired by a brightly colored carpet of Bay grape leaves falling from a canopy above a shady path and thought the hardest part would be picking which colors to paint. She soon found out her challenge would be to capture the reflecting light in their mottled colors and intricate veining.
"She captures it perfectly after careful study and observation of each leaf and combining many subtle layers to her watercolor painting. Her other favorite piece used 3 to 5 soft layers of watercolors to capture the leaves of the Governor Laffan's Fern.
"A critically endangered plant its population had once dropped to 3 mature plants in the whole world. It has been extinct in the wild for over a century and it is only the work of dedicated conservationists that has kept it alive this far. Jennifer hopes that her painting and others like it will help to share these stories and help conservation efforts."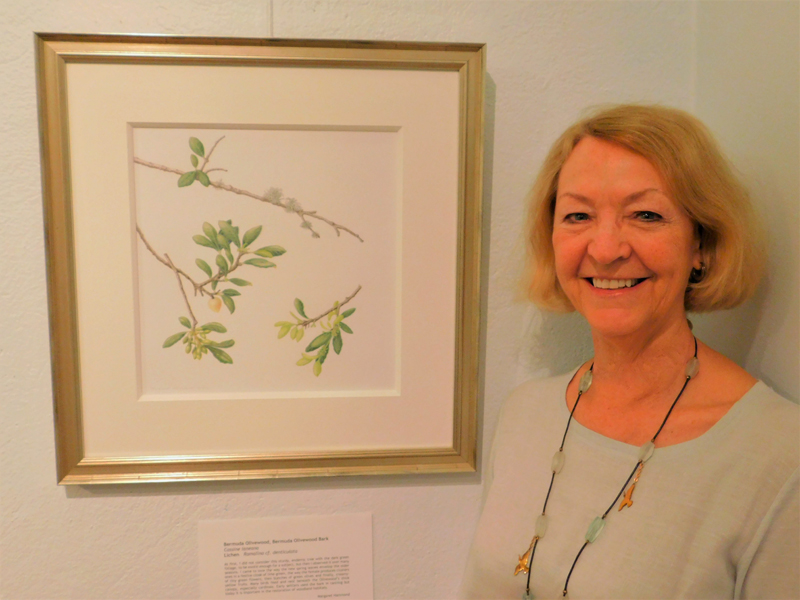 "Margaret Hammond started her botanical exploration with no previous artistic experience. Never the less she dedicated hours to studding her subjects, in this case the olivewood, to great detail thinking that the branches would be the easiest to render in careful layers of pencil crayon.
"What she found was a deeper appreciation for the way the new spring leaves grow in a bright lime green covering the darker shades of last years leaves. Did you know that olivewood trees are either male or Female and cannot survive one without the other. This, as well as the fact that they make perfect habitats for birds like the Cardinal, are why they are so important in the restoration of woodland habitats."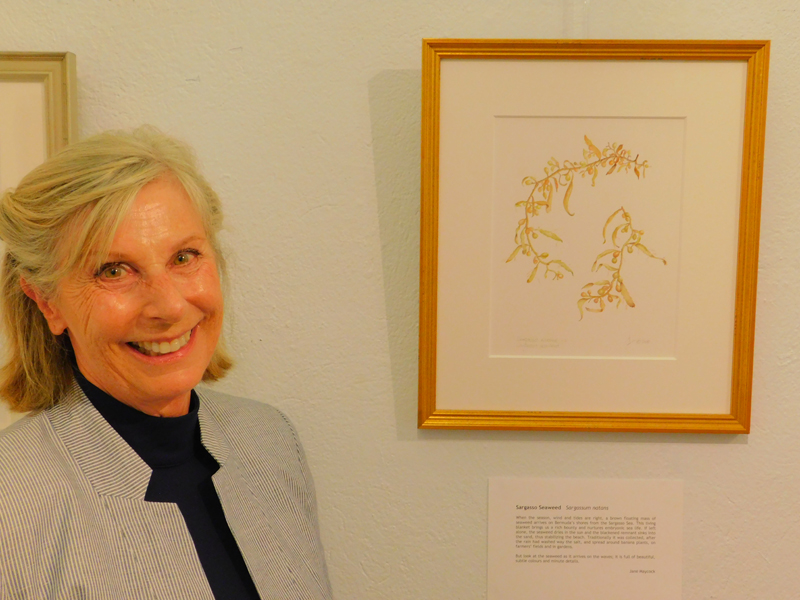 "When Jane Maycock chose Sargasso Seaweed as her subject she really wasn't sure she could do it justice but she was determined to try. What she found was a wonder of subtle colors and minute details in this rich carpet floating on the water.
"ot only is Sargasso and important ecosystem to all kinds of animal life in the oceans but it also plays an important part in washing up on our beaches and creating compost for coastal plants as well as anchoring our beaches and sand adding protection against erosion."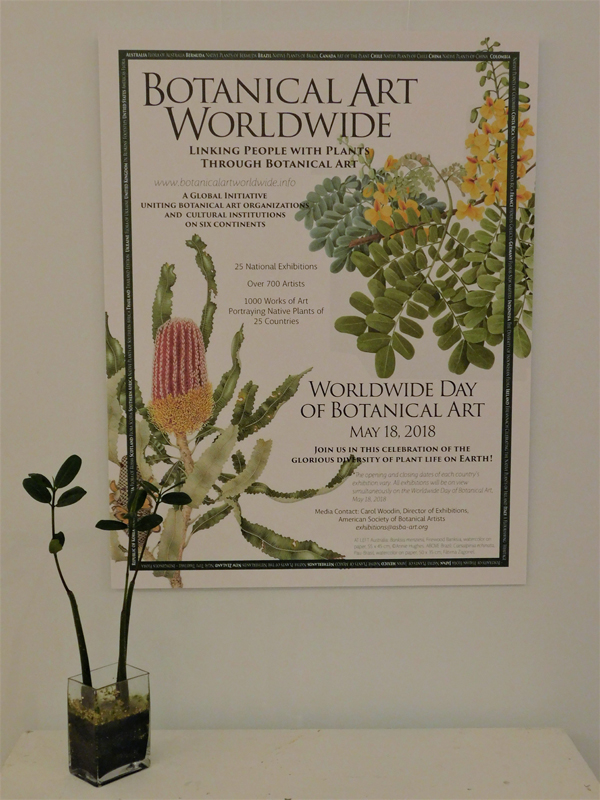 "We welcome the public to stop by the Bermuda Society of Arts Gallery today at lunch to meet these talented artists and hear their stories for yourself. Join them as they celebrate Botanical art world wide or go to the website to find out more about the exhibition happening now.
"For anyone inspired to try their hand at this unique form of art please reach out to the Bermuda Society of Botanical arts via email, bsba.bermuda@gmail.com and sign up for the next set of workshops due to be held 16-19th of November 2018.
Th"e Bermuda Society of Arts is also currently hosting its spring members show, as well as mosaic works by Michelle R. Preece Cox. Gallery hours are Monday to Friday 10-4 and Saturdays 10-2pm; entry is free."

Read More About
Category: All