Atlantic Publishing House and The Leopards' Club will be hosting a forum entitled "Save Our Boys, Save Our Future" on Tuesday, March 12 at the club in order to "get updates on progress and issues that continue to hamper a cessation of shooting."
A spokesperson said, "Bermuda continues to tackle gang issues in spite of numerous programmes and involved citizens trying to get to the bottom of the issue and prevent shootings. Be that as it may, the issue remains troubling to many, especially the families who have suffered the loss of their loved ones."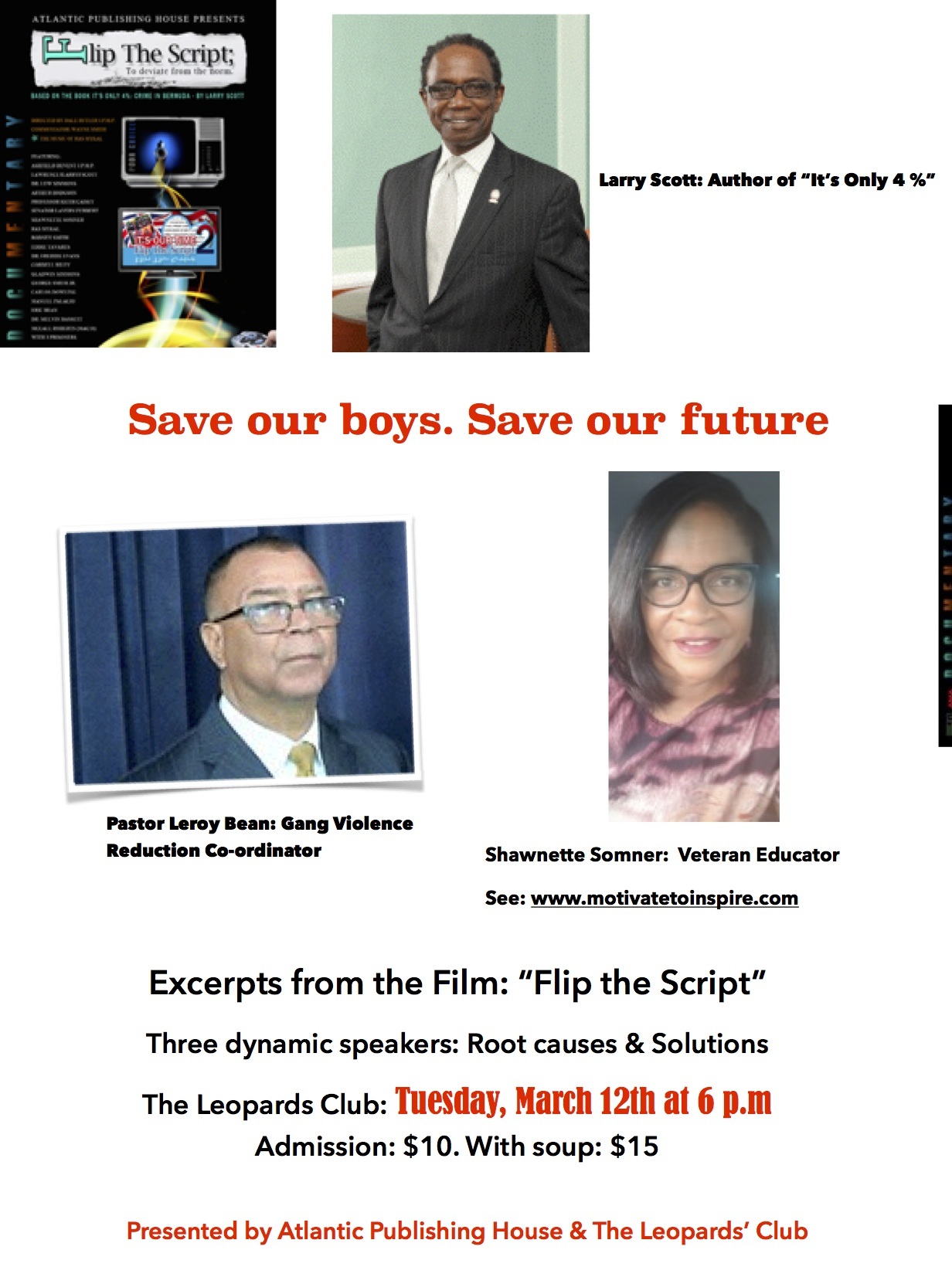 "Atlantic Publishing House and The Leopards' Club have organised a forum on Tuesday, March 12th, at the club, to get updates on progress and issues that continue to hamper a cessation of shooting. The forum is entitled 'Save our boys, save our future' and the public are encouraged to attend.
"In 2011, lawyer Larry Scott released his first book entitled It's Only 4% highlighting many serious concerns he was experiencing, in and out of the courts, that led him to raise the alarm bells about what was happening with our youth.
"His fears have now blossomed and come to the forefront. Also that year, Atlantic Publishing House released a 75 minute film 'Flip the Script' with a variety of prominent Bermudians from all walks of life giving their perspective on the issue.
"In addition, photographer and entertainer Ras Mykkal will perform and receive the 'Triumph of the Spirit Award' for being a long term social activist.
"On Tuesday, March 12th at 6.00pm at The Leopards' Club we will see a short version of the film and we will then be able to hear from lawyer Larry Scott, Anti Gang Violence Coordinator Pastor Leroy Bean and veteran educator Shawnette Somner. Tickets are $10 or $15 with soup and can be purchased at the door."
Read More About
Category: All