According to a recent survey, 67% of local residents expressed some level of support for legalising recreational cannabis use in Bermuda.
A spokesperson for TRA's Bermuda Omnibus survey said, "Following the full legalisation of cannabis across Canada, and the growing number of US states who have relaxed cannabis restrictions, Bermuda residents were asked the extent to which they support or oppose legalising cannabis for recreational use in Bermuda.
"Two thirds overall express some level of support [67%], including three in ten who completely support legalisation [29%]. Three in ten are opposed to legal recreational cannabis to some degree [30%].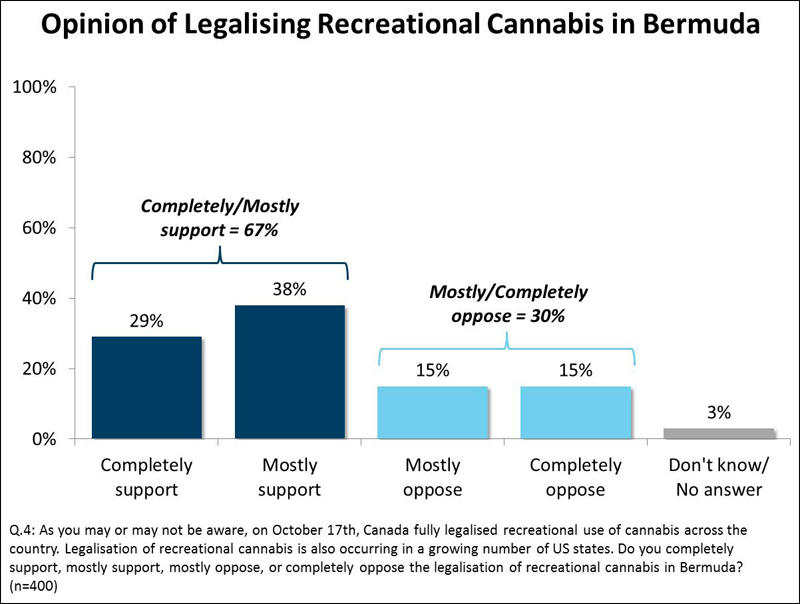 "Support for legalisation is largely consistent across the island and its demographic subgroups, though residents of Sandys/Southampton [57% support/38% oppose] and those aged 55 years and older [52% support/43% oppose] are relatively less supportive of legalisation.
"These results are part of TRA's Bermuda Omnibus, a syndicated quarterly survey of public opinion in Bermuda, and are based on a telephone sample of 400 adults [18 years of age or older], conducted from December 11 and December 18, 2018. Overall results accurate to within ± 4.9 percentage points, 95 out of 100 times."

Read More About